A special POCSO (Protection of Children from Sexual Offences Act) court in its judgment dated September 4, 2023 acquitted a 60-year-old man in a False POCSO Case after he spent more than five years in jail.
The accused was falsely charged for physically assaulting his 16-year-old granddaughter with cigarette buts and also impregnating her.
POCSO Court Acquits 70-Year-Old Man In False Sexual Assault Case As Mother Tutored Daughter With Wrong Statement
Case:
After the death of both her parents, the minor girl had been residing with her maternal grandparents in the central suburbs of Mumbai. Later, her maternal grandmother too passed away and thus she was living alone with her grandfather. 
On June 21, 2018, the minor, who claimed to be 16-years-old then, approached the police to register a complaint. However, she fainted in the police station from where she was rushed to Bhabha Hospital. The girl was found to be heavily pregnant and further referred to KEM Hospital. 
The minor girl delivered a daughter the next day on June 22, 2018. 
Accordingly, a case was registered by Mumbai police against an unknown person.
Retired Chief Justice's Son Files POCSO Against Father-in-Law; His Wife Files 498A On Husband's Family
Statement by Victim
In her very first statement, the victim claimed that she had physical relations with a boy from their locality and the child belonged to him.
However, on July 10, 2018, the girl completely changed this statement and informed the police that it was her grandfather who used to physically assault her and his forced sexual relations resulted in her pregnancy. She also added that her grandfather used to burn her private part with cigarettes or matchsticks, and he would threaten her if she disclosed these acts to anyone.
Based on the victim's statement, the victim's grandfather was arrested on July 12, 2018. 
65-Year-Old Society Chairman Acquitted In False POCSO Case After 7-Years | Fight Over Parking Not Ruled Out
Trial Court
Initially, the arguments rested upon the age of the victim. When the girl first visited a doctor, she mentioned her age as 18. The prosecution, too, could not prove otherwise.
The Trial Court then went on to observe that the girl used to escape her the house often and return only after a few days. To this, the Court questioned as to why the girl did not register a complaint with the police then, if she was indeed being assaulted by her grandfather. 
The most crucial evidence that came up in front of the Trial Court were the two DNA reports – one of the victim's grandfather and the other of the boy with whom she was in a physical relationship. Shockingly, the DNA report did not match with either of these two males and concluded that they were not the biological father of the child born to the victim. 
This is when the Court asserted a possibility of a third person as accused. 
READ ORDER | False POCSO Charges Against Father Embroiled In Custody Battle Can't Be Ruled Out: Kerala HC Grants Anticipatory Bail
While acquitting the grandfather on Monday, the Trial Court ordered:
It is clear that the victim has physical relations with some third person whom she wants to protect. Considering her act of hiding the name of a person who is having physical relations with her, the oral evidence of the girl does not appear trustworthy.
Married Woman Arrested For Filing False POCSO Case Against Boyfriend in Chennai
Voice For Men India Take:
As a layman, the foremost question one would ask is the five year long delay in just accessing a DNA report, which would have been the topmost evidence in favour of the grandfather
Sadly, the system does not work in the way a layman thinks
The accused grandfather in this case is a painter by profession and thus it can be assumed that he did not have sufficient resources to fight for his bail or acquittal
According to the rape laws, the police is supposed to register a 0 FIR and arrest the accused whenever any girl/woman files a complaint
Evidence, Medical Reports, everything else is secondary and proving one's innocence completely depends on his status to afford a competent lawyer
This also raises a huge question mark on the fate of several under-trials that are languishing in Indian jails, largely due to the pendency of cases at courts
While the man in this case has been acquitted, the minor girl who dared to cook up a false rape and assault story against her own grandfather will go scot free
Every rape case is a blot on humanity, but every false rape case is equally shameful and perhaps more cruel for genuine victims of this heinous crime
DO WATCH: 
Grandfather Acquitted In False POCSO Case After Spending 5-Years In Jail | Voice For Men India
ALSO WATCH:
8-Year-Old Bengaluru Girl Falsely Accuses Food Delivery Agent | Voice For Men India
Note: The identities of all parties have been removed by us since sadly the laws protect the identity of the alleged victim even after the case has been proven false.
LEAVE YOUR COMMENTS BELOW:
READ JUDGMENT | Maternal Grandfather Acquitted In False POCSO Case After Spending 5-Years In Jail

▪️Court: "Child's DNA didnt match with victim's grandfather nor the boy with whom she had relationship. She could be protecting 3rd person"#VoiceForMenhttps://t.co/b6UIaBEW51

— Voice For Men India (@voiceformenind) September 10, 2023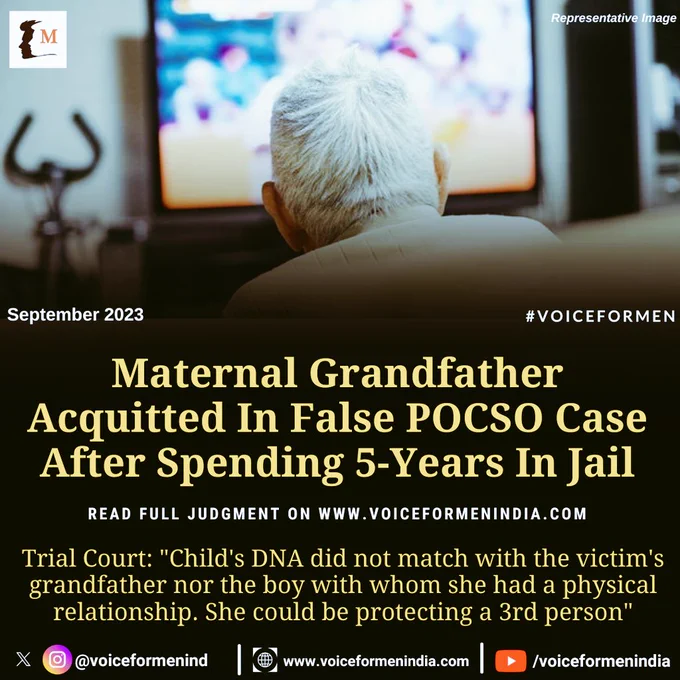 Join our Facebook Group or follow us on social media by clicking on the icons below
Donate to Voice For Men India
Blogging about Equal Rights for Men or writing about Gender Biased Laws is often looked upon as controversial, as many 'perceive' it Anti-Women. Due to this grey area - where we demand Equality in the true sense for all genders - most brands distance themselves from advertising on a portal like ours.
We, therefore, look forward to your support as donors who understand our work and are willing to partner in this endeavour to spread this cause. Do support our work to counter one sided gender biased narratives in the media.
To make an instant donation, click on the "Donate Now" button above. For information regarding donation via Bank Transfer, click here.
Alternately, you can also donate to us via our UPI ID: voiceformenindia@hdfcbank