Times are changing, slowly but surely! In a rare case reported from Pune, a woman has been ordered to pay permanent alimony to her estranged husband in a matrimonial matter. The matter was concluded by granting divorce to the couple.
Case:
The wife in this case 33-years-old and holds an M.Tech degree, while the husband is 38 and a B.Tech graduate. The couple got married in 2018, however, soon faced compatibility and ideological differences and started living separately.
In March 2022, the husband first filed for alimony and the wife too rebounded with a similar case demanding permanent alimony.
Domestic Abuse Of Men | Pune Court Orders 78-Year-Old Wife To Pay Interim Maintenance To 83-Year-Old Husband
Wife Files Fake Documents
As per a Lokmat Pune report, the Court learnt that the woman had filed fake and misleading documents with her alimony application.
Court Orders Wife To Pay Alimony
Pune Civil Judge S. V. Phulbandhe that heard the matter and ordered the wife to pay a total sum of Rs 50,000 as permanent alimony to her husband. The court concluded that the woman had lied and submitted fraudulent documents demanding alimony.
Pune Court Rejects Interim Maintenance To Techie Wife As "She Earns Enough"
VFMI Take:
One cannot miss the paltry amount ordered as alimony when the payer is the wife
If genders would be reversed, the husband would have been asked to cough up a few lakhs
In our opinion, alimony/maintenance should be granted only in genuine needy cases and not as a norm while dissolving marriages
Particularly, if both the husband and wife are educated and working, neither of them should be encouraged to demand money from the other
If we speak about Gender Equality, we need to walk the talk in its true sense
LEAVE YOUR COMMENTS BELOW:
"Pay Rs 50K Permanent Alimony To Husband": Pune Civil Court Orders Wife In Divorce Case

▪️Court learnt that the wife had filed fake & misleading documents with her alimony application#VoiceForMenhttps://t.co/cxYwClxIDV

— Voice For Men India (@voiceformenind) May 11, 2023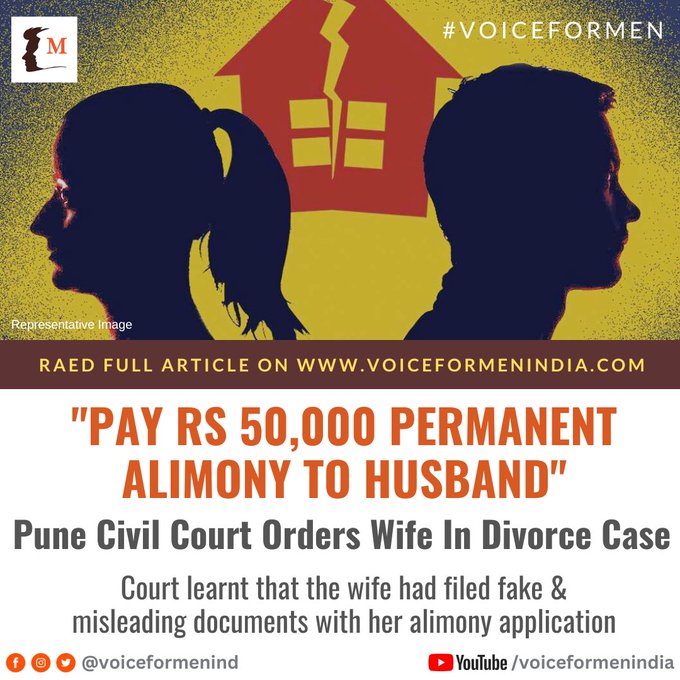 DO WATCH:
Nainital Lady Police Slaps Man Who Recorded Her Video During Challan | Interview With Accused Men
Join our Facebook Group or follow us on social media by clicking on the icons below
Donate to Voice For Men India
Blogging about Equal Rights for Men or writing about Gender Biased Laws is often looked upon as controversial, as many 'perceive' it Anti-Women. Due to this grey area - where we demand Equality in the true sense for all genders - most brands distance themselves from advertising on a portal like ours.
We, therefore, look forward to your support as donors who understand our work and are willing to partner in this endeavour to spread this cause. Do support our work to counter one sided gender biased narratives in the media.
To make an instant donation, click on the "Donate Now" button above. For information regarding donation via Bank Transfer, click here.
Alternately, you can also donate to us via our UPI ID: voiceformenindia@hdfcbank