The Dehradun police arrested a woman along with her brother for allegedly killing the woman's boyfriend after he refused to marry her. 
The victim's body was recovered from a hotel in Mussoorie on Sunday.
Married Bareilly Woman Murders Boyfriend Of 8-Years, With Help Of Another Lover
Case:
Kapil Choudhary, a resident of Roorkee, was in a relationship with a woman named Kudrat (20), who is a resident of Shaheen Baug in Delhi. According to a report by The Indian Express, Kudrat informed the police that Kapil had promised to marry her, later backed out and was going to marry someone else at the insistence of his family.
Delhi Shocker: Woman Along With Her Lover Murders Senior Citizen In-laws To Acquire Family Property
Murder
A hotel named Roti Chai 7 Night in Mussoorie recovered Kapil's body on Sunday from one of their rooms. The victim had booked the room using his own ID.
Upon seeing his throat slit, the hotel intimated the local police immediately and an FIR was registered under Section 302 (murder) of the Indian Penal Code against unidentified persons.
Upon checking the CCTV cameras, the police learnt that another man and a woman had accompanied the victim to the hotel in a car on Saturday. However, on early Sunday morning, the duo were seen leaving the premise.
When Kapil's relatives were shown CCTV footages, they identified the woman as Kudrat and her brother Abdullah (18) from Delhi.
Accordingly, a police team left for the capital to nab the brother-sister.
Uttar Pradesh: Hathras School Teacher Murdered By Teen Daughter & Her Boyfriend
Police Statement
Speaking with The Indian Express, Dehradun Senior Superintendent of Police Daleep Singh Kunwar said:
After Kudrat told her brother about Choudhary, they planned to kill him. They met Choudhary in Haridwar and went with him to Mussoorie. Abdullah allegedly slit Choudhary's throat while he was sleeping.
Adding further, the police said:
The accused hid Choudhary's body under the bed and threw the blood-stained bedsheet, pillow cover, and knife in the bushes behind the hotel.

The duo then took Choudhary's car, parked it in Haridwar and went to Delhi. They were arrested when they returned to Haridwar to take the car.
During interrogation, Kudrat informed police that about two years ago, she met Kapil for the first time at a mobile shop in Karol Bagh Market in Delhi. Soon, the two got into a relationship and Kapil had promised to marry her. However, Kapil later changed his plans and backed out from marriage at the insistence of his family.
DO WATCH:
Chandigarh University Case | Peepoye Akassh Gupta | Rankaj Verma Was Never Involved | Voice For Men
LEAVE YOUR COMMENTS BELOW:
https://x.com/voiceformenind/status/1701877449582158008?s=20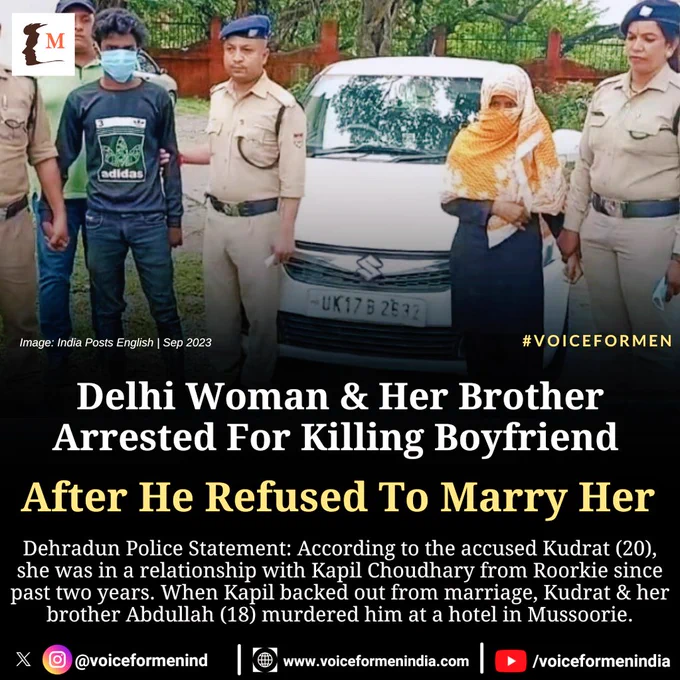 Join our Facebook Group or follow us on social media by clicking on the icons below
Donate to Voice For Men India
Blogging about Equal Rights for Men or writing about Gender Biased Laws is often looked upon as controversial, as many 'perceive' it Anti-Women. Due to this grey area - where we demand Equality in the true sense for all genders - most brands distance themselves from advertising on a portal like ours.
We, therefore, look forward to your support as donors who understand our work and are willing to partner in this endeavour to spread this cause. Do support our work to counter one sided gender biased narratives in the media.
To make an instant donation, click on the "Donate Now" button above. For information regarding donation via Bank Transfer, click here.
Alternately, you can also donate to us via our UPI ID: voiceformenindia@hdfcbank