Interim Maintenance in matrimonial cases was a provision made to support women who were uneducated, not working or completely dependent on their husbands for a living with no scope for earning a livelihood. Unfortunately today, several highly educated working women too, are taking advantage of this as a norm, thereby, leaving several questions on the fight for equality in society. 
In a recent order dated March 02, 2023, a local court in Delhi rejected a wife's application for interim maintenance under the Protection of Women from Domestic Violence Act (PWDVA). Citing that the applicant was a highly qualified and capable woman, the Delhi court dismissed her application remarking:
Allowing her maintenance would promote idleness and dependency on the husband.
READ ORDER | Delhi Man Fights Party-in-Person At Court & Gets 'False' Domestic Violence Case By Wife Dismissed
Case:
Parties got married in December 2018. Husband is a qualified MBBS D-Ortho working with Gangaram hospital in the capital, while estranged wife has done her BBA and MBA.
The marriage did not last for long and the wife filed a case of Domestic Violence against her husband and in-laws, demanding Rs 50,000 per month as interim maintenance. 
In September 2020, the same court granted a sum of Rs 8,000 per month to the woman, which was challenged by the man in Delhi High Court. The High Court then dismissed the husband's petition, citing that he was wealthier than his wife and enjoying a better lifestyle.
READ ORDER: Husband Files Divorce After 12-Years Separation; Highly Qualified Doctor Wife Files Instantly For Maintenance
Allegations by Wife
The wife in her complaint alleged that after marriage, the respondents (husband and in-laws) demanded dowry from her in the form of household articles and jewelries. She further alleged that in April 2020, the respondent no.2 (father-in-law) molested and misbehaved with her and in May 2020, respondent no. 1 (husband) & 2 in presence of other respondents, beat her up. The respondents are also also accused of torturing and harassing the complainant by stopping her from accessing food items and refrigerator, even during lockdown. 
In her income affidavit, the complainant has stated that she has done BBA and MBA. She is unemployed and has no source of income and completely dependent on her husband.
She is residing with her parents and having a household expenditure of Rs 50,000 per month. She does not have any dependents or liabilities.
Wife Is Not Weaker Sex, But Her Convenience Is Paramount Which Is Standard Practice: Supreme Court During Transfer Petition Of Matrimonial Case
Defense by Husband, In-laws
Per contra, the respondents have stated that the complainant intentionally hid the factum of her first marriage from the husband for several months. After marriage, the complainant did not want to vacate the matrimonial house in order to join the company of her husband at an independent house. She even tried to spoil the relationship of the husband with his family.
Counsel for the husband also argued that complainant is well qualified and is also capable of earning. Further, the husband claimed that he was expelled from his services at Ganga Ram Hospital as he could not concentrate on work due to pending litigations. He also said that the complainant is wealthier than the respondents and has also inherited properties from her parents. She has 2 cars at her disposal.
The 2nd husband against whom the DV case has been admitted also cited how the applicant had claimed to have spent Rs 1 crore for her marriage in her FIR against 1st husband, alleging dowry harassment from him as well. The applicant is also said to have informed him that her first husband had taken away all her jewelry and the remaining was seized by Income Tax department in a raid in the year 2016-17.
READ ORDER | Abled Bodied Husband Cannot Deny Maintenance To Working Wife: Allahabad High Court
Delhi Court
A Delhi court went through facts on record and at the outset rejected the wife's application for interim monetary relief under the Protection of Women from Domestic Violence Act.
Metropolitan Magistrate Swayam Siddha Tripathy observed:
The complainant (wife) is highly qualified and capable of finding a source of income for herself and allowing maintenance will only promote idleness and dependency on the husband. Therefore, I am not inclined to grant any maintenance in view of her capacity to earn.
The court also highlighted the fact that the wife's right to receive maintenance from the husband was "not absolute", and the wife must show her inability to sustain, survive, and manage even the basic necessities. The woman cannot demand maintenance by merely relying on husband's income and lifestyle. The court added,
The complainant has to prove that either she is not earning or her income is not sufficient to maintain the same standard of living which was provided to her in the matrimonial house.
READ ORDER | Mumbai Court Denies Rs 1 Lakh Maintenance To Dentist Wife; Asks Her To Find Job
On qualifications of both parties
The Court also noted that though the wife was an MBA graduate, qualified at par with her husband, and able-bodied, she did not choose to seek a job. While on the other hand, the husband, a qualified doctor, was presently unemployed and not living a luxurious life. The Court noted:
Thus, both the complainant and her husband are capable of earning but are not employed.

Therefore, this argument (of not having any income) cannot be used against one unemployed spouse for providing maintenance to the other unemployed spouse.
Wife Falsely Claiming To Be Unemployed To Grab Maintenance From Husband Can Lead To Conviction | Punjab & Haryana HC
Referring to a 2001 judgement of the Delhi High Court, the magistrate said that principles of equity must be applied in cases of maintenance. Magistrate Tripathy added,
Equity means fairness and evenness and it cannot be applied solitarily upon the aggrieved wife. In absence of any dependent, either of the qualified spouses cannot be made responsible for the other's well-being considering that neither of them is on the verge of destitution.
The court also accounted that the wife was from a "well-to-do family" and also received compensation of Rs 9 lakh from her first husband. The Court concluded:
VFMI Take:
It may take years/decades for laws to change. However, as a society, it is our moral duty to call out such hypocrisy where on one hand women demand equal or privileged rights in every sphere, but choose to become weaker sex during maintenance cases/matrimonial battles. 
The magistrate in this case deserves a special applause since she has curbed the menace of making a fully-abled wife idle, who would then run the divorce case for years on husband's maintenance money, until he pays up alimony. 
LEAVE YOUR COMMENTS BELOW:
READ ORDER | Delhi Court Rejects Maintenance To Educated Wife As It Would Promote Idleness & Dependency On Husband

▪️Marriage 1: Woman (MBA) recd Rs 9 lakh in settlement
▪️Marriage 2: Woman files DV case, demands 50K pm from 2nd husband#VoiceForMenhttps://t.co/NhUOJzAl5P

— Voice For Men India (@voiceformenind) April 6, 2023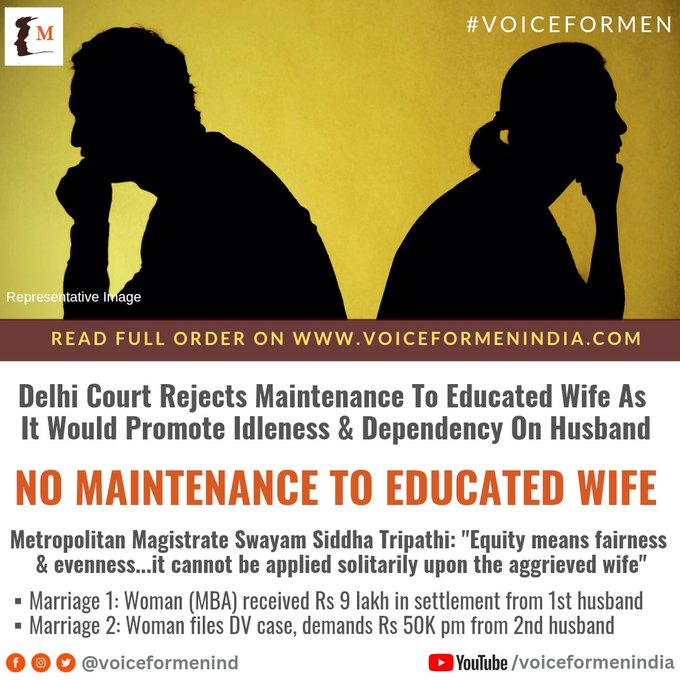 WATCH VIDEO: Has Sonali Kulkarni been vindicated?
"Girls Are Lazy, Only Want Well-Earning Husbands" | Sonali Kulkarni Takes On Fake Feminism In India
https://www.youtube.com/watch?v=SQz_lZVHIuE&t=25s
Join our Facebook Group or follow us on social media by clicking on the icons below
Donate to Voice For Men India
Blogging about Equal Rights for Men or writing about Gender Biased Laws is often looked upon as controversial, as many 'perceive' it Anti-Women. Due to this grey area - where we demand Equality in the true sense for all genders - most brands distance themselves from advertising on a portal like ours.
We, therefore, look forward to your support as donors who understand our work and are willing to partner in this endeavour to spread this cause. Do support our work to counter one sided gender biased narratives in the media.
To make an instant donation, click on the "Donate Now" button above. For information regarding donation via Bank Transfer, click here.
Alternately, you can also donate to us via our UPI ID: [email protected]