We have often seen several comments by successive Chief Justices of India calling our judicial system patriarchal. In 2022, while all colonial laws that do not suit women need to change, every such law where women are at advantage continues as 'standard practice'.
Earlier this month, in a transfer petition matter during a matrimonial dispute, the Supreme Court of India allowed a plea filed by the wife, while taking into account her convenience.
READ ORDER | Following Principle Of "Showing Leniency Towards Wife" Calcutta High Court Allows Transfer Petition
Case:
A woman had filed a transfer plea so that her matrimonial case could be heard in Patiala (where she resided after separation) and not Pune.
A bench of (then) Chief Justice of India (CJI) UU Lalit and Bela M Trivedi passed the order in favour of the wife, suggesting that the woman's convenience must be given priority. 
"Convenience Of Wife Has To Be Preferred Over That Of Husband in Transfer Petitions": Kerala High Court
Arguments by Husband
The counsel representing the husband claimed that the wife was simply playing the 'woman card'.
The counsel for the husband vehemently argued that the wife's only ground was that she was a woman and even though she was highly educated and held a doctorate degree, she claimed that she needed someone to accompany her to Pune. The husband submitted,
She is highly educated, she is perfectly fit and fine. She is a PhD holder. Why she needs someone to accompany her to Pune? Moreover, why does she need a person in her life who doesn't want to live with her?
Supreme Court of India
Then CJI U U Lalit remarked,
I quite see the forceful submission made by you. Unfortunately, the ethos which has developed in this court is convenience of the wife is paramount.
While the CJI agreed that in today's day and age women could not be said to require companions while travelling, he was not inclined to go against the established practice of giving preference to the convenience of women while deciding transfer petitions. The bench stated,
We quite see that in today's time you cannot say that female is the weaker sex and say that because they need protection they need a companion to travel. But at the same time this (giving preference to convenience of wife) has been the standard practice. Therefore, we will adopt that.
Allahabad HC Allows MBBS Wife To Transfer Divorce Case As She Has No Family Member To Escort Her
The bench infact also questioned that if the wife could travel to Pune, the husband could also travel to Patiala.
To this, the husband's lawyer went on to argue that if the petition is allowed, it would set a wrong precedent and every woman would play this card. He said,
Sometimes even men should be heard!
VFMI Take:
Feminists have manipulated every single law in their favour when it suits their narrative
Anything that is contrary or inconvenient to the women, becomes patriarchal
Transfer petitions in matrimonial cases are the most abused pleas, largely done only to harass the husband who is seeking justice
Most fully-abled educated women choose to sit idle in their parental home after separation, and file the divorce or maintenance proceedings in a court within 3-5 kms of their residence
Men, on the other hand, who are working in a different city miles away, are expected to repeatedly take leaves and travel to city of their estranged wives for years and decades till the matter remains pending
There are numerous instances, where women do not turn up at court or give prior intimation of adjournment and men waste their time, money and effort in spending 2-3 days only to get next hearing date after 3-4 months
Social media warriors who cry about women's rights must visit family courts someday to see how almost every woman today is mocking and abusing laws —- laws which were made to protect and secure them
Leave your comments below:
"Wife Is Not Weaker Sex, But Her Convenience Is Paramount Which Is Standard Practice": SC During Transfer Petition

▪️Husband's lawyer: "She is playing woman card. Sometimes even Men should be heard"

▪️SC: "We will not deviate from established practice"https://t.co/NEC21ZJuS3

— Voice For Men India (@voiceformenind) November 25, 2022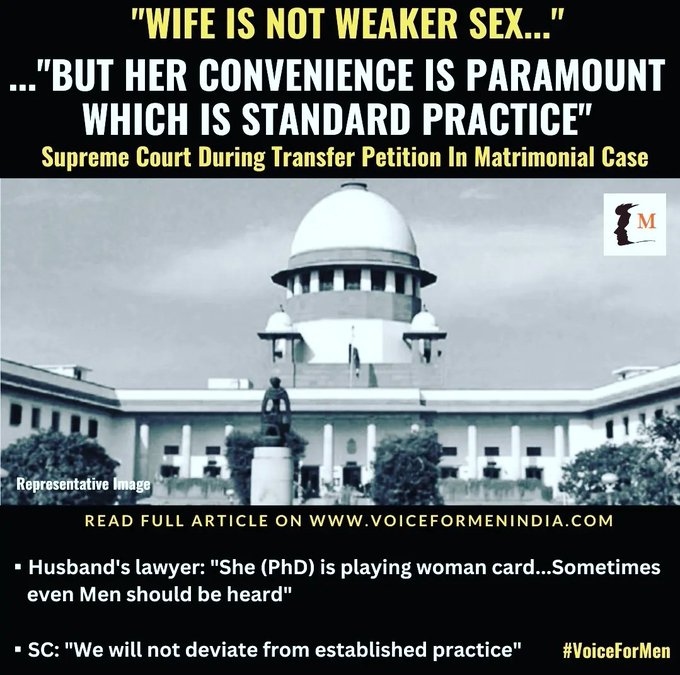 DO WATCH:
Pooja Bedi Shares Why She Chose To Become Part Of India's Sons Documentary | Voice For Men India
Join our Facebook Group or follow us on social media by clicking on the icons below
Donate to Voice For Men India
Blogging about Equal Rights for Men or writing about Gender Biased Laws is often looked upon as controversial, as many 'perceive' it Anti-Women. Due to this grey area - where we demand Equality in the true sense for all genders - most brands distance themselves from advertising on a portal like ours.
We, therefore, look forward to your support as donors who understand our work and are willing to partner in this endeavour to spread this cause. Do support our work to counter one sided gender biased narratives in the media.
To make an instant donation, click on the "Donate Now" button above. For information regarding donation via Bank Transfer, click here.