My body my choice has been taken to a different level by some women in India. The line between comfort, fashion and titilation has been completely blurred by 'social media influencers' like Uorfi Javed. 
Recently, a video went super viral on social media where a young woman was seen traveling in Delhi Metro in an attire which could leave many in public space embarrassed!
Here's What Happened
Rhythm Chanana (19) recently made headlines for her 'absurd' way of dressing while commuting in the Delhi metro. Large part of the social media questioned if such obscenity was permitted in India, where many called out this madness as extreme form of fake feminism. Of course, there were some 'open minded' liberals who slammed all who criticised the young woman.
Watch Video First:
Delhi Metro Girl Video Wearing Tiny Bra And Micro Miniskirt Goes Viral#delhi #girl #viralvideo pic.twitter.com/dg5U6wPcMJ

— Times of Northeast (@timesofne) April 4, 2023
Incidentally, Chanana has been dressing up like this on several occasions, as tweeted by social media users:
There is something seriously wrong practice started in #delhimetrogirl, is this a new kind of virus which came from west is openly spreading now !?? Travelling in #delhimetro with family and kids is seriously embarrassing now due to these retrads.#BiharViolence #IPL2023

— Mishita Roy (@MishitaRoy) April 3, 2023
Chanana Flaunts Her Freedom Of Choice
After receiving immense criticism for wearing a bralette top and mini skirt in a public, Chanana decided to defend her choice of attire, stating that she doesn't care what others think of her, as it is her personal choice to wear what she wants.
Speaking with India Today, Rhythm Chanana expressed,
It's my freedom in what I want to wear. I am not doing this for a publicity stunt or to become famous. I don't care what people have to say.
Chanana refused to give credit to Uorfi Javed for her sense of style. She quoted:
I am not inspired by Uorfi Javed. I didn't even know who she was until recently a friend showed me her photo. However, I look up to her after knowing her story.
Chanana also said that her conservative family was not supportive of her choices. She added,
This choice didn't come in a day, it's a process. I also belong to a conservative family where I wasn't allowed to do what I wanted, hence one day I decided I would do as I wanted since it's my life. I have been travelling like this for many months now. It happened to be viral now.
When asked about her safety while commuting, Chanana said that she has not encountered any issues so far. She also stated that she has learned to ignore regular comments and eve-teasing.
Chanana also said that Delhi Metro Rail Corporation (DMRC) had prohibited passengers from shooting videos or engaging in activities that inconvenience other commuters on the train. She quoted:
It's weird that DMRC has now forgotten their own rule of no videography inside the metro. If they have a problem with my attire, they should also have a problem with those who shot it.
Delhi Metro Issues Statement
Following massive outrage on social media, the DMRC issued a statement on Monday, calling on passengers to follow social etiquette and adhere to acceptable social norms and protocols while riding the metro. The statement read:
Commuters should not indulge in any activity or wear any attire which could offend the sensibilities of other fellow passengers. We appeal to all our passengers to kindly maintain decorum while travelling in a public transport system like the Metro. However, issues such as the choice of clothing while travelling is a personal issue and passengers are expected to self-regulate their conduct in a responsible manner.

Further, the Delhi Metro Rail Corporation's Operations and Maintenance Act lists "indecency as a punishable offence under section 59", under which passengers can be fined.
LEAVE YOUR COMMENTS BELOW:
#DelhiMetroGirl Viral Video: DMRC Issues Statement…"Commuters Should Not…"

▪️#RhythmChanana: "I belong to conservative family where I wasn't allowed to do what I wanted, hence I decided I would do as I wanted since it's my life"#VoiceForMenhttps://t.co/5fbaQq1Oli

— Voice For Men India (@voiceformenind) April 4, 2023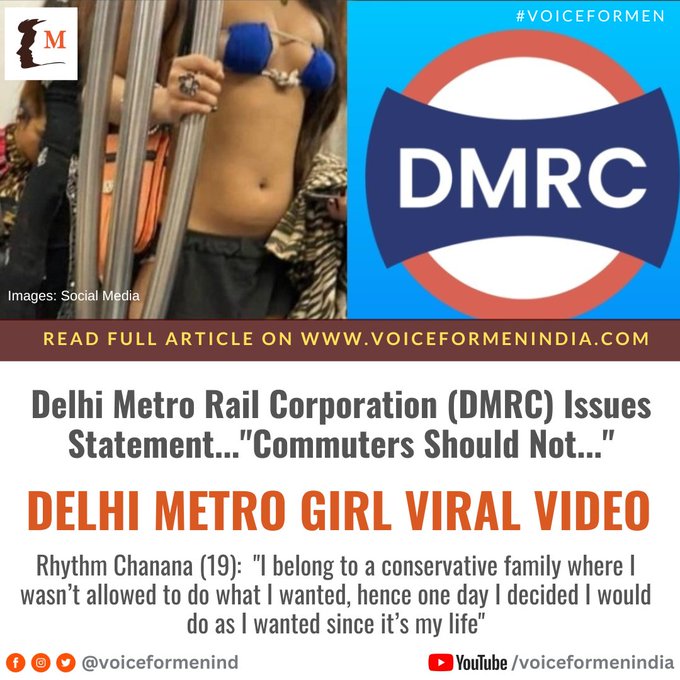 ALSO READ:
Delhi Metro Responds To Men's Day Out On Anti-Male Ad Labelling All Men As Molesters
Fully-Abled Women To Enjoy Free Bus, Metro Rides In Delhi From October; Is #GenderEquality About Entitlement?
MUST WATCH:
"Girls Are Lazy, Only Want Well-Earning Husbands" | Sonali Kulkarni Takes On Fake Feminism In India
#WTFeminism! Neha Dhupia On Roadies Justifies Girlfriend Having Five Boyfriends At A Time
Join our Facebook Group or follow us on social media by clicking on the icons below
Donate to Voice For Men India
Blogging about Equal Rights for Men or writing about Gender Biased Laws is often looked upon as controversial, as many 'perceive' it Anti-Women. Due to this grey area - where we demand Equality in the true sense for all genders - most brands distance themselves from advertising on a portal like ours.
We, therefore, look forward to your support as donors who understand our work and are willing to partner in this endeavour to spread this cause. Do support our work to counter one sided gender biased narratives in the media.
To make an instant donation, click on the "Donate Now" button above. For information regarding donation via Bank Transfer, click here.
Alternately, you can also donate to us via our UPI ID: [email protected]