Counted amongst one of the most eyeball grabbing reality shows of the small screen, Roadies Revolution began a few weeks ago with gang leaders Rannvijay Singha, Prince Narula, Neha Dhupia, Raftaar and Nikhil Chinapa.
Roadies happens to be the most-watched shows with a great youth fan following. Often you would see never ending queues outside the audition theatres where the youngster of India line up for their selection. The show is known for its drama, fights, roasting, tasks and also prominent use of foul language which is taken in 'light humour' by all.
In one of the recent episodes, a male contestant had to face the brunt from all celebrity leaders, especially feminist Neha who lost her cool and started abusing the man.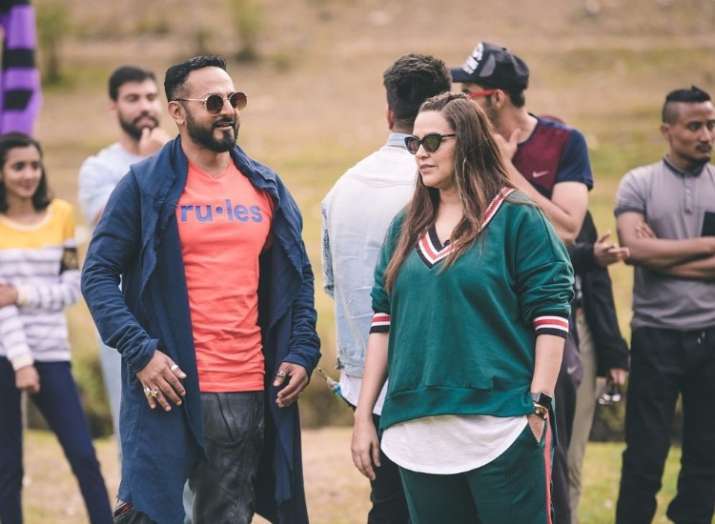 What Exactly Happened?
In the video broadcasted and which has now gone viral, a boy narrates his ordeal of how his girlfriend ditched him. He says, for him loyalty was supreme, however, he found out his girl to be cheating on him with not one, two, but five other men at the same time.
He further admits how he slapped the girl impulsively in front of all the boys and also says he could have gone and complained to her parents, but left it there.
Taking off on him initially was Nikhil Chinapa who interrupts him and repeats the boy's words. Chinapa seems to be getting annoyed because the boy said 'he slapped her'…..fair enough, no one should be seen encouraging or promoting such an act by any gender on the other.
ALSO READ –
However, feminist Neha Dhupia took it to a different level altogether. Demonstrating her angst, she started abusing the boy and quoted,
This what you are saying…..she went with five boys…..listen to me…..It's Her Choice. You haven't tied this person down if you are in a relationship with her. If she is cheating on you, maybe the problem lies with you.

Maybe she was feeling threatened by you…You were not providing physically, mentally, emotionally what she needed. Don't say you did everything….Nobody gives you a f***king right to slap a girl.
ALSO READ –
Boy….
Ma'am I still regret the slap, it was impulsive…
Neha abuses him again…
Our Take:
Slapping must be condemned at any given time; leave the woman if she has not been faithful to you
However, in a reverse case, a boy doesn't really have a choice if he gets caught dating and sleeping around with other women besides his girlfriend
It is never His Body His Choice
Ms Dhupia belongs to the breed of Bollywood feminists who will speak controversial stuff just to be in the news
By justifying a girl dating five other men and passing that off as empowerment is not at all cool
Men's Day Out has always been highly progressive, however, progressive and liberation of the sexes does not empower them to cheat on each other
By making such senseless comments, Neha might be rated a notch higher in the category of fake feminists, nonetheless, she surely sets one of the worst examples for today's younger generation, especially the girls, who talk only and only about their feminist rights, overlooking all other basic morals expected in a relationship
WATCH VIDEO (STRONG LANGUAGE)
The true side of #fakefeminism

?️Reaction when a girl slaps a boy
?️Reaction when a boy slapped a girl#NehaDhupia #Roadiesrevolution #Roadies @NehaDhupia pic.twitter.com/cvgQbsCycT

— Men's Day Out (@MensDayOutIndia) March 12, 2020
On other hand while promoting her movie 'Moh Maya Money' with Ranvir Shorey in 2016, Neha then said "I won't support an unethical and cheating partner". The movie portrayed Neha having an extra marital affair with her boss.
ALSO READ –
http://voiceformenindia.com/in-the-social/neha-kakkars-ex-boyfriend-himansh-kohli-opens-up-about-their-breakup/
http://voiceformenindia.com/in-the-news/complaint-filed-against-swara-bhasker/
Follow www.mensdayout.com on Facebook, Twitter and Instagram
Join our Facebook Group or follow us on social media by clicking on the icons below
Donate to Voice For Men India
Blogging about Equal Rights for Men or writing about Gender Biased Laws is often looked upon as controversial, as many 'perceive' it Anti-Women. Due to this grey area - where we demand Equality in the true sense for all genders - most brands distance themselves from advertising on a portal like ours.
We, therefore, look forward to your support as donors who understand our work and are willing to partner in this endeavour to spread this cause. Do support our work to counter one sided gender biased narratives in the media.
To make an instant donation, click on the "Donate Now" button above. For information regarding donation via Bank Transfer, click here.
Alternately, you can also donate to us via our UPI ID: voiceformenindia@hdfcbank