The Supreme Court on Tuesday directed a warring couple – who have been making all sorts of allegations and counter allegations against each other while fighting over custody of their minor daughter – to undergo psychiatric evaluation.
Both the estranged husband and wife have been directed to appear before doctors at the Hospital for Mental Health in Ahmedabad For Counselling.
Ludhiana Man Dies By Suicide Accusing Wife, In-Laws, Wife's Friend Of Harassment & Parental Alienation | #HusbandSuicide
Case:
A couple from Gujarat have been fighting a bitter legal battle for the custody of their three-year-old daughter. Both sides have been making all sorts of allegations and counter allegations against each other.
In August, the apex court directed for medical evaluation of the wife after serious allegations were levelled against her. After getting a report from the medical board of Vimhans in Delhi, the top court allowed her to spend time with the child at any public place for four hours in a day.
READ ORDER | Madras High Court Reverses Interim Child Custody From Father To Mother Citing Parental Alienation By Custodial Parent
Main Allegation by Husband
Wife is suffering from mental imbalance, due to which she is unable to take care of their child.
Submission by Wife
Denied the allegations.
#HopeWalkToPuri | Separated Fathers March From Bhubaneswar To Puri To Spread Awareness About Parental Alienation During Divorce | Watch Videos
Family Court
A family court had allowed the husband to take custody saying the wife couldn't take care of the child because of the lack of problem of her "mental balance".
Gujarat High Court
The Gujarat high court though set aside the order refusing to accept the plea that she was suffering from mental disease. It then said,
Since conceiving, at the birth of child and bringing the child up jointly, there is no such conduct or behaviour alleged or proved by contemporaneous record except motivated documents in the form of CD / photographs, produced just with a view to prejudice the mind of court.
READ ORDER | Purpose Of Parental Alienation Is To Damage Child's Relationship With Other Parent
Supreme Court
A bench of Justices K M Joseph and B V Nagarathna directed the couple to appear before a panel of doctors on December 19 for psychiatric evaluation. The report will be considered by top court before taking a call on custody dispute. The Supreme Court passed the order on an appeal filed by husband challenging the Gujarat HC order granting custody of their daughter to his wife.
Child Welfare Paramount
The bench made it clear that, if needed, the court would take custody of the child and pass an appropriate order to ensure her welfare. As both parties failed to take a middle ground and kept blaming each other for disturbed married life, the bench said they first needed counselling. The Supreme Court thus ordered,
Both of you require psychiatric evaluation and counselling. You are destroying the child's life and both of you need to be counselled on how to live like husband and wife.
Get Child To Speak To Father Before He Says 'Hello Uncle' | Gujarat HC To Separated Mother In Child Custody Case
It directed the medical superintendent of the hospital to assign a doctor or a panel of doctors to examine them. However, the lawyer, appearing for the wife, submitted that they be sent to some other hospital as her husband has a link in that hospital.
The bench then directed the medical superintendent to ensure that doctors who had earlier treated them be not made part of the panel.
READ ORDER | Mere 30-Minutes In A Month Granted For Child Visitation To Non-Custodial Parent Is Insufficient: Delhi High Court
VFMI Take:
We are living in an era, where marriages are breaking down rapidly – for various reasons and we would not like to be judgemental
If two persons are unwilling to live with each other, it is best that they part and move ahead in their respective lives
However, should children be turned into pawns during separation?
It's time India adopts the concept of Shared Parenting, instead of making children suffer through their childhood tossing between egoistic warring parents
Custody of Children must be shared equally by default, unless there is serious evidence of wrong doing by either parent
Any parent who tries to brainwash the child must face stern consequences from the court
Unfortunately, in current scenario, child custody is handed over solely to mothers, with bare minimum visitation rights to fathers
However, fathers are made responsible unilaterally to support the child and estranged wives financially
If India wants Equality, we need to shun these archaic practices and move towards a society which will help in bringing up children of divorced/separated parents in a healthy and normal manner
Leave your thoughts below:
"Both Of You Require Psychiatric Evaluation & Counselling": Supreme Court To Warring Couple In Bitter Child Custody Battle

▪️SC: "You are destroying child's life & both of you need to be counselled on how to live like husband and wife"#SharedParentinghttps://t.co/LMxMP36dTs

— Voice For Men India (@voiceformenind) December 15, 2022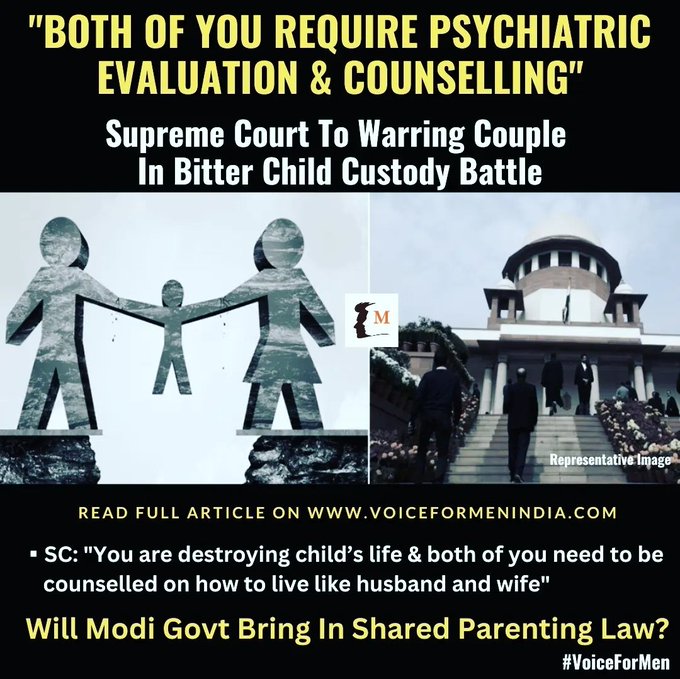 MUST WATCH INTERVIEW:
"I Am Not A Kidnapper, I Am Just A Father Pleading To See My Son" | Manoj Dhankhar
ALSO READ –
Survey Of 500 Separated Parents | How Did Judiciary Respond To Child Custody Cases During Pandemic?
Dear Son, You Would Have Lived Your Life With Single Mom, But Your Father Was Not Evil | Father's Day 2021
Separated Fathers Urge Smriti Irani To Amend Unfair & Women Biased Laws In Child Custody Cases
Join our Facebook Group or follow us on social media by clicking on the icons below
Donate to Voice For Men India
Blogging about Equal Rights for Men or writing about Gender Biased Laws is often looked upon as controversial, as many 'perceive' it Anti-Women. Due to this grey area - where we demand Equality in the true sense for all genders - most brands distance themselves from advertising on a portal like ours.
We, therefore, look forward to your support as donors who understand our work and are willing to partner in this endeavour to spread this cause. Do support our work to counter one sided gender biased narratives in the media.
To make an instant donation, click on the "Donate Now" button above. For information regarding donation via Bank Transfer, click here.