Its 2022 and India needs to wake up to ground realities where all women are no more the victims. Husbands are being murdered almost on a daily basis, yet media fails to report these as Gender Crimes – where the perpetrator is a Woman.
In yet another #HusbandMurder case, reported from Karnataka this time, a middle aged man was killed by his wife and paramour, after being married for the past decade.
Gorakhpur Jail: Women Prisoners Implicated For Husbands' Murder Observe Fast On Karwa Chauth
Case:
Rakesh Tomanga (52) was married to Devi Tomanga (46) since the last ten years. Devi was Rakesh's second wife, while the first had allegedly deserted him. Rakesh worked as a security guard in Bengaluru since 30-years. Rakesh, who lives in Vaderahalli under Vidyaranapura police station limits, was murdered on November 6 by his wife Devi and her paramour Jainul Ali alias Babu (30).
Devi worked as a domestic help. She befriended Babu and had eloped with him in July. Rakesh had filed a missing complaint with the Vidyaranyapura police. She returned home after a week.
10-Year-Old Son Reveals How Mother, Maternal Grandmother & Mother's Boyfriend Murdered His Father
What was even more shocking that the wife plotted the murder of her husband, while she hid her lover in another room in the same home.
According to media reports, there were two rooms in Rakesh's house. One of the rooms was for personal use, while the second room was used to store luggage. Jainul was living in this second room for nearly 10 days, which went unnoticed by Rakesh.
Murder Motive
Devi was frustrated with her husband over his lack of interest in sex. The victim was allegedly addicted to alcohol and would always come home drunk.
On October 28 this year, Devi and Jainul wanted to kill Rakesh, but their planned failed. However, the next attempt was successful since Jainul had stationed himself at Rakesh's home.
#HusbandMurder | Udipi Woman Arrested For Murdering Husband Due To Illicit Affair & Terming It As Suicide
After Rakesh died, his wife informed police that her husband had died due to excessive drinking. However, postmortem report revealed that Rakesh had been strangled to death.
READ ORDER | Woman Accused Of Husband's Murder Eligible For Bail Under Section 437 CrPC: Karnataka High Court
Rakesh's cousin Vishal Tamanga approached the police. Speaking with New Indian Express, the police said,
After killing her husband, Devi claimed that the previous night he had come home with two liquor bottles. While drinking, he had omelette and kebabs. Immediately he took sugar tablets and started screaming saying that he is experiencing pain in his throat. After drinking water, he went to sleep. Around 4 am, she found him dead.
 Adding further, the police stated,
Devi, after the murder transferred money from her husband's bank account to her account. The mobile phone number of her paramour was also registered in her name. When she was questioned with these findings, she had no answers and confessed. Jainul claimed that she had challenged him to kill her husband.
As India discusses and debates to bring in Marital Rape law, why is wife's urge or unreasonable demand for sex from husband not a concern?
Leave your thoughts below:
#Bengaluru: Wife Hides Paramour At Home & Executes Husband's Murder | Crime Has No Gender

▪️Murder Motive: Wife was frustrated with her husband over his lack of interest in sex#MaritalRape#VoiceForMen#DomesticViolence#MenToo #HusbandMurder https://t.co/lEdrZ57Kuo

— Voice For Men India (@voiceformenind) December 15, 2022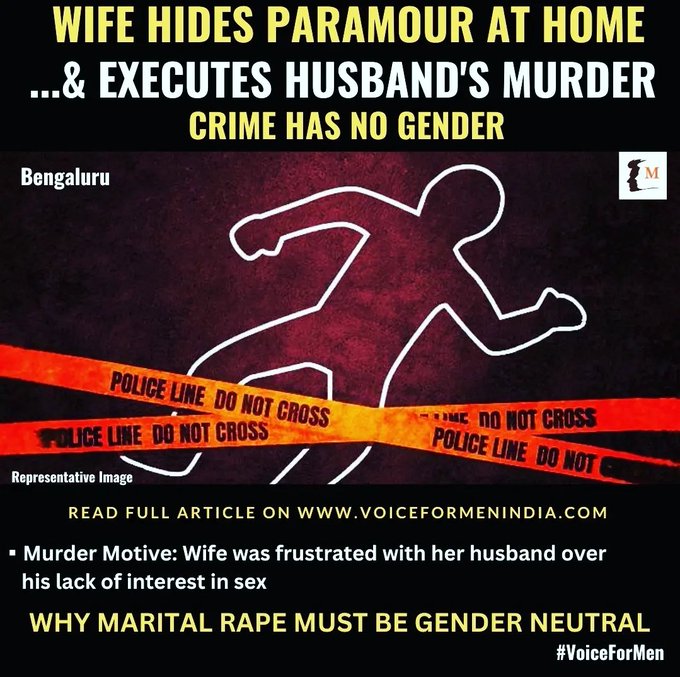 DO WATCH:
Marital Rape Debate | Justice For Women OR Political Opportunism
Join our Facebook Group or follow us on social media by clicking on the icons below
Donate to Voice For Men India
Blogging about Equal Rights for Men or writing about Gender Biased Laws is often looked upon as controversial, as many 'perceive' it Anti-Women. Due to this grey area - where we demand Equality in the true sense for all genders - most brands distance themselves from advertising on a portal like ours.
We, therefore, look forward to your support as donors who understand our work and are willing to partner in this endeavour to spread this cause. Do support our work to counter one sided gender biased narratives in the media.
To make an instant donation, click on the "Donate Now" button above. For information regarding donation via Bank Transfer, click here.