While delivering a keynote address at the inaugural session of the National Stakeholders Consultation on Child Protection on Saturday, where the theme was implementation of the Pocso Act, 2012, Chief Justice of India D Y Chandrachud urged Parliament to consider evaluating the 'age of consent' under this Act.
The CJI stated that there was growing concern surround this issue, as it posed challenges for judges examining cases of consensual sex involving adolescents.
Can POCSO Case Against Minor Boy Be Quashed If Both Children Were In Consensual Relationship | Karnataka High Court To Deliberate
Key Takeaways:
The concern referred to by the CJI emanates from the POCSO Act, which criminalises all sexual activity for those under the age of 18 regardless of whether consent is factually present between the two minors in a particular case, reported India Today. 
The topic for one of the panel discussions during the consultation was regarding the judgments of POCSO courts in "romantic cases" or cases where consenting adolescents engage in sexual activity. The CJI said,
As you are no doubt aware, the POCSO Act criminalizes all sexual activity for those under the age of 18 regardless of whether consent is factually present between the two minors in a particular case.

In my time as a judge, I have observed that this category of cases poses difficult questions for judges across the spectrum. There is growing concern surrounding this issue, which must be considered by the Legislature in light of reliable research by experts in adolescent healthcare.
READ ORDER | POCSO Highly Misused Against Minor Boys By Families Of Teenage Daughters
Talking about the POCSO Act, Chandrachud said the gender-neutral legislation introduced in 2012 was a watershed moment in the history of child rights in India because it finally provided a specialised mechanism for the adjudication of sexual crimes concerning children, while prioritising the best interests of the child.
CJI emphasised on encouraging professional counselling services, especially because many parents are unaware that this can help the child deal with trauma.
"Legal Awareness Needed To Protect Minor Boys Against Label Of Offender Under POCSO": Gujarat High Court
VFMI Take:
We welcome this suggestion from CJI Chandrachud, as in our publishing experience, several young boys/men have been charged for rape under POCSO, after consensual sex with minor girl (currently under 18-years of age)
Several courts have over the years observed, that this Act has in a way become a tool, misused by many parents of minor girls, to fix the boy if they are not in agreement with the relationship
Even in cases, where both the girl and boy are under the age of 18, and where the relationship is with consent, it is only the minor boy who is charged under POCSO
With changing times, and an open society where girls are indulging in sexual activities voluntarily at a much early stage, government must certainly rethink on reducing age of consent within this Act
On the other hand, we also strongly feel that there must be uniform marriage age for all in India, so that young girls are not married off early or forced into sexual activities in the name of consent
Leave your suggestions/opinions below:
"Consider Reducing Age Of Consent Under POCSO Act": CJI D Y Chandrachud To Govt

▪️Topic for discussion was judgments of POCSO courts in "romantic cases" where consenting adolescents engage in sexual activity

VFMI welcomes this suggestion. Read our takehttps://t.co/BRzGO4VWBd

— Voice For Men India (@voiceformenind) December 13, 2022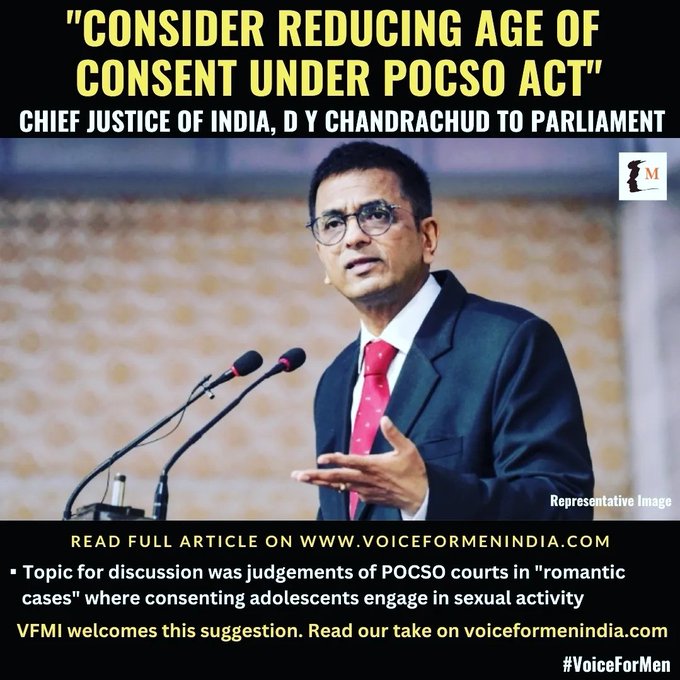 MUST WATCH INTERVIEW FOR PARENTS WHO HAVE SONS
My 13-Year-Old Son Was Falsely Accused By His Female Classmate | Mother Speaks Up
Join our Facebook Group or follow us on social media by clicking on the icons below
Donate to Voice For Men India
Blogging about Equal Rights for Men or writing about Gender Biased Laws is often looked upon as controversial, as many 'perceive' it Anti-Women. Due to this grey area - where we demand Equality in the true sense for all genders - most brands distance themselves from advertising on a portal like ours.
We, therefore, look forward to your support as donors who understand our work and are willing to partner in this endeavour to spread this cause. Do support our work to counter one sided gender biased narratives in the media.
To make an instant donation, click on the "Donate Now" button above. For information regarding donation via Bank Transfer, click here.
Alternately, you can also donate to us via our UPI ID: [email protected]