Domestic Violence Has No Gender. However, the laws are completely biased in favour of women, thereby, allowing no recourse to married men who face abuse and violence at the hands of their wife at home.
As per a recent report by Hindustan Times, one such case has come to light, where a husband has filed a case of domestic violence against his wife at the Mahila court, Karkardooma and the same has been admitted.
Do Not Misuse Domestic Violence Act For Personal Act Of Revenge | Arunachal Pradesh State Commission For Women Vice Chairperson To Participants
As a counter, the woman has challenged the proceedings at the Delhi High Court, citing Domestic Violence Act cannot be used by a husband against his wife.
Justice Jasmeet Singh of the Delhi High Court on Monday halted proceedings in the trial court, directing the husband to file his response. The matter has now been posted for a later date.
READ ORDER | "Domestic Violence Act Enacted To Protect Women, Not Harass Husbands:" J&K Court Imposes Rs 10 Lakh Fine On Wife For Misusing Law
Wife's Plea in HC
The woman, seeking to quash the complaint against her, had approached the high court, saying the trial is untenable in law because the Protection of Women from Domestic Violence (DV) Act, 2005 defines the aggrieved person as "woman/female".
In her plea filed through advocate Ashima Mandla and Mandakini Singh, the woman has said that the initiation of proceedings by the magistrate at the Mahila court, Karkardooma under the DV Act "are ex-facie untenable in law and it is substantiated by Section 2(a) of the DV Act which defines aggrieved person as 'woman/female' only".
The plea added,
As per the scheme and object of the Protection of Women from Domestic Violence Act, 2005, the intent of the legislature is resolute that recourse to protection under the DV Act is qua an 'aggrieved person' defined u/s 2(a) which is intentionally and solemnly limited to only 'woman' under the Act and hence, a complaint filed by the Respondent-husband under the DV Act is ex-facie not maintainable and deserves to be quashed in toto.
There Is No Law Like Domestic Violence Act For Husband To Proceed Against Wife | Madras High Court
Citing Gender Biased Section 498-A IPC, the plea further read:
Even in Section 498A of the Indian Penal Code, 1860, only a female person shall be aggrieved for the purposes of Section 498A IPC, whereas the accused/perpetrator may be male/female and hence gender neutral.
The plea has also said that the respondent-husband has circulated the news in various media platforms to indicate that male persons have recourse as an aggrieved person under the Protection of Women from Domestic Violence Act, 2005.
5 Fold Increase In Number Of Domestic Violence Complaints Received From Husbands Against Wives | Bharosa Cell, Pune Police
VFMI Take:
This case exposes sheer hypocrisy of our gender biased laws
In 2023, where women rights activists still cry against unequal laws for women, they mislead society by not showing them the real picture
Matrimonial laws in India are a sham for Men in the name of justice
Every single law is tilted in favour of a wife, while aggrieved husbands are threatened and compelled to pay lifelong maintenance / alimony – despite cruelty by wife
This is a classic case, where the accused wife is not contesting the charges, but in fact, contesting the loophole in the law, that does not allow an allegedly harassed husband to seek justice
Note: If the husband in this case is reading the article, please connect with us at [email protected] with regards to your case application 
LEAVE YOUR THOUGHTS BELOW:
Woman Challenges Domestic Violence Case By Husband At Delhi HC; Argues DV Act & #498A IPC Only For Women/Female

🔹ARGUMENTS BY WIFE:

▪️Recourse to DV Act is intentionally & solemnly limited to only 'woman'
▪️Complaint by husband deserves to be quashedhttps://t.co/xjsognVhBN

— Voice For Men India (@voiceformenind) January 25, 2023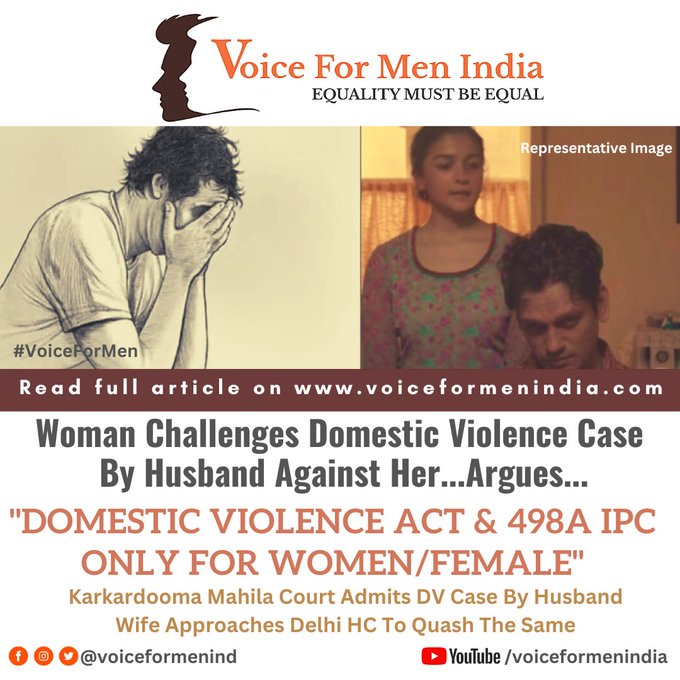 MUST WATCH INTERVIEW (2006) WHEN DV ACT WAS INTRODUCED IN INDIA UNDER UPA-1
Karan Thapar Interview With Women & Child Minister Renuka Choudhary (Domestic Violence Act)
ALSO READ –
Bihar | Acid Attack On Husband | Man Beaten Up By Wife & In-Laws; Critical | Domestic Violence Against Men
Wife Pours Hot Boiling Water On Husband's Private Parts Suspecting Him Of Infidelity | India Does Not Recognise Domestic Violence Against Men
WATCH | Uttar Pradesh Man Reaches Police Station Alleging Domestic Violence By Wife; Accuses Her Of Burning Him With Hot Tongs
Twitter User Tags PM Narendra Modi Asking For Help Against Domestic Violence By Wife; Bengaluru Police Responds
Men's Rights NGO Marches With Full Force At Delhi Half Marathon Spreading Awareness About Domestic Violence Against Men
Join our Facebook Group or follow us on social media by clicking on the icons below
Donate to Voice For Men India
Blogging about Equal Rights for Men or writing about Gender Biased Laws is often looked upon as controversial, as many 'perceive' it Anti-Women. Due to this grey area - where we demand Equality in the true sense for all genders - most brands distance themselves from advertising on a portal like ours.
We, therefore, look forward to your support as donors who understand our work and are willing to partner in this endeavour to spread this cause. Do support our work to counter one sided gender biased narratives in the media.
To make an instant donation, click on the "Donate Now" button above. For information regarding donation via Bank Transfer, click here.
Alternately, you can also donate to us via our UPI ID: [email protected]