Crime Has No Gender. Husbands also face extreme forms of Domestic Violence by Wife & In-laws. However, in the absence of English media giving any space to such reports, society is made to believe that woman is always a victim, while man is always the perpetrator.
In one such horrific incident reported from Sitamarhi in Bihar, a husband faced an acid attack from his wife during ongoing matrimonial dispute.
Delhi Man Registers Case Against Wife Alleging Physical Assault & Acid Attack
Case:
Nageshwar (victim husband) had a love marriage with Parvati Kumari 10-years-ago. The couple has a son.
The relationship between the two soured over the years and 15-days ago there was a fight between husband and wife over Rs 2,000. After this, the woman left her matrimonial home and returned to her parents.
19-Yr-Old Girl Attacks Boyfriend With Acid After He Refuses To Marry Her | Where Are #KabirSingh Critics?
Acid Attack On Husband
On Tuesday, Parvati asked Nageshwar to come to her maternal home where she had been living since a fortnight. When the husband reached here, he was beaten up and attacked with acid, after which he lost his eyesight. Nageshwar's condition remains to be critical.
32-Year-Old Nagpur Woman Attacks 25-Year-Old Lover With Knife After He Refused Marriage | No Means No?
Police Action
The local police was informed about the incident at around 9pm on Tuesday after which Nageshwar was shifted to PHC Hospital in Riga. The condition of the husband was critical, thus he was subsequently taken to Sadar Hospital.
Nageshwar's family reach the hospital on receiving information about this attack. SHO Ram Iqbal Prasad informed media the 'they were investigating the matter'.
Separated Woman In Coimbatore Throws Acid On Ex-Boyfriend Who Refused To Marry Her
Statement by Victim's Relative
As per media statement given by Vikas Singh, victim's brother, Parvati had called her husband to her home. When Nageshwar reached his in-laws' place, he was beaten up with a stick and attacked with acid.
WATCH VIDEO | Kerala Married Woman Throws Acid On Boyfriend's Face For Rejecting Marriage Proposal
Acid Attack On Men In India
Contrary to the media hype that only women fall prey to acid attacks, according to National Crime Record Bureau (NCRB) over the years, more than 30-40 per cent of acid attack victims are men.
Through his PIL in 2018 to address all victims of acid attack equally, irrespective of Gender, Chandrahass Mishra, acid attack survivor said,
Supreme Court framed guidelines for all victims irrespective of gender. It is the government authorities who made rules gender discriminatory. 
#Bihar | Acid Attack On Husband | Man Beaten Up By Wife & In-Laws; Critical | Domestic Violence Against Men

▪️No arrests yet, as police is 'investigating'#GenderBiasedLaws #VoiceForMen #SpeakUpMen https://t.co/1KDvUkDIhH

— Voice For Men India (@voiceformenind) September 15, 2022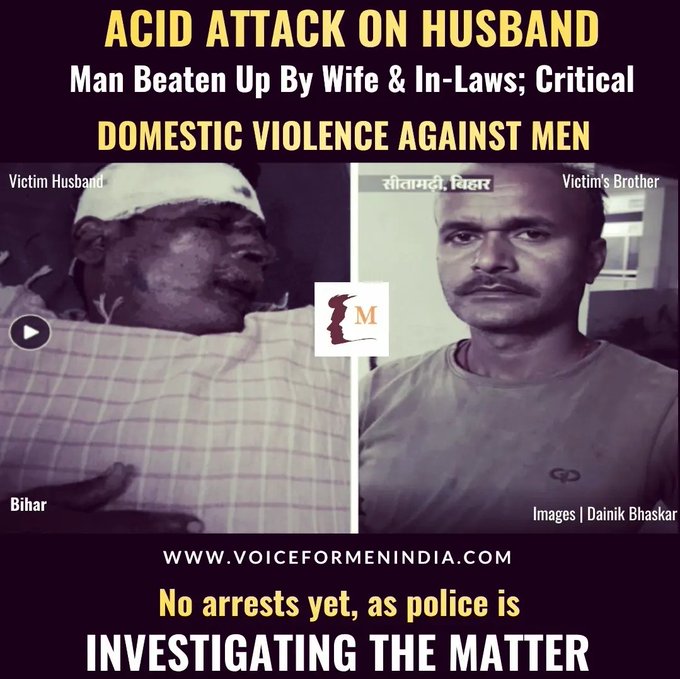 WATCH:
Haryana | Girl Throws Acid On Hisar Boy As He Wanted To Delay Marriage For Higher Studies
Join our Facebook Group or follow us on social media by clicking on the icons below
Donate to Voice For Men India
Blogging about Equal Rights for Men or writing about Gender Biased Laws is often looked upon as controversial, as many 'perceive' it Anti-Women. Due to this grey area - where we demand Equality in the true sense for all genders - most brands distance themselves from advertising on a portal like ours.
We, therefore, look forward to your support as donors who understand our work and are willing to partner in this endeavour to spread this cause. Do support our work to counter one sided gender biased narratives in the media.
To make an instant donation, click on the "Donate Now" button above. For information regarding donation via Bank Transfer, click here.