Women centric laws were made in India to protect the alleged 'weaker sex' from any harassment or domestic violence from husband and in-laws. However, over the years/decades, in the absence of tweaking laws with the current times, several women are misusing the loopholes and approaching court for (monetary) relief.
In one such bizarre case, the Magistrate Court in Mumbai has refused any relief to a woman who went to court after 32-years of separation from her husband.
Delhi High Court Refuses To Enhance Maintenance For Wife Owing To "No Change In Her Circumstances"
Case:
Couple was married in 1987. The woman approached court in 2021, where she accused her husband and in-laws of allegedly driving her out of matrimonial home in May 1989.
The woman also claimed that her husband and in-laws had fraudulently grabbed the property of her late husband and in-laws (she was married earlier) and that she has the right in the property.
The woman even contended that there is no limitation period to claim relief under the Domestic Violence Act.
Pune Court Rejects Interim Maintenance To Techie Wife As "She Earns Enough"
Magistrate Court, Mumbai 
The Magistrate Court in Borivali refused to grant relief to this woman under the Protection of Women from Domestic Violence (DV) Act citing a delay of three and more decades.
The Court noted that the domestic relationship between parties had ceased to exist 32 years and six months ago. Thus, the Court said the woman is not at liberty to sue the respondents as per her whims at any time. The Court remarked,
It is clear that the two parties have not resided in a shared household since 1989, so the allegations of domestic violence are "absolutely remote in time".
Wife Living Separately Since 10-Years Not Consenting To Divorce & Is Only Interested In Maintenance | Gujarat High Court
Time Limit To Approach Court
With regards to the lapse in time, the court said that not having a prescribed period of limitation does not mean that the woman is at liberty to sue the respondents as per her whims at any time. The Court added,
Had it been so, there would be no end to such litigation.
The Court held that the plea had not been instituted within reasonable time.
LEAVE YOUR COMMENTS BELOW ON THIS CASE:
"Wife Not At Liberty To Sue In-Laws As Per Her Whims" | Mumbai Court Refuses DV Case After 32-Years Of Separation

▪️Woman contended that there is no limitation period to claim relief under the Domestic Violence Act@narendramodi @AmitShah @KirenRijijuhttps://t.co/H8nNWldTlK

— Voice For Men India (@voiceformenind) September 14, 2022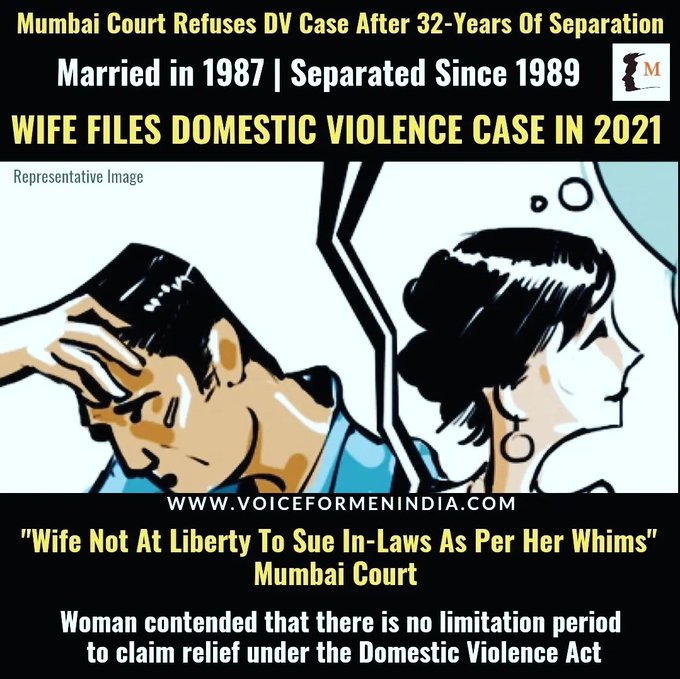 WATCH:
Lalu Prasad Yadav's Son Tej Pratap Threatens To Release Domestic Abuse Videos Amidst Divorce Case
Join our Facebook Group or follow us on social media by clicking on the icons below
Donate to Voice For Men India
Blogging about Equal Rights for Men or writing about Gender Biased Laws is often looked upon as controversial, as many 'perceive' it Anti-Women. Due to this grey area - where we demand Equality in the true sense for all genders - most brands distance themselves from advertising on a portal like ours.
We, therefore, look forward to your support as donors who understand our work and are willing to partner in this endeavour to spread this cause. Do support our work to counter one sided gender biased narratives in the media.
To make an instant donation, click on the "Donate Now" button above. For information regarding donation via Bank Transfer, click here.