When God could not be present everywhere, he made a Mom! That's the generic statement we all have been raised with. Of course, by far there is no substitute for both parents in one's life, however, no one should be given benefit of doubt just because she is a mother or because of her Gender.
In one such case reported from Gurugram, local police arrested a woman and her two associates on Sunday on charges of allegedly kidnapping two minor girls. Out of the two girls, one happened to be the daughter of the accused woman.
Supreme Court Summons Parties To Find Positive Solution & Decide Whether It Was Kidnapping/Rape Or Love Marriage
Case:
On Friday, Gurugram police received a call about the abduction of two minor girls – 9-years and 14-years – from Ekta Enclave area in Bhondsi. The kidnappers had demanded a ransom of Rs 50 lakh, reported Indiatimes.
A case was registered at the Bhondsi police station and a team was constituted to trace the girls, who were rescued from Hero Honda Chowk.
Navi Mumbai Woman, Female Aides Kidnap Builder Husband Amidst Marital Dispute
Police Investigation & Statement
The police said that the accused were identified as Rinki, Sagar, and Vikas. Rinki, who was the mother of the 14-year-old, was the mastermind behind the incident.
During the probe, the police learnt that the Rinki and complainant mother (of 9-year-old girl) were known to each other. Rinki had borrowed around Rs 26 lakh from the complainant mother. The police confirmed that the accused mother kidnapped her own daughter as well to avoid suspicion. Speaking with media, officials stated,
Rinki hatched a conspiracy to kidnap the 9-year-old girl along with her daughter so that no one can suspect her. She, along with her accomplices – Sagar who worked as her driver and Vikas aka Suraj who worked at her dhaba, planned to kidnap the girls on the night of a kirtan programme organised in the house of complainant to which Rinki was also invited.
Mother Of 3 Children Elopes With 15-Year-Old Boy | Woman Charged With Kidnapping & Not POCSO
Adding further, the police said,
As per the plan, Rinki attended the kirtan programme during which the victim was lured out of her house on the pretext of buying ice cream. Outside, Sagar and Vikas were ready with a car to kidnap the victim. When both minor girls went outside for ice cream, they were taken away.
The accused have been sent to judicial custody.
CRIME HAS NO GENDER
Gurugram Police Arrests Woman For Kidnapping Two Minor Girls, Including Own Daughter To Avoid Suspicion While Demanding Rs 50 Lakh Ransom

▪️Police: "Rinki (mother of 14-year-old) was mastermind behind kidnap, since she borrowed Rs 26L from complainant"https://t.co/CBxuA443C7

— Voice For Men India (@voiceformenind) September 14, 2022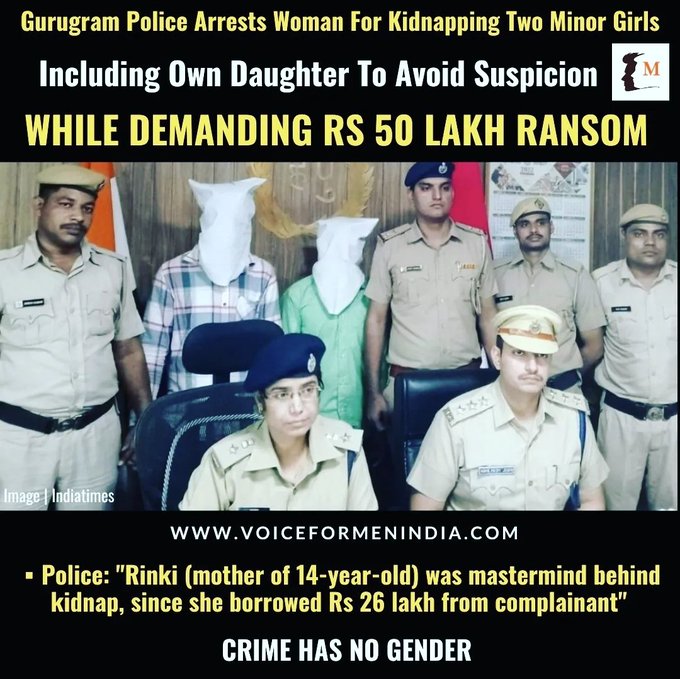 MUST READ:
VIRAL TWEET OF FATHER KIDNAPPING CHILD | THE OTHER SIDE | RECENT PUNJAB & HARYANA HIGH COURT ORDER
Join our Facebook Group or follow us on social media by clicking on the icons below
Donate to Voice For Men India
Blogging about Equal Rights for Men or writing about Gender Biased Laws is often looked upon as controversial, as many 'perceive' it Anti-Women. Due to this grey area - where we demand Equality in the true sense for all genders - most brands distance themselves from advertising on a portal like ours.
We, therefore, look forward to your support as donors who understand our work and are willing to partner in this endeavour to spread this cause. Do support our work to counter one sided gender biased narratives in the media.
To make an instant donation, click on the "Donate Now" button above. For information regarding donation via Bank Transfer, click here.