Adultery has been decriminalised in India since 2018, however, the same still remains a valid ground for divorce as a civil remedy under Section 13 (1) of Hindu Marriage Act, 1956. 
The Uttarakhand High Court in its order dated June 14, 2023 has allowed a married woman to stay with her 'male friend' with whom she is residing on her own free will. The woman's husband had filed a writ of Habeas Corpus, which has been declined by the High Court. 
Feminist Portal The News Minute Dismisses Baiju Raju's Suicide As His Mental Problem; Gives Clean Chit To Wife Justifying Adultery
Case:
Parties got married in the year 2012 and have two kids (10-year-old son & 6-year-old daughter). 
In 2022, the wife left her matrimonial home in Dehradun and went to her maternal home at Faridabad. After then, she never returned. The couple's daughter was left behind with the husband. 
The husband then became suspicious that his wife has been illegally detained by one of the respondents, who happens to be a male friend of his wife. Thus, he filed a writ petition in the High Court seeking issuance of a writ of habeas corpus to get back his wife.
Armed Forces Can Take Disciplinary Action Against Personnel Who Indulge In Adultery: Supreme Court Of India
Defense by Wife
The wife attended the court hearing as per previous order and stated that her husband used to 'misbehave' with her and thus she left his home and is living with her male friend at her own will. The wife also informed the bench that she will not join the company of her husband again.
Submission by Husband
The husband on the other hand denied all allegations levelled by the wife and informed the court that she left the home without any valid reason.
READ JUDGEMENT | Wife Living In Adultery Not Entitled To Permanent Alimony: Punjab & Haryana High Court
Uttarakhand High Court
A Division Bench of Justice Manoj Kumar Tiwari and Justice Pankaj Purohit heard the matter and expressed its inability to grant any relief to the petitioner-husband. Dismissing the husband's Habeas Corpus petition, the Uttarakhand High Court said,
Be that as it may, since the lady has categorically stated that she is living with respondent no. 9 (her male friend) on her own free will, therefore, no further order can be passed.
Family Court Must Aid Wife To Procure Evidence For Proving Husband's Adultery: Delhi High Court
Voice For Men India Take:
The biggest hypocrisy of our cultural and legal system is exposed when it comes to judging extra-marital affair of an individual
While there are numerous orders permitting a married woman to live-in with her male partner, husbands on the other hand, can be charged under Section 498-A for mental cruelty to wife, if they adopt a similar approach outside marriage
What was Section 497 IPC criminalising adultery? This was a law that meant a man who had sex with a married woman without getting her husband's permission could be charged or face up to five years in jail if convicted
A five judge bench headed by then Chief Justice of India, Dipak Misra emphasised that "Adultery could not and should not be a crime. It can be a ground for a civil offense, a ground for divorce"
Current Chief Justice of India, D Y Chandrachud who was also a part of the same bench had expressed, "Physicality is an individual choice. The law was based on the concept that a woman loses her individuality once she is married. Adultery is a relic of past".
Infact, now since adultery has been decriminalised, it is impossible for husbands to get any relief or justice from the courts if their wives indulged in illicit affairs. In most scenarios, even private pictures/videos brought on record by the husbands are rejected as evidence, citing privacy of the wife and her paramour
In 2021, the Delhi High Court even went ahead and granted maintenance to a woman living in adultery, stating occasional adultery will not disentitle her from getting maintenance from her husband
READ ORDER | Solitary Act Of Adultery Or Isolated Lapse Of Wife Will Not Disentitle Her To Claim Maintenance: Punjab & Haryana High Court
This is a huge topic for discussion, where often, the husbands are not even the biological fathers of their children. Even in those cases, a DNA Paternity test proving that a man is not the father of the child, is rejected by courts citing Section 112 of the Indian Evidence Act 1872
In our opinion, courts cannot apply liberal approach towards women, and only remind the men of their duties and responsibilities of a husband
Can a man ever be allowed to just leave his home, wife and children and start living with his partner? 
We must blame our society more than the lawmakers. Instagram and other social media platforms are full of content creators justifying adultery by wives in the name of her happiness and her life choices. Such content is lauded by most social media users in the name of progress and freedom to express one's desire
Whereas, if the genders are reversed, the same society is prompt to call endless names towards married men if they too seek 'happiness' outside marriage
To conclude, marriage as an institution has very less sanctity left in today's times. If our lawmakers are progressive in the true sense, they must make divorce laws simpler and neither spouse should be compelled to live with the other if the marriage has broken down irretrievably 
DO WATCH:
Uttarakhand HC Allows Married Woman To Live-in With Her Male Partner Without Divorce | Voice For Men
LEAVE YOUR COMMENTS BELOW:
READ ORDER: Uttarakhand HC Allows Married Woman, Mother Of Two Kids, To Live-in With Her Male Partner

▪️2012: Marriage
▪️2022: Wife leaves matrimonial home, starts living with boyfriend
▪️2023: Wife informs HC "will not return to husband"#VoiceForMenhttps://t.co/PW6jJ67OvU

— Voice For Men India (@voiceformenind) June 21, 2023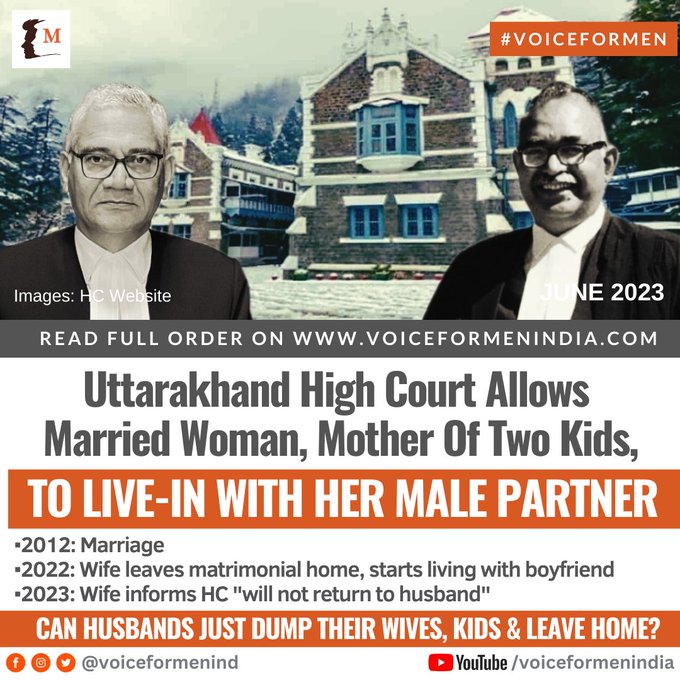 ALSO WATCH:
Should Men File For Divorce First | Voice For Men India | Swarup Sarkar | Save India Family (SIF)
Join our Facebook Group or follow us on social media by clicking on the icons below
Donate to Voice For Men India
Blogging about Equal Rights for Men or writing about Gender Biased Laws is often looked upon as controversial, as many 'perceive' it Anti-Women. Due to this grey area - where we demand Equality in the true sense for all genders - most brands distance themselves from advertising on a portal like ours.
We, therefore, look forward to your support as donors who understand our work and are willing to partner in this endeavour to spread this cause. Do support our work to counter one sided gender biased narratives in the media.
To make an instant donation, click on the "Donate Now" button above. For information regarding donation via Bank Transfer, click here.
Alternately, you can also donate to us via our UPI ID: voiceformenindia@hdfcbank