Adultery has been decriminalised by Supreme Court of India in 2018. However, adultery still remains a valid ground for divorce. 
In a pathbreaking judgement, the Punjab & Haryana High Court has made it clear that a wife living in adultery is not entitled to permanent alimony. 
Despite Nude Photographs, Whatsapp Messages, Wife Is Entitled To Maintenance Until Allegations Of Adultery Are Proven: Mumbai Sessions Court
Case:
Parties got married in May 1989 according to Hindu Rites and Ceremonies at Ambala City. However, no child was born out of their wedlock.
Allegation by Husband
From the day one, the behaviour of appellant-wife was extremely rude and aggressive. She used to abuse, insult and humiliate the respondent-husband and his family members. She used to make taunts on account of the financial position of the respondent- husband and did not stop humiliating him in front of his friends and family members.
The appellant-wife was suffering from some mental disorder to which the respondent-husband got her treated from a Psychiatrist. Since no issue was born even after ten years of marriage, appellant-wife started calling the petitioner as Namard (impotent), due to which the respondent-husband became mentally sick. 
Delhi High Court Refuses To Enhance Maintenance For Wife Owing To "No Change In Her Circumstances"
Allegations of Adultery by Wife
The appellant-wife developed intimacy with one Sanjeev Pattar (impleaded as respondent No. 2 in the petition), who was posted as Assistant Superintendent Jail, Central Jail, Ambala and was residing in the same locality. The respondent-husband left his house in May 2006 and wrote many letters to Director General of Police, Inspector General of Police etc. to which inquiry was conducted by CIA Staff, Ambala alongwith the Deputy Superintendent of Police, Ambala.
The inquiry concluded that the appellant-wife and Sanjeev Pattar used to talk to each other on mobile phones as well as on the official phone, which indicated that appellant-wife was guilty of treating the respondent-husband with cruelty and was living in adultery with Sanjeev Pattar.
Wife's Submissions
The appellant-wife appeared before the inquiry and filed her written statement denying the allegations of cruelty and adultery. Respondent No.2 also filed his written statement denying the allegations of adultery. 
Bombay High Court Upholds Nomination For Legally Wedded Wife Who Is Living In Adultery Since 1989
Divorce Granted
After allegations of adultery and cruelty were proven against the wife, a decree of divorce was granted to the husband under Sections 13(1)(i) and 13(1)(i-b) of the Hindu Marriage Act, 1955.
Appeal of Alimony 
The wife approached High Court challenging her right to alimony. 
The Division Bench of Justice Ritu Bahri and Justice Nidhi Gupta went through the details on record and asserted that the counsel for the appellant-wife had not been able to lead any evidence which suggested that the woman was not living in adultery.
The High Court referred to the inquiry report along with the evidences submitted by husband and several witnesses, which indeed proved that the wife was very much involved with another man. 
The only question now before the High Court remained, whether the woman was entitled to permanent alimony from her husband.
Read Order | "Wife Not Entitled To Maintenance If Divorce Granted On Grounds Of Adultery": Bombay High Court
Punjab & Haryana High Court Judgement
The Punjab & Haryana High Court rejected multiple judgements referred by wife's counsel, stating that the same could not be co-related to this case. Concluding the matter and dismissing the appeal, the High Court said,
Keeping in view the observations, the appellant is not entitled to permanent alimony. The appeal is dismissed.
READ JUDGEMENT | Wife Living In Adultery Not Entitled To Permanent Alimony: Punjab & Haryana High Court

▪️Married in 1989
▪️Parties have been separated since 2006#VoiceForMen https://t.co/taiK3tWkZ9

— Voice For Men India (@voiceformenind) October 6, 2022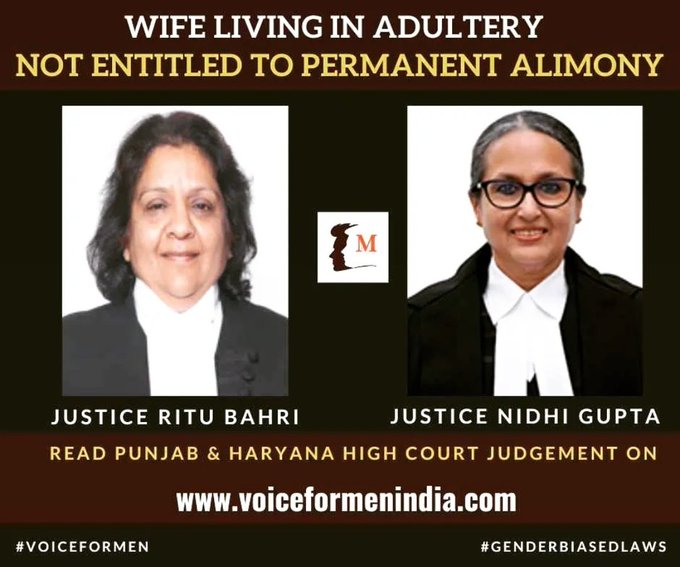 MUST WATCH:
Occasional Adultery No Grounds To Deny Maintenance To Wife | Delhi High Court
Occasional Acts Of Adultery Cannot Be Ground To Deny Maintenance To Wife: Delhi High Court
ALSO READ –
READ ORDER | Occasional Adultery By Wife Cannot Be A Ground To Deny Maintenance To Wife: Delhi High Court
Join our Facebook Group or follow us on social media by clicking on the icons below
Donate to Voice For Men India
Blogging about Equal Rights for Men or writing about Gender Biased Laws is often looked upon as controversial, as many 'perceive' it Anti-Women. Due to this grey area - where we demand Equality in the true sense for all genders - most brands distance themselves from advertising on a portal like ours.
We, therefore, look forward to your support as donors who understand our work and are willing to partner in this endeavour to spread this cause. Do support our work to counter one sided gender biased narratives in the media.
To make an instant donation, click on the "Donate Now" button above. For information regarding donation via Bank Transfer, click here.