This is an ongoing child custody matter at Chandigarh between husband and wife, wherein, the petitioner wife approached the Supreme Court for transferring of proceedings instituted by the respondent-husband under Section 25 of the Guardians and Wards Act, 1890.
The wife is working in Panchkula (Haryana) and living with the son at Chandigarh. A matrimonial case is also pending between her and her estranged husband at Delhi.
Delhi: Minor Boy Approaches Family Court For Monthly Maintenance From Working Mother Who Left Him Years Ago
However, in August 2023, the wife moved the top court for transferring the child custody matter out from Chandigarh, where it had been recorded that the petitioner-wife was residing in New Delhi and thus her plea was admitted by the Judge.
The husband appealed against this, due to the erroneous recording of the place of residence of the petitioner-wife. The husband also contested on the ground that Delhi would be over 250 kilometers away from the child's current residence.
READ JUDGMENT | Best Interest Of Child Cannot Be Solely Based On Mother's Love & Care: Bombay HC Grants Custody To Father
Supreme Court of India
Single Judge Justice Dipankar Datta verified the facts on record and upheld the interest of the child as paramount.
Dismissing the wife's plea to transfer case out from Chandigarh to Delhi, the Supreme Court ordered:
Having bestowed serious consideration to the rival contentions, this Court is of the view that no order for transfer ought to be passed on mere assumptions and apprehensions of the parties.

As at present, Panchkula remains to be the place of office of the petitioner-wife and it is also not in dispute that Chandigarh is the place of her residence as well as that of the child.

The interest of the child being of paramount importance, at this stage, this Court finds no reason to grant the prayer for transfer. The Transfer Petition stands dismissed, without costs.
DO WATCH:
Hold Back Wife's Salary Until She Hands Over Daughter's Custody To Husband | Karnataka High Court
LEAVE YOUR COMMENTS BELOW:
READ ORDER | Supreme Court Refuses Wife's Plea To Routinely Transfer Child Custody Case From One City To Another

▪️Custody case in Chandigarh
▪️Wife working in Panchkula, living with son in Chandigarh
▪️Wanted to transfer case to Delhi#VoiceForMenhttps://t.co/Zm7zdxt5xB

— Voice For Men India (@voiceformenind) October 3, 2023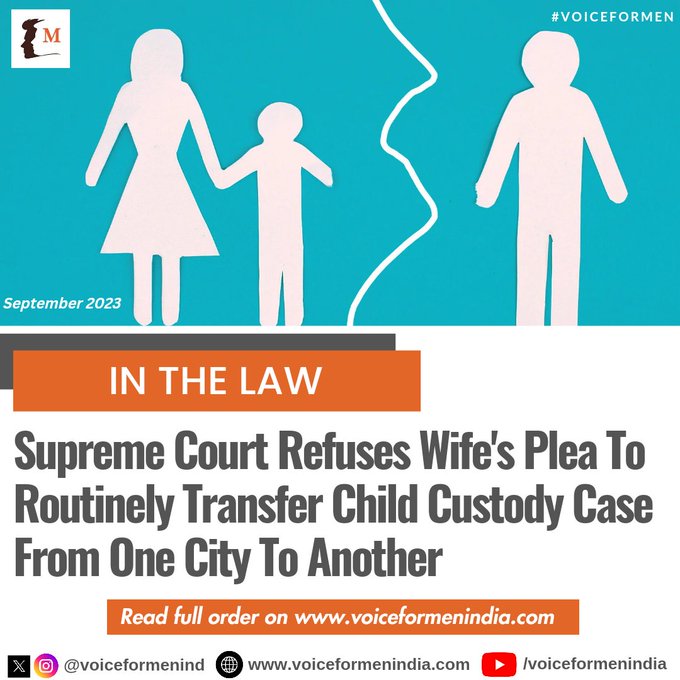 Join our Facebook Group or follow us on social media by clicking on the icons below
Donate to Voice For Men India
Blogging about Equal Rights for Men or writing about Gender Biased Laws is often looked upon as controversial, as many 'perceive' it Anti-Women. Due to this grey area - where we demand Equality in the true sense for all genders - most brands distance themselves from advertising on a portal like ours.
We, therefore, look forward to your support as donors who understand our work and are willing to partner in this endeavour to spread this cause. Do support our work to counter one sided gender biased narratives in the media.
To make an instant donation, click on the "Donate Now" button above. For information regarding donation via Bank Transfer, click here.
Alternately, you can also donate to us via our UPI ID: voiceformenindia@hdfcbank