The Calcutta High Court in its recent notification dated August 23, 2023 has laid down firm guidelines for all criminal courts in West Bengal and Andaman & Nicobar Islands, with regards to arrest by police officials, in pursuance of directions from the Supreme Court of India.
The guidelines have been framed with directions from the top court in July 2023 Judgment Md. Asfak Alam Vs The State of Jharkhand & Anr and with the approval of the Chief Justice.
READ ORDER | Supreme Court Pulls Up Police For Arresting Accused Without Compliance of Section 41A CrPC As Per Arnesh Kumar Judgement
The notification read:
The endeavour of the Hon'ble Supreme Court in the above-mentioned judgment is to ensure that police officers do not arrest the accused unnecessarily and Magistrates do not authorise detention casually and mechanically.
In the aforesaid case, the Supreme Court had asked for the guidelines on arrest laid down in the case of Arnesh Kumar v State of Bihar (read landmark SC judgment at the end of this article) to be scrupulously followed.
READ JUDGMENT: Calcutta High Court Quashes 498A IPC Complaint By Woman Who Never Resided With Her In-laws
Guidelines for Arrest Under Section 498-A IPC & Section 4 of the Dowry Prohibition Act: Calcutta High Court
All the State Governments to instruct its police officers not to automatically arrest when a case under Section 498-A IPC is registered but to satisfy themselves about the necessity for arrest under the parameters laid down above flowing from Section 41 Cr.P.C.
All police officers be provided with a check list containing specified sub-clauses under Section 41(1) (b0(ii).
The police officer shall forward the check list duly filled and furnish the reasons and materials which necessitated the arrest, while forwarding/producing the accused before the Magistrate for further detention.
The Magistrate while authorizing detention of the accused shall peruse the report furnished by the police officer in terms aforesaid and only after recording its satisfaction, the Magistrate will authorize detention.
The decision not to arrest an accused, be forwarded to the Magistrate within two weeks from the date of the institution of the case with a copy to the Magistrate which may be extended by the Superintendent of Police of the district for the reasons to be recorded in writing
. Notice of appearance in terms of Section 41-A Cr.P.C. be served on the accused within two weeks from the date of institution of the case, which may be extended by the Superintendent of Police of the district for the reasons to be recorded in writing.
Failure to comply with directions aforesaid shall apart from rendering the police officers concerned liable for departmental action, they shall also be liable to be punished for contempt of court to be instituted before the High Court having territorial jurisdiction.
Authorizing detention without recording reasons as aforesaid by the Judicial Magistrate concerned shall be liable for departmental action by the appropriate High Court.
READ ORDER | Daughter-in-Law Continued Normal Whatsapp Messages With In-Laws Even After Filing FIR U/s 498-A IPC: Calcutta High Court
The Supreme Court further added that the directions aforesaid shall not only apply to the case under Section 498-A IPC or Section 4 of the Dowry Prohibition Act, the case in hand, but also such cases where offence is punishable with imprisonment for a terms which may be less than seven years or which may extend to seven years, whether with or without fine.
The notification emphasised that the above directions of the Hon'ble Supreme Court shall be strictly followed.
Paatal Lok Actor Swastika Mukherjee Publicly Apologised For Filing 498A Case Against Husband's Family
What Is Section 498-A IPC?
Husband or relative of husband of a woman subjecting her to cruelty.—Whoever, being the husband or the relative of the husband of a woman, subjects such woman to cruelty shall be pun­ished with imprisonment for a term which may extend to three years and shall also be liable to fine. Explanation.—For the purpose of this section, "cruelty" means—
(a) any wilful conduct which is of such a nature as is likely to drive the woman to commit suicide or to cause grave injury or danger to life, limb or health (whether mental or physical) of the woman; or
(b) harassment of the woman where such harassment is with a view to coercing her or any person related to her to meet any unlawful demand for any property or valuable security or is on account of failure by her or any person related to her to meet such demand.]
READ ORDER | "Legal Terrorism" Unleashed By Women Misusing Section 498-A IPC: Calcutta High Court

▪️HC: "The legislature has enacted the provision of Section 498-A to strike out the dowry menace from the society. The criminal law allows a complainant to file a criminal… pic.twitter.com/uTrPimtsFP

— Voice For Men India (@voiceformenind) August 21, 2023
Voice For Men India Note:
Do not get scared, or feel ashamed if you ever get a call from police station in a matrimonial dispute
Understand your rights as a citizen and react accordingly
Do not give into pressure from anyone, including your own legal advisor, who will pressurise you to pay one time alimony to your estranged wife and "settle matter"
Please spread these guidelines to as many people as possible so that innocent men and their families can fight back false cases 
DO WATCH:
Don't Issue Notice Directly To Distant Relatives Of Husband | Kolkata Man Wrongly Arrested In 498A
READ 2014 SUPREME COURT LANDMARK JUDGMENT ON ARRESTS UNDER SECTION 498-A IPC
ARNESH KUMAR VS STATE OF BIHAR | Landmark Judgement On Unnecessary Arrests Under Section 498A
LEAVE YOUR COMMENTS BELOW:
READ NOTIFICATION | Guidelines For Arrest Under Section #498A IPC, Dowry Prohibition Act: Calcutta High Court

▪️Guidelines also applicable to offences punishable with imprisonment for less than seven years or which may extend to 7-years#VoiceForMenhttps://t.co/VipStgHaud

— Voice For Men India (@voiceformenind) October 3, 2023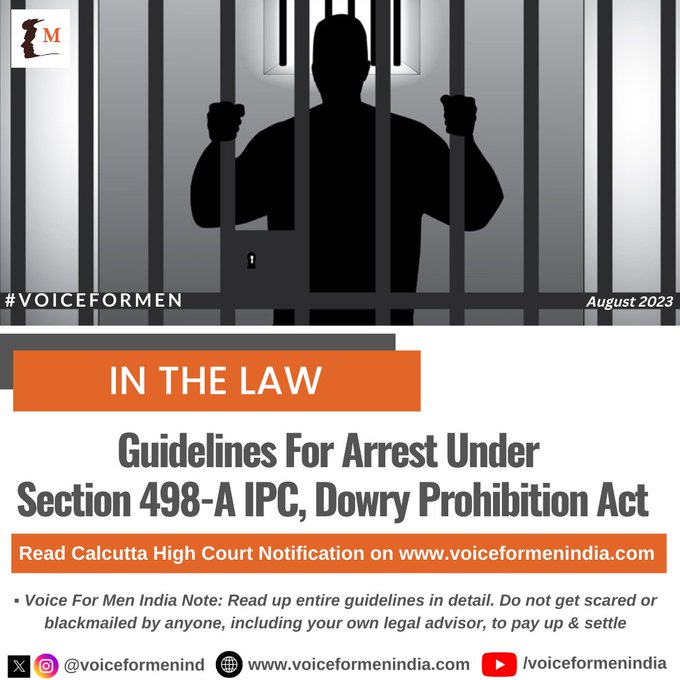 Join our Facebook Group or follow us on social media by clicking on the icons below
Donate to Voice For Men India
Blogging about Equal Rights for Men or writing about Gender Biased Laws is often looked upon as controversial, as many 'perceive' it Anti-Women. Due to this grey area - where we demand Equality in the true sense for all genders - most brands distance themselves from advertising on a portal like ours.
We, therefore, look forward to your support as donors who understand our work and are willing to partner in this endeavour to spread this cause. Do support our work to counter one sided gender biased narratives in the media.
To make an instant donation, click on the "Donate Now" button above. For information regarding donation via Bank Transfer, click here.
Alternately, you can also donate to us via our UPI ID: voiceformenindia@hdfcbank