Following a matrimonial dispute, wife filed a case under Section 498-A IPC against the husband. The Trial Court awarded Rs 4,000 per month to the wife as interim maintenance. 
In April 2022, the Jharkhand High Court granted interim protection from arrest to the appellant husband, on the condition that he would deposit Rs 9 lakh. 
Accordingly, the husband appealed the matter in Supreme Court.
READ ORDER | Increased Tendency To Misuse 498A For Settling Personal Scores Against Husband, His Relatives: Supreme Court
Supreme Court
A bench of Justices Sanjiv Khanna and SVN Bhatti went through the facts on record and deleted the condition of Rs 9 lakh for anticipatory bail. The bench observed:
We are of the opinion that the High Court was not justified in imposing the condition that the appellant – Rohit Jaiswal should deposit ₹9,00,000 as ad interim victim compensation. The said condition is hereby deleted. We clarify that we have not interfered with the grant of anticipatory bail and other conditions as imposed.
Maintenance Enhanced 
While lumpsum amount condition was removed, the husband's counsel agreed to enhance the maintenance payable to his estranged wife from Rs 4,000 to Rs 10,000 per month with effect from September 2023. 
The Supreme Court noted the husband's acceptance with regards to their suggestion on increasing the maintenance amount and observed:
The maintenance amount is being enhanced in view of the statement made by the learned counsel appearing on behalf of the appellant to ₹10,000 per month. The appellant – Rohit Jaiswal will continue to make payment in terms of the statement. In case of default, respondent no.2/ informant will be entitled to take steps/recourse for execution before the trial court.
The apex court also clarified that this maintenance amount may be modified, enhanced or reduced by the trial or appellate court.
READ ORDER | Conviction Of Husband Under 498A Does Not Secure Justice; Duty Of Court To Encourage Genuine Settlement Of Matrimonial Disputes: Supreme Court
Voice For Men India Take:
Failed marriages in India have become a lifelong trap for the men
A marriage that barely lasted for three months, will burden the husband for life to pay maintenance to his estranged wife, with or without any charges against him being proven
Even if the husband is honourably acquitted, there will be no refund for the maintenance amount paid over several years; infact in all probability he will be ordered to pay lumpsum alimony as well during final divorce decree
DO WATCH:
Delhi High Court Rejects Maintenance To Educated Working Wife | Read Judgment | Voice For Men India
LEAVE YOUR COMMENTS BELOW:
READ ORDER | Supreme Court Sets Aside Rs 9 Lakh Bail Condition For Husband Against Arrest U/s #498A IPC

▪️On request of SC, husband agreed to enhance maintenance from Rs 4K to Rs 10K pm

▪️Parties got married in Dec 2020, lived together until Mar 2021https://t.co/Loqv7ZTlcs

— Voice For Men India (@voiceformenind) October 4, 2023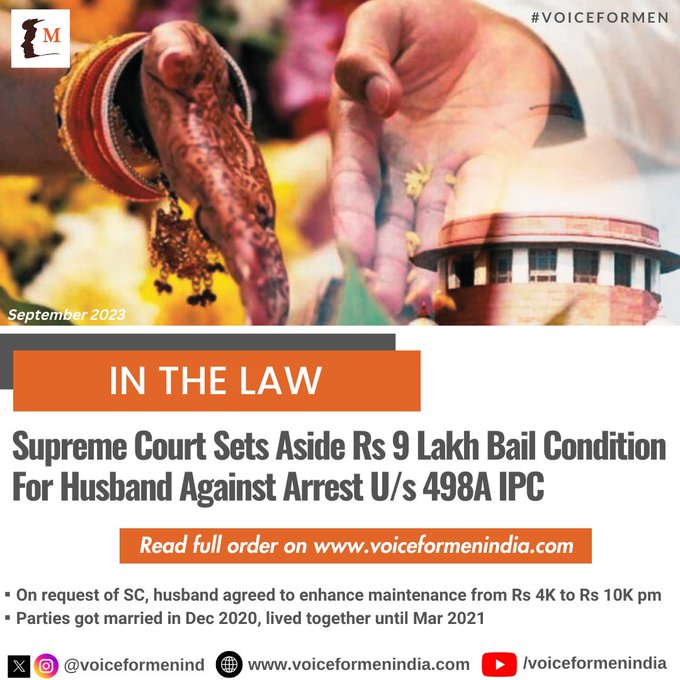 Join our Facebook Group or follow us on social media by clicking on the icons below
Donate to Voice For Men India
Blogging about Equal Rights for Men or writing about Gender Biased Laws is often looked upon as controversial, as many 'perceive' it Anti-Women. Due to this grey area - where we demand Equality in the true sense for all genders - most brands distance themselves from advertising on a portal like ours.
We, therefore, look forward to your support as donors who understand our work and are willing to partner in this endeavour to spread this cause. Do support our work to counter one sided gender biased narratives in the media.
To make an instant donation, click on the "Donate Now" button above. For information regarding donation via Bank Transfer, click here.
Alternately, you can also donate to us via our UPI ID: voiceformenindia@hdfcbank