Crime Has No Gender. Every act of violence must be called out irrespective of the perpetrator's gender.
In a recent case from Bengaluru, a woman has been accused of throwing boiling water on her boyfriend, after she learnt of his marriage to another woman.
Wife Pours Hot Boiling Water On Husband's Private Parts Suspecting Him Of Infidelity | India Does Not Recognise Domestic Violence Against Men
Here's What Happened!
Vijay Kumar (30) was in a relationship with Jyoti Doddamani, who is a nurse by profession. However, on May 5, Vijay got married to another woman in Kalaburagi.
When he returned to Bengaluru on May 23, he got a call from Jyoti to meet her. On May 25, Jyoti invited Vijay to her residence in Chamarajpet and the two allegedly had a scuffle over the issue. The two later fell asleep.
On May 26, at around 5am, while Vijay was asleep, Jyoti boiled water and poured it on him. She also smashed a beer bottle on Vijay and locked the room before fleeing.
When Vijay screamed in pain for help, the landlord rushed him to the Victoria Hospital.
Woman Pours Boiling Oil On Husband's Face While He Was Asleep After An Altercation
Police Statement
Speaking with media, a police official said,
A case has been registered against Jyoti at Chamarajpet police station and a search for her is underway.

We have sent a team to look for the accused. We will nab her at the earliest. We have registered a case under Section 342, 326 and 506 of the Indian Penal Code (IPC).
Woman Pours Boiling Water On Senior Citizen Husband Over Minor Dispute
Accused Woman Was Married Herself
Vijay and Jyoti are said to be dating each other since four years, however, Vijay distanced himself from Jyoti few months ago when he learnt that the woman was already married for the past two years and kept her marriage a secret.
However, Jyoti was pressurising him on continuing their relationship and urged Vijay to marry her.
Wife Along With Lover Poured Boiling Oil On Husband, Hammered Him And Gave Him Electric Shocks
LEAVE YOUR COMMENTS BELOW:
#Bengaluru: Married Woman Pours Hot Boiling Water On Ex-Partner, Smashes Him With Beer Bottle After He Marries Another Woman

▪️Vijay & Jyoti dating since 4yrs
▪️Jyoti married another man 2yrs ago, kept it secret
▪️Vijay married another woman in Mayhttps://t.co/wTSjiNM4ap

— Voice For Men India (@voiceformenind) June 1, 2023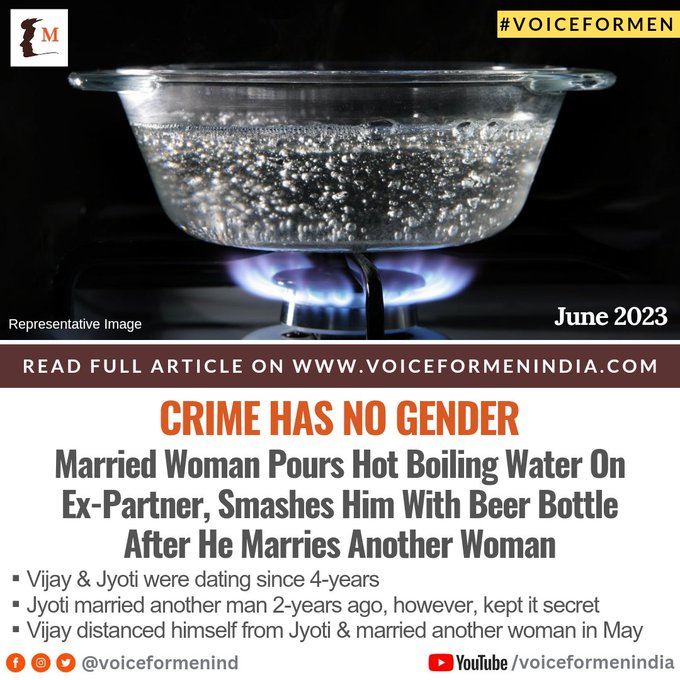 ALSO WATCH:
Occasional Adultery No Grounds To Deny Maintenance To Wife | Delhi High Court
Join our Facebook Group or follow us on social media by clicking on the icons below
Donate to Voice For Men India
Blogging about Equal Rights for Men or writing about Gender Biased Laws is often looked upon as controversial, as many 'perceive' it Anti-Women. Due to this grey area - where we demand Equality in the true sense for all genders - most brands distance themselves from advertising on a portal like ours.
We, therefore, look forward to your support as donors who understand our work and are willing to partner in this endeavour to spread this cause. Do support our work to counter one sided gender biased narratives in the media.
To make an instant donation, click on the "Donate Now" button above. For information regarding donation via Bank Transfer, click here.
Alternately, you can also donate to us via our UPI ID: voiceformenindia@hdfcbank