On October 1, we came across a long twitter thread by Late Sushma Swaraj's husband Governor Swaraj, where he shared an incident from the chapter of his life with his beloved wife. Governor Swaraj narrated:
By and large, I was a good husband. But Sushma Swaraj would give me only pass marks. It was 5th July 1984 and I boarded the Srinagar-Delhi flight IC 405. Just as seat belt signs were withdrawn, the plane was hijacked.

The hijackers knocked at the cockpit. The pilot won't open the door. The hijackers then shot at the cockpit. One, two and three shots and the plane shook. The passengers were shrieking. In seconds, the plane was few thousand feet down. The take-over was complete

The hijackers ordered and window shutters were closed, the belts tightened and heads down. The hijackers will shoot anyone raising his head. No food, no water and no access to toilet. The plane is hijacked to Lahore.

An army Major was on my next seat. A hijacker caught hold of the walking stick of a passenger. He gave lathi blows on the head of the Major. He was bleeding. Then few more passengers were thrashed. The passengers are crying-all begging for life. The night falls.

The hijackers announce 'our talks with Government of India have failed. You have five minutes for prayers. Then the plane will be blown off.' We are all waiting for our death.

I am helplessly folded with my head down fearing a shot was coming. That's the night I realised I was fool of a husband, an irresponsible father. My wife didn't know a thing about my Bank, my locker, my borrowings and lending. By morning I matured by a hundred years.

This tragic drama continued for 23 hours. At last we were released at the Lahore airport. Every time I fly, I go back to the hijacked plane and relive this trauma.

At last please listen to me. Your wife is your well-wisher. She is mother of your children and trustee of your family. Your house must be in her name. All your assets particularly the locker should be in joint name. She should be your nominee in your PF and pensionary benefits.

We all have to go. The biological fact is that women live five years longer than men. Think of the best, prepare for the worst and leave behind a rich lady. Thanks.
Dear Sir,
I, Arnaz Hathiram, Founder of Voice For Men India, am writing to you with utmost respect. Your note on twitter is extremely touching, especially when I recently lost a dear friend and saw his wife struggling with financials. They had been married for past 24-years. Having said so, I do have slight difference of opinion on what you shared.
The concept of family was very different from the idea of marriage that is prevalent today. What was considered a sacred union earlier, has been sadly reduced to "what you bring to the table". Notwithstanding your memorable moments with Late Mrs Swaraj, one must be realistic to the nature of matrimonial laws that exist in India today, particularly for the Men.
At the outset, I completely agree that spouses should share everything equally. But does that happen in reality? Today, most working women have a separate salary account, but want to remain a joint holder in husband's primary bank account. Of course for the ones who are not working, must be made joint holders in every asset of the husband. However, in times of equality, aren't we putting the entire burden on the husband for being a financial provider? Do we ever see working women taking life insurance for their husbands? Even if that is happening remotely, sadly the Insurance Ads do not indicate women as their consumer target.
In 2022, we need to be alert with the current trend of marriages, where couples are getting separated anywhere between 3-months to a year. How fair is it to share all your lifelong earnings and assets with someone, who has barely contributed anything in your life?
Of course, there are marriages where women give their best to their family, and in all those cases, the husbands, too, must reciprocate by making her an equal partner. Before anyone labels me as patriarchal for only expecting a wife to look after family, haven't we already declared husband as the sole member who brings food to the table?
Sir, lastly you suggested that the property must be in single name of the wife. But this is like a fairy tale, where we assume that both are going to live happily ever after…2022 is a very different world, where several Married Men in India are already living at the mercy and threats of false cases from their wives and their families. In my humble opinion, a property should be purchased only after 5-years into the marriage and by then of course, if all has worked well, the same should be purchased in joint names, so that both partners are secured if anything unfortunate happens to the other.
Here, I would also like to quote a case from 2020, where one of the bravehearts was martyred in Pulwama attack. While GOI did whatever best they could, the martyr's wife took every single penny she received, leaving her old and poor in-laws to fend for themselves. This is also another side, where unforeseen instances may come up after earning member is gone.
I still believe that there are many more couples in this world who are living a loving and happy married life, however, it is not wise to be blind folded – until the other side of fairy tale enters your paradise.
Late Sushma Swaraj's Husband Shares Note On Financial Planning For Wives | "Your House Must Be In Her Name"@governorswaraj sir, ur memories with Late Mrs Swaraj are extremely touching, however, in 2022, Men can't shut eyes to reality": @ArnazHathiramhttps://t.co/WHSjoHGDfu

— Voice For Men India (@voiceformenind) October 3, 2022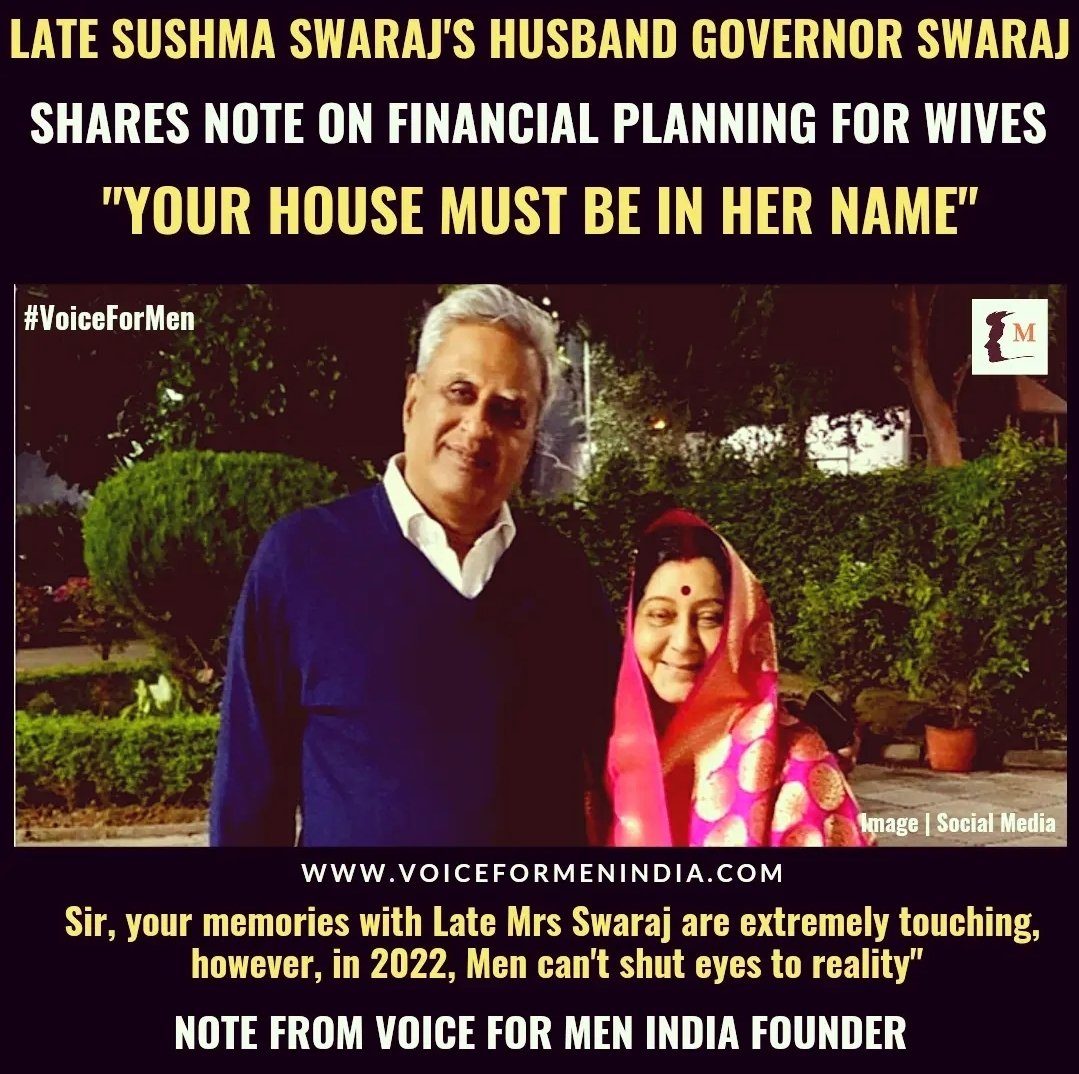 ALSO READ:
Sushma Swaraj's Husband Shares Story How Decorated Air Marshall Was Humiliated Publicly By Wife
This is how social media users reacted to Governor Swaraj's post:
Sir you were the best husband among people I know off. You never bothered about your own political career. Sushma Ji and you were ideal couple. 🙏🌹❤️

— shahid siddiqui (@shahid_siddiqui) October 1, 2022
Sir,with due respect,times have changed,today's wives are no longer ethical or family oriented.
Selfishness and lack of loyalty plus lopsided legalities in their favour gives a risky scenario.
No husband will take such a chance.

— Nilesh_Nile_Dave. (@NileshD12250086) October 2, 2022
Vice versa is wife is working too

— [email protected] (@MainkarSunetra) October 1, 2022
Basics of Personal Finance through a true story! https://t.co/ClusDxQDnF

— Kamlesh Dixit 🇮🇳 (@kash2312) October 1, 2022
100%. Seen a family go from riches to rags(almost) when the male suffered a stroke n was paralyzed. Creditors n debtors, invariably, cheated the fam as they were kept in dark of the business transactions. https://t.co/66Jpqyf6J7

— UzhavanMagal (@UzhavanMagal) October 1, 2022
Sorry about those long traumatic hours of your life. What you have stated is very true, particularly in a nuclear family. And today with the either or survivor accounts, one can easily involve spouse and make aware of all that. Good thought for those who keep everything secret. https://t.co/AqhAlbvTv4

— Ram Mohan (@RamMoha82601373) October 1, 2022
Not sure about old times but these days wait for at least five years before you take such big steps. https://t.co/VnxWnCRHEe

— अनुगृहीता (@Anugrihita) October 1, 2022
Important message for all the Husbands. Infact for everyone, including Working Women. https://t.co/VAaX5HsA8G

— Deepika Kacholiya (@Deepika_is_here) October 1, 2022
MUST WATCH INTERVIEW:
KBC 13 Contestant Shraddha Khare Accuses Husband Of Domestic Violence | Husband Shares Other Side
Join our Facebook Group or follow us on social media by clicking on the icons below
Donate to Voice For Men India
Blogging about Equal Rights for Men or writing about Gender Biased Laws is often looked upon as controversial, as many 'perceive' it Anti-Women. Due to this grey area - where we demand Equality in the true sense for all genders - most brands distance themselves from advertising on a portal like ours.
We, therefore, look forward to your support as donors who understand our work and are willing to partner in this endeavour to spread this cause. Do support our work to counter one sided gender biased narratives in the media.
To make an instant donation, click on the "Donate Now" button above. For information regarding donation via Bank Transfer, click here.