Remember the ghastly Pulwama attack that took place last year on February 14, where forty-five brave soldiers were martyred? Every Indian was left shocked and filled with angst. Subsequently, all countrymen were also concerned for the well-being of the families that these martyrs left behind. However, in the blind appeasement that our government has been doing towards women empowerment (read only daughter-in-law), a shocking reality of the other side has now emerged.
Family members of constable Manoj Kumar Behra, who was one among the jawans that were martyred in the Pulwama terror attack, have been left fending for themselves after their son's untimely death. The martyred constable hailed from Ratanpur village under Niali area of the Cuttack district. The deceased's wife has moved away from her matrimonial home after receiving the full and final financial support promised by the government.
Jitendra Behra, Manoj's father informed India Today, how they never saw this terrible side of fate striking the family after losing their only bread winner of the home, their son. He quoted:
Our daughter in law, Elilate Behera left us after receiving all the financial support from the government. She received a sum of Rs 25 lakhs from the state government and another Rs 30 lakhs from the union government in form of financial aid disbursed by the governmnt for the family members of soldiers who lost their lives in the attack.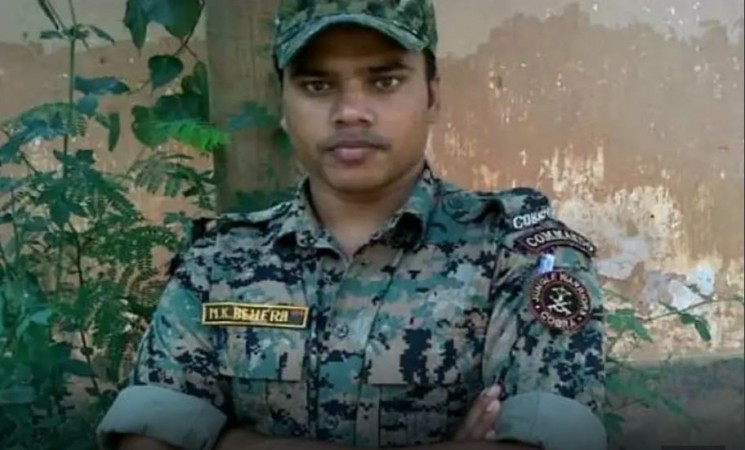 Not just this, Elilate also refused to accept the government job offer by the government saying that she work only after three years, as their daughter was very young, and that she had to take care of her.
Elilate has confirmed that she did receive a sum of Rs 51 lakhs from union and state government, however, she only wishes to take up a job only after her daughter is 5-years-old. She quoted:
ALSO READ –
I have received a sum of Rs 51 lakhs as financial aid from the government, and I want to ensure that my daughter gets good education out of the money.
However, the martyrs wife denied that she received any help from Reliance Foundation.
Expressing his grief, Manoj's father said that their son was everything for them and that this incident has put them in a fix. He said,
Our son was everything for us, since his death our life has been miserable. He looked after us when he was alive. All the money that government sent our way was deposited into our daughter in laws account. Now she tells us that we didn't have any right over the money. I don't know what to do and where to go for help.
ALSO READ –
The villagers too believe that this is absolute gross injustice to the parents of Manoj. They feel that the government has left Manoj's parents helpless and nowhere to go after his death. Sagarika Singh, a local villager from Ratanpur village said,
The entire village is in shock because of this incident. We never imagined that this kind of fate awaits Manoj's old parents after his death. They are leading a miserable life with no source of income.
Our Take:
This is exactly the problem with our system today
We have become so blind playing to the global gallery of fake feminism that we forget to strike a balance for health society
Government wants to award 100% sum to the martyrs' full abled and young wife, but does not even bother to comprehend the fate of his aged and perhaps less physically fit parents
Once the sum amount is received by a wife, there is no legal recourse the parents of the deceased son have, to ask for maintenance from her, like in case of reverse (daughter-in-law can legally ask family of deceased husband to maintain her)
The government of the day must at once come up with a plan towards the welfare of parents as well and give them a fair share of the amount that is disbursed on the death of the martyr
Why should we deprive any immediate dependent of a martyr from their financial due?
Who is more needy when a martyr dies? A young woman who can work and start her life again or the old parents who may not find employment and have to bear every single expense, including medical, on their own
And wait……you will never hear a word from NCW or WCD chairpersons in such matters and we can emphatically say that they have failed the mothers and sisters of a man in their blind approach towards the welfare of only the daughter-in-laws
ALSO READ –
http://voiceformenindia.com/his-story/fake-dowry-harassment-charges-delhi/
Follow www.mensdayout.com on Facebook, Twitter and Instagram
Join our Facebook Group or follow us on social media by clicking on the icons below
Donate to Voice For Men India
Blogging about Equal Rights for Men or writing about Gender Biased Laws is often looked upon as controversial, as many 'perceive' it Anti-Women. Due to this grey area - where we demand Equality in the true sense for all genders - most brands distance themselves from advertising on a portal like ours.
We, therefore, look forward to your support as donors who understand our work and are willing to partner in this endeavour to spread this cause. Do support our work to counter one sided gender biased narratives in the media.
To make an instant donation, click on the "Donate Now" button above. For information regarding donation via Bank Transfer, click here.