What is the first image you get in mind when you hear the word Domestic Violence? Mainstream media has always published one sided stories, which make us visualise 'man beating woman' by default. However, realities are far from what is published or shown.
In a horrific case reported from Haryana, a woman allegedly bit off her husband's tongue with her teeth during a fight between them. A case has been registered against the woman after her father-in-law registered an official complaint.
WATCH | Uttar Pradesh Man Reaches Police Station Alleging Domestic Violence By Wife; Accuses Her Of Burning Him With Hot Tongs
Case:
Karamchand (victim husband) got married to Saraswati around 10-years-ago. The couple are based out of Hisar and have two children. According to victim's father Mayachand, all were asleep on Saturday night, when suddenly they heard Karamchand crying and shouting. 
The victim's mother rushed in to check on her son, where she saw blood oozing out from his tongue as it remained hanging. According to her, Karamchand was lying on the floor, unable to speak and also had an injury on his head. Soon the victim was rushed to a nearby hospital, where he had to undergo an operation with 15 stitches. However, Karamchand is not able to speak as yet.
Bihar | Acid Attack On Husband | Man Beaten Up By Wife & In-Laws; Critical | Domestic Violence Against Men
On the complaint of the father-in-law Mayachand, a case has now been registered against the daughter-in-law.
If genders were reversed, you would have seen twitter feminists running hashtag campaigns against all husbands. Whereas, India does not even recognise domestic violence against men as a law.
LEAVE YOUR COMMENTS BELOW:
#Haryana: Woman Bites Off Husband's Tongue With Her Teeth; FIR Registered After Father-in-Law Lodges Complaint

▪️@HissarPolice: Please confirm whether accused daughter-in-law Saraswati has been arrested yet or not#VoiceForMen#CrimeHasNoGenderhttps://t.co/tp61SVTS9c

— Voice For Men India (@voiceformenind) January 30, 2023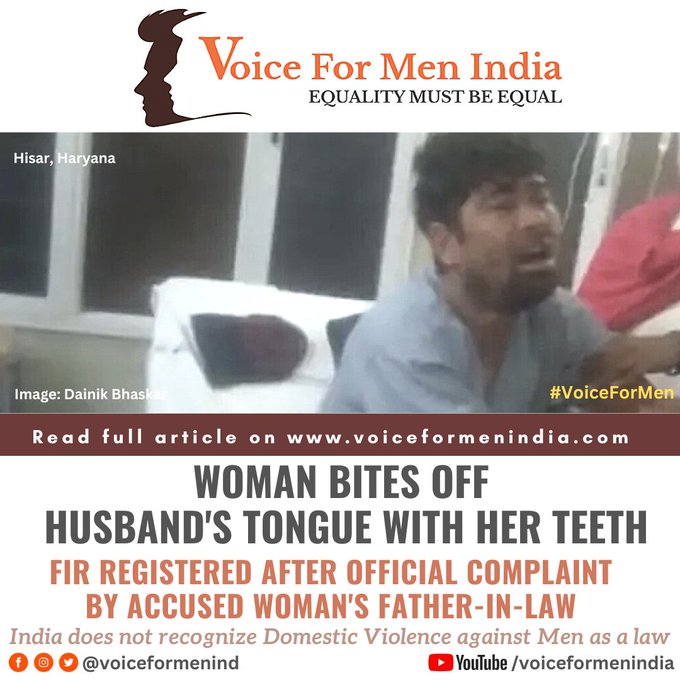 ALSO WATCH:
Rohtak Man Brutally Assaulted By Wife, In-Laws | Nirbhaya Type Rod Inserted Damaging His Intestines
ALSO READ –
Woman Challenges Domestic Violence Case By Husband At Delhi High Court; Argues DV Act & 498A IPC Only For Women/Female
DOMESTIC VIOLENCE | Woman Bites Off Mother-in-Law's Three Fingers After Petty Fight Over TV Volume
Wife Pours Hot Boiling Water On Husband's Private Parts Suspecting Him Of Infidelity | India Does Not Recognise Domestic Violence Against Men
Alwar School Principal Domestic Violence Case | I Suffered In Silence Because Of Our Son
Jaipur Man Reaches Police Station After Facing Repeated Domestic Violence By Wife; Breaks Down In Front Of Officers
Join our Facebook Group or follow us on social media by clicking on the icons below
Donate to Voice For Men India
Blogging about Equal Rights for Men or writing about Gender Biased Laws is often looked upon as controversial, as many 'perceive' it Anti-Women. Due to this grey area - where we demand Equality in the true sense for all genders - most brands distance themselves from advertising on a portal like ours.
We, therefore, look forward to your support as donors who understand our work and are willing to partner in this endeavour to spread this cause. Do support our work to counter one sided gender biased narratives in the media.
To make an instant donation, click on the "Donate Now" button above. For information regarding donation via Bank Transfer, click here.
Alternately, you can also donate to us via our UPI ID: voiceformenindia@hdfcbank