What is the first visual that comes to your mind when you hear the word Domestic Violence? Husband beating Wife, Mother-in-Law burning Daughter-in-Law, Entire family bashing a Daughter-in-Law? Unfortunately, feminists have brainwashed the society that a daughter-in-law is the only victim of such domestic abuse, while all others are the perpetrators.
Thanks to the power of social media, we are able to publish other ground realities suffered by Married Men and their old parents, equally at the hands of Daughter-in-Laws.
Alwar School Principal Domestic Violence Case | I Suffered In Silence Because Of Our Son
Here's a Case from Thane
A 32-year-old daughter-in-law allegedly bit her 60-year-old mother-in-law on the night of September 5, after a petty fight over increasing the television volume.
The Shivaji Nagar police station in Ambernath has registered a case against the daughter-in-law but no arrest has been made yet, informed the police officer.
As per a report by Free Press Journal, the incident took place in the Vadvali area of Ambernath (East).
READ ORDER | Daughter-in-Law Who Obtained Compassionate Employment With Undertaking Bound To Maintain Mother-in-Law: Calcutta High Court
What Exactly Happened
On Monday, when the old mother-in-law was reciting her hymns, she was having a problem doing it because the daughter-in-law at home was watching television at a loud volume. When the mother-in-law asked her daughter-in-law to reduce the volume, she refused.
Later, the angry mother-in-law switched off the TV, and there was a fight between both mother-in-law and daughter-in-law over the issue.
Police Statement
Ashok Bhagat, a senior police inspector, Shivaji Nagar police station, Ambernath (East), informed media,
We have received a complaint from a 60-year-old woman from Shivaji Nagar in the Ambernath area that she was bitten on her three fingers of her right hand by her daughter-in-law (32). The accused was watching TV at a loud volume and when asked by the victim to reduce it, she started an argument by saying that she would not reduce the volume as it is her home and she will do whatever she wants to do.

The victim too got angry, and she said that it was her husband's home and not her daughter-in-law's, and she switched off the TV. The daughter-in-law, in anger, bit off the three fingers of the right hand of her mother-in-law, injuring her badly. We sent the mother-in-law for medical treatment and registered a case against the daughter-in-law.

As the case between mother-in-law and daughter-in-law has been going on in the court for the last few years, it seems to be a family dispute matter. We haven't arrested the daughter-in-law yet.
READ ORDER | Mother-in-Law Being Owner Of Property, Can Evict Troublesome Daughter-in-Law From Shared Matrimonial Household: Delhi High Court
Bhagat further added,
During the argument between mother-in-law and daughter-in-law, the son also entered into the ongoing argument. The daughter-in-law also abused her husband, who came to settle the fight and beat her with punches. The accused also threatened both her mother-in-law and her husband that she would see both of them.

The fight has been going on in the family for a long time, and the matter of divorce between husband and wife is going on in court. The accused has done three marriages while the husband has done two marriages, and whenever the daughter-in-law comes to her mother-in-law's house, there is a fight over some or other petty issues.
Leave your thoughts on this case below:
DOMESTIC VIOLENCE | Woman Bites Off Mother-in-Law's Three Fingers After Petty Fight Over TV Volume

▪️Ambernath Police: "This is accused woman's 3rd marriage, Husband's 2nd marriage. Since there is ongoing case b/w MIL & DIL, we haven't arrested DIL yet."https://t.co/D1vTs0IvjK

— Voice For Men India (@voiceformenind) September 7, 2022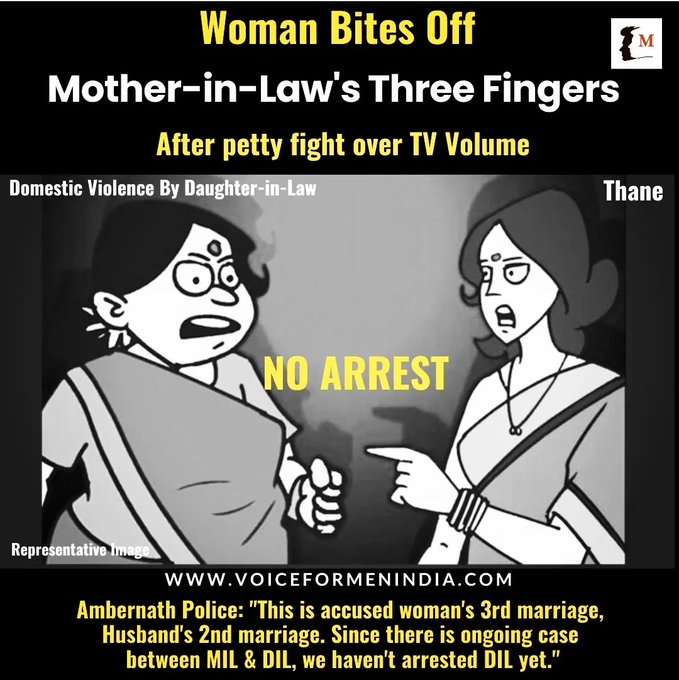 WATCH VIDEO:
Sonepat, Haryana | Woman thrashes 82-year-old mother-in-law
Join our Facebook Group or follow us on social media by clicking on the icons below
Donate to Voice For Men India
Blogging about Equal Rights for Men or writing about Gender Biased Laws is often looked upon as controversial, as many 'perceive' it Anti-Women. Due to this grey area - where we demand Equality in the true sense for all genders - most brands distance themselves from advertising on a portal like ours.
We, therefore, look forward to your support as donors who understand our work and are willing to partner in this endeavour to spread this cause. Do support our work to counter one sided gender biased narratives in the media.
To make an instant donation, click on the "Donate Now" button above. For information regarding donation via Bank Transfer, click here.
Alternately, you can also donate to us via our UPI ID: [email protected]