India is a very complex country and laws are made to suit the larger narrative on ground. In the bargain, the one's who are innocent always suffer.
Marriage in India had a pious and holy meaning some years/decades ago. However, today, it has become extremely transactional, where women give weightage only to their rights at any cost. Since India is perceived as a patriarchal society, the matrimonial law sadly aides all women – whether genuine victims, or the ones who take advantage of Gender Biased Laws.
We publish one more story of a husband, who is purely at the mercy of his wife and her family after a short-lived marriage.
Delhi Half Marathon 2023 | Men's Rights NGO March To Create Awareness About Misuse Of Proposed Marital Rape Law
His Story 
I got married some years ago. My marriage lasted exactly for 2-years and 5-months, however, today me and my entire family are suffering due to one wrong member added to our home.
My wife and I had been living separately from my parents' apartment right from day 1 of the marriage. Within few days into our union, she would pick up fights for the smallest reasons and run back to her maternal home. In a total of 29 months that we stayed together, she left our matrimonial home 13 times leaving me behind.
I was a financially well settled man and somehow all through the marriage, I sensed a feeling that my wife was only interested in money matters and not our relationship. At the drop of a hat, she would speak of divorce and living her life freely.
It was even more frustrating, because instead of guiding their daughter to nurture the relationship, my mother-in-law (who is the dominant force in her home), encouraged my wife to leave me everytime there was some disagreement.
She had turned me into a puppet, always controlling me. Her control over me was not only restricted to finances but also whether I should meet and help my own family. Whenever I would react to this behaviour of hers, she would have the most filthy abuses for my entire family. Her parents would then join in by gaslighting her and turned me in a joke in society.
I Was Made To Feel Unwelcome In My Own Home, Abused & Humiliated; I Do Not Even Know Where My Son Is Working | His Story
498-A Case
My wife did not just make my life hell at home, but also turned it messy by dragging me and all my family members to the court.
In November 2022, she initiated a criminal case under Section 498-A IPC against me and my family. An FIR was filed against all of us who never had any criminal mindset or background. As a common man, I was extremely worried and thus agreed to fulfil her immediate monetary demand then.
After getting the money, she gave a statement in court allowing the quashing of this FIR.
However, in June 2023, she filed a second FIR under Section 498-A IPC against all of us again. Status as on date is that me and my entire family are facing three cases at court – Section 498-A IPC, Domestic Violence and Maintenance (under Section 125 CrPC).
"Post Divorce My Ex-Wife Told Me About Her Affairs While We Were Dating & Married; I Can't Trust Anyone Now For Remarriage": His Story
My Message to Readers
I always wanted our marriage to work out and tried my best to save it. But today I feel, I was trapped into this relationship only for money. My wife did not miss any opportunity to extort and drain me out financially, because of which I am in debt today.
We, as men before marriage, always believe that we are more privileged than women in society. But god forbid if you land up with the wrong woman, you and your family are made to pay financially, mentally and emotionally all through your life.
DO WATCH:
Why Background Check Of Would-Be Wife Is Important | Voice For Men India
LEAVE YOUR COMMENTS BELOW:
#HisStory | Before Marriage I Always Believed We As Men Are Privileged Gender In Society, But Now…

"I got scared & paid money to wife for withdrawing first FIR u/s #498A. After taking money, she filed similar cases against all of us after few mnths"https://t.co/VVSL6JNGFK

— Voice For Men India (@voiceformenind) October 19, 2023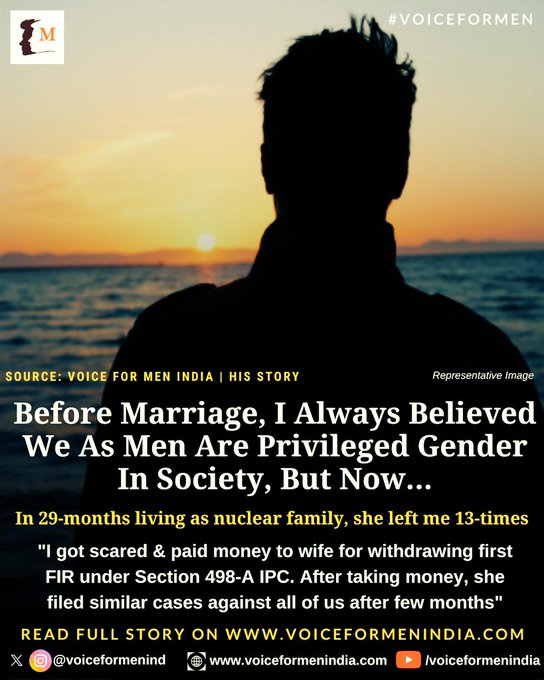 Join our Facebook Group or follow us on social media by clicking on the icons below
Donate to Voice For Men India
Blogging about Equal Rights for Men or writing about Gender Biased Laws is often looked upon as controversial, as many 'perceive' it Anti-Women. Due to this grey area - where we demand Equality in the true sense for all genders - most brands distance themselves from advertising on a portal like ours.
We, therefore, look forward to your support as donors who understand our work and are willing to partner in this endeavour to spread this cause. Do support our work to counter one sided gender biased narratives in the media.
To make an instant donation, click on the "Donate Now" button above. For information regarding donation via Bank Transfer, click here.
Alternately, you can also donate to us via our UPI ID: voiceformenindia@hdfcbank