The Kerala High Court in its order dated October 12, 2023 allowed a man charged under Section 498-A IPC to travel abroad for pursuing his higher education.
The High Court has passed this order despite the police not having submitted the final report in the case.
Case:
The petitioner has been accused of cruelty to woman under Section 498-A IPC. While he managed to secure an anticipatory bail from the Court, he was asked to surrender before the investigating officer within three weeks.
Condition (iv) in the bail order also ordered the petitioner to appear before the investigating officer every Saturday till the filing of the final report, while condition (viii) stated that he could not leave the country, without the permission of the jurisdictional court.
In the interim, the petitioner approached the Magistrate Court seeking permission to go abroad, since he was pursuing a course in the University of Royal Melbourne Institute of Technology, Australia.
Can Police Reject Renewal Of Passport During Pendency Of Domestic Violence Case? Here's What Telangana High Court Said | Read Order
Petitioner's Submission
The anticipatory bail application had been moved by the petitioner when he came to India in connection with a spinal cord surgery, and now since he had to return to Australia, he required permission from the Court.
Magistrate Court, Adoor, Kerala
The petitioner's application was rejected by the Magistrate Court, citing violation of condition (iv) of the anticipatory bail order. 
Accordingly, the petitioner moved the High Court challenging this order.
Matrimonial Dispute Cannot Be Reason To Revoke Passport Of Husband | Delhi High Court To Centre
Kerala High Court
It is evident that, since the date of the surrender, he has been cooperating with the investigation and interrogation of the petitioner is already over. Apparently, no recovery is also to be affected.

Therefore, I am of the view that, merely because the police have not submitted the final report, he need not be deprived of his right to go abroad to pursue his studies.
Section 498A in The Indian Penal Code
48A. Husband or relative of husband of a woman subjecting her to cruelty.—Whoever, being the husband or the relative of the husband of a woman, subjects such woman to cruelty shall be pun­ished with imprisonment for a term which may extend to three years and shall also be liable to fine. Explanation.—For the purpose of this section, "cruelty" means—
(a) any wilful conduct which is of such a nature as is likely to drive the woman to commit suicide or to cause grave injury or danger to life, limb or health (whether mental or physical) of the woman; or
(b) harassment of the woman where such harassment is with a view to coercing her or any person related to her to meet any unlawful demand for any property or valuable security or is on account of failure by her or any person related to her to meet such demand.]
MUST WATCH INTERVIEW:
Can Your Organization Fire You If You Are Charged Under Section 498-A IPC | Voice For Men India
LEAVE YOUR COMMENTS BELOW:
READ ORDER | Kerala High Court Allows Section #498A IPC Accused To Travel Abroad Without Final Police Report

▪️Petitioner is studying in Australia
▪️He visited India for surgery
▪️Magistrate Court rejected his return to Aus citing earlier bail orderhttps://t.co/zmHvf9fDLO

— Voice For Men India (@voiceformenind) October 17, 2023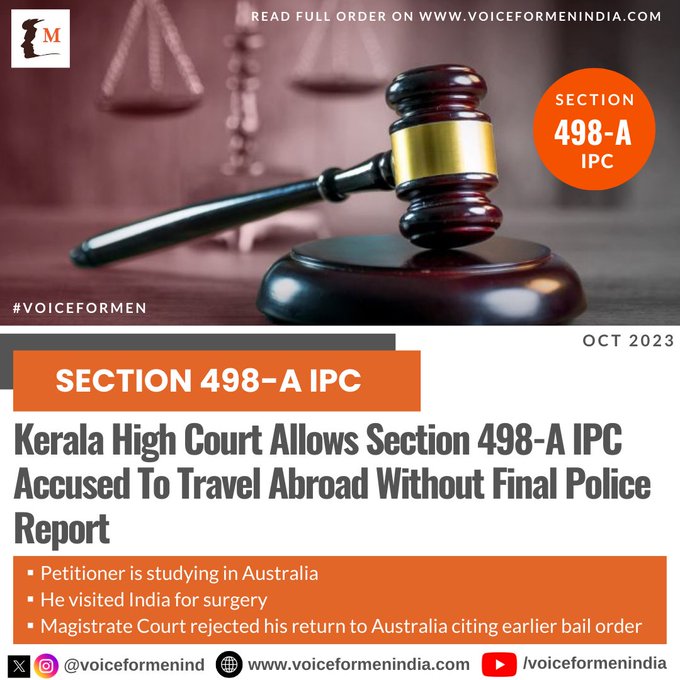 Join our Facebook Group or follow us on social media by clicking on the icons below
Donate to Voice For Men India
Blogging about Equal Rights for Men or writing about Gender Biased Laws is often looked upon as controversial, as many 'perceive' it Anti-Women. Due to this grey area - where we demand Equality in the true sense for all genders - most brands distance themselves from advertising on a portal like ours.
We, therefore, look forward to your support as donors who understand our work and are willing to partner in this endeavour to spread this cause. Do support our work to counter one sided gender biased narratives in the media.
To make an instant donation, click on the "Donate Now" button above. For information regarding donation via Bank Transfer, click here.
Alternately, you can also donate to us via our UPI ID: voiceformenindia@hdfcbank