Hello Vedanta Delhi Half Marathon 2023! Men Welfare Trust (MWT), a Men's Rights NGO based out of the capital city marches in full strength to spread awareness about Anti-men laws.
The half marathon that took place on October 15, 2023 saw people and institutions from various walks of life, where MWT chose to sensitise citizens about the potential misuse of the proposed Marital Rape laws in India.
MWT further drew attention to pressing issues such as rising male suicides, the misuse of gender-based laws, domestic violence against men, and men's mental and physical health during the Vedanta Delhi Half Marathon, the Great Delhi Run that took place on Sunday.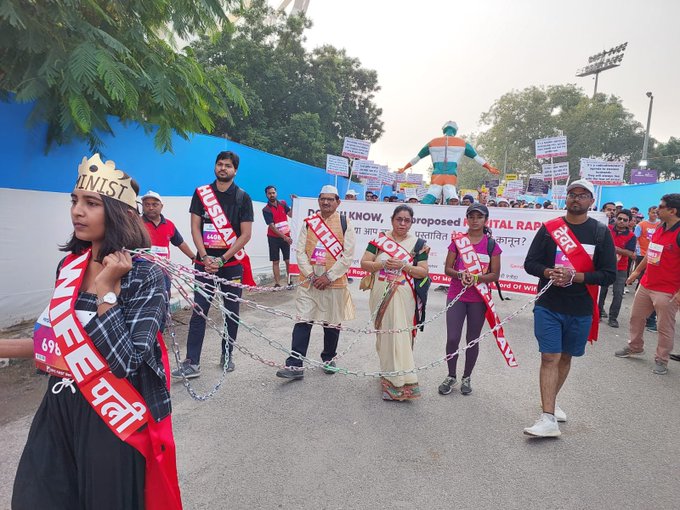 Marital Rape Law
The focus of this year's event was the proposed marital rape law. Volunteers of Men Welfare Trust used this platform to express their concerns about the law, highlighting that it might be draconian, gender-biased, and could potentially be grossly misused, causing more injustice than justice.
During the Vedanta Delhi Half Marathon, hundreds of enthusiastic volunteers from Men Welfare Trust took to the streets, carrying a massive effigy depicting a wounded, backstabbed man to symbolise the atrocities suffered by men. They also presented a tableau illustrating a situation where a feminist wife was perpetrating violence against her husband and his family, conveying the need for greater gender-neutral awareness.
Volunteers held placards addressing key issues, including the possible misuse of the proposed marital rape law, the misuse of gender-based laws, the demand for gender-neutral legislation, and the need for the establishment of a Men's Commission.
Their procession through the marathon route became the highlight of the event, attracting immense support from the crowd. Spectators and participants alike commended the volunteers for their dedication to raising awareness about men's issues.
VOICE FOR MEN INDIA NOTE:
Men's Rights NGOs are not against justice to women, we are against making laws that arm only and only one gender. Currently, sexual violence within marriage by a husband is already covered under Section 498-A IPC, Section 377 IPC and Domestic Violence Act, 2005.
The proposed Marital Rape law will rest on the sole testimony of the wife who will have the absolute right to even term consented marital sex as marital rape. Effectively, all divorce cases even due to non-compatibility between a couple, will be turned into a case of Marital Rape. The minute a wife would file a case of rape against the husband, he will be arrested or run around courts to procure bail. He would then spend years/decades trying to prove innocence at the cost of losing his reputation, career and life due to being labelled as Wife Rapist.
Solution: Currently, married women who face sexual violence in marriage have the required laws in their favour to drag such husbands to court. However, the macro problem in many cases is where marriage is dead and either spouse wants exit. Its time India brings in Irretrievable Breakdown in Marriage as grounds for divorce so that either spouse in loveless and lifeless marriages are not forced to continue or encouraged to file false cases to get out from such relationships.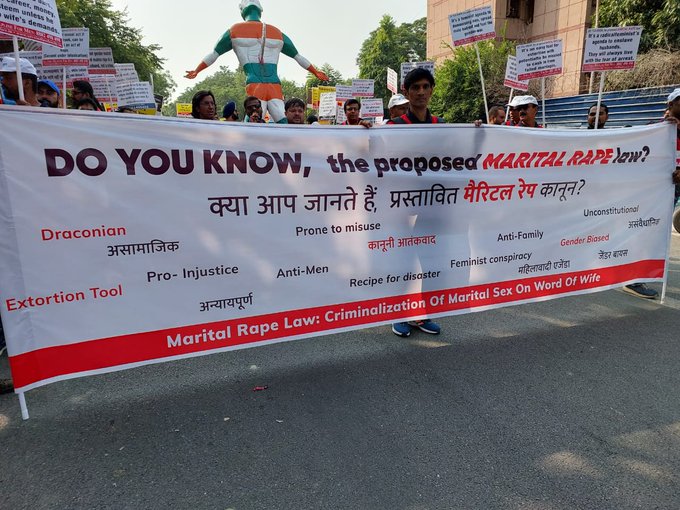 Men Welfare Trust is a dedicated member of the conglomerate of NGOs across India known as the Save Indian Family Movement (SIF), akin to the men's rights movement in India. The organization operates the largest helpline for men in distress in India, receiving approximately 3,000 calls each month, and providing free assistance, support, and counselling to male victims.
Men Welfare Trust (MWT) continues its mission to support men in distress and address the challenges they face in today's society. This event serves as a powerful reminder that the dialogue on gender issues should be inclusive and balanced.
For more information about Men Welfare Trust and their efforts to promote men's welfare and advocate for gender-neutral laws, please visit their website at www.menwelfaretrust.in
If you need guidance in your respective cases, you can contact Save Indian Family (SIF) helpline at +91 8882 498 498 OR you can visit their website for weekly meeting details in multiple cities https://www.saveindianfamily.in/meetings/
LEAVE YOUR COMMENTS BELOW:
DO WATCH:
Marital Rape Law | Advocate J Sai Deepak | Voice For Men India | Other Side
READ RELATED ARTICLES
Join our Facebook Group or follow us on social media by clicking on the icons below
Donate to Voice For Men India
Blogging about Equal Rights for Men or writing about Gender Biased Laws is often looked upon as controversial, as many 'perceive' it Anti-Women. Due to this grey area - where we demand Equality in the true sense for all genders - most brands distance themselves from advertising on a portal like ours.
We, therefore, look forward to your support as donors who understand our work and are willing to partner in this endeavour to spread this cause. Do support our work to counter one sided gender biased narratives in the media.
To make an instant donation, click on the "Donate Now" button above. For information regarding donation via Bank Transfer, click here.
Alternately, you can also donate to us via our UPI ID: voiceformenindia@hdfcbank