We started Voice For Men India, specifically to open up a platform where men can share their experiences or stories about what they have faced in their marital life. Over the years, we have published several stories – some which have left all speechless.
Here's one more addition to 'His Story' about domestic abuse, filthy humiliation and alienation from own son. This will leave us all with one question: Are husbands/fathers only required to be providers of a family?
Who Is Alok Maurya & Jyoti Maurya? Why Has This Story Gone Viral?
His Story
We got married in 1998 and I was working abroad for some years.
When I returned to India in 2003, my wife (along with our son) refused to cohabit with me. Thereafter, she started hurling obnoxious abuses at me, day in and day out. She might have developed relationship with someone else while I was away. She started poisoning the fertile mind of our only son against me. She would do exactly the opposite of what I would ask her.
In 2008, I got transferred to City A. She refused to accompany me but got ready eventually after a male friend of ours counselled her. After reaching City A, she started hitting me & hurling abuses at me, whenever I would fall sick.
"Post Divorce My Ex-Wife Told Me About Her Affairs While We Were Dating & Married; I Can't Trust Anyone Now For Remarriage": His Story
I chose to stay at my workplace, 120 Km away and visit my home only once a week. Upon reaching home I was made to feel unwelcome & given stale food. She would often throw the food plate away or topple the table on my legs. She would also raise her chappals at me. She just didn't want to see me in the house.
Whenever I would be at home, she would go out with her friends or be relegated to her own room. She would entice me to commit suicide.
I increased my spending on her, often beyond my capacity, in order to appease her. Neither she, nor my son would speak to me, during the time I spent at our house.
Her father passed away in 2010, leaving behind property worth crores. Thereafter, her animosity towards me only increased. In 2018, I was transferred to City B. She refused to accompany me and stayed back at City A in our rented house on the pretext that our son was in Class XII. 
Engineer Husband Reads Up Law To Fight False Cases By Wife & In-Laws | His Story | Voice For Men India
I continued taking care of all their expenses, while I was made to work and fend for myself in a different city all alone. After finishing school, we got our son admitted to a reputed Engineering College in City A – once again on my wife's demand.
When I visited home after six months to pay the fees for our son, my wife did not even bother to give me breakfast in time, despite fully knowing that I am chronically diabetic. Both the wife and my son were not even inclined to speak with me. Thus, I picked up my bag and left the house & returned to City B without paying his fees. After returning, I made the fees payment online and again went to City A to settle my son at the hostel.
This time when I arrived at my place, my wife curtly told me:
You have 10 minutes to pack up your belongings & leave the house permanently or I will call the police.
I was afraid of women centric laws and thus I just left the house with whatever I could take & came back to City B.
WATCH VIDEO | Patna Woman Forcefully Drags Husband Home When He Arrives At Court For Divorce Case
Wife files domestic violence case after 3-years of separation
There was no communication between us whatsoever for 3-years and one day she suddenly filed a false case of Domestic Violence against me, in City A court. My well wishers advised me that seeking divorce was the only recourse available to me.
Thereafter, I filed a petition in City B court for divorce on grounds of Cruelty & Desertion. I hired a renowned lady lawyer to represent my case.
My wife did not bother to appear in the divorce case proceedings and my case kept getting transferred thrice to different judges. Now, we would have a court date every month, but even my lawyer stopped appearing herself and would only send her intern or clerk. This continued for two years.
My wife has some influential relatives in City B and thus, the court officers too showed sympathy towards her. I may be wrong, but I suspect underhand dealings as well.
Alwar School Principal Domestic Violence Case | I Suffered In Silence Because Of Our Son
The third judge asked me to prove cruelty. This is when I just prayed for a mutual settlement. The third judge mediated and arrived at a figure of Rs 40 lakh as alimony. I agreed, to save myself from further trauma.
My current take home salary is Rs 1 lakh and am due to retire in next 7 years. I am trying to arrange the money before the final date this year. She has kept all the ancestral jewelry that was given to her, including my rings & necklaces that I gifted to her from time to time. She has also usurped all my household furnitures & equipment.
My son has passed his Engineering and is now employed somewhere – I am not even informed the name of the organisation where he is working.
I hope my agony of 20-years will soon be ended. May God be kind to me now.
Raped By Our Wives Without Consent; Why Is Marital Rape Debate Not Gender Neutral?
Voice For Men India Take:
The above is a text book chapter in almost every single man's life while he is fighting a divorce battle in India
The courts and our judicial system take years/decades to conclude a matter, leaving no choice for men but to amicably pay up and settle
While Voice For Men India always encourages all to give a tough fight to their wives who file false cases, we cannot overlook the trauma men and their families go through over the years running to courts, paying and begging to own lawyers for breakthrough and so on…
Sadly, this is how our matrimonial laws and the system have cornered the men
DO WATCH:
My In-Laws Supported My Wife's Adultery, My Son Calls Me A Failure | His Story | Voice For Men India
LEAVE YOUR COMMENTS BELOW:
#HisStory | "I Was Made To Feel Unwelcome In My Own Home, Abused & Humiliated; I Do Not Even Know Where My Son Is Working…"

"3rd judge asked me to prove cruelty. I gave up & prayed for mutual settlement. He mediated & arrived at Rs 40 lakh as alimony"#VoiceForMen…

— Voice For Men India (@voiceformenind) July 27, 2023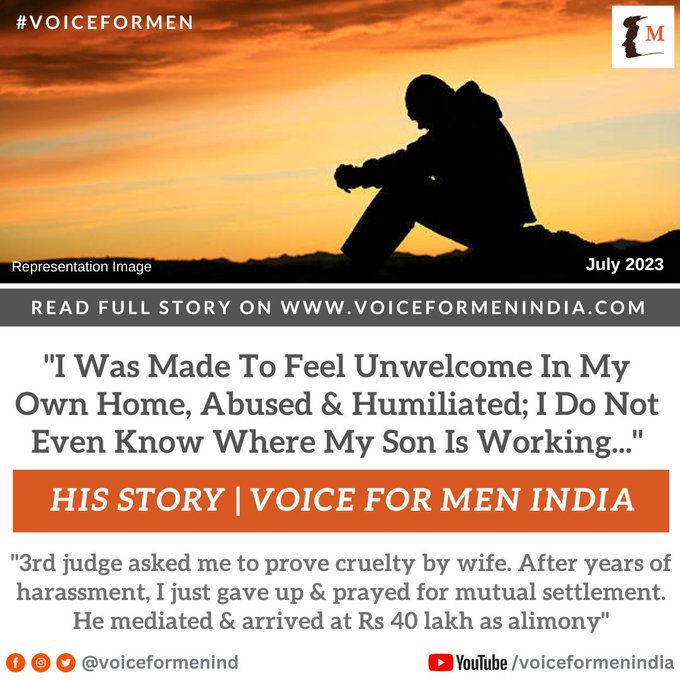 Join our Facebook Group or follow us on social media by clicking on the icons below
Donate to Voice For Men India
Blogging about Equal Rights for Men or writing about Gender Biased Laws is often looked upon as controversial, as many 'perceive' it Anti-Women. Due to this grey area - where we demand Equality in the true sense for all genders - most brands distance themselves from advertising on a portal like ours.
We, therefore, look forward to your support as donors who understand our work and are willing to partner in this endeavour to spread this cause. Do support our work to counter one sided gender biased narratives in the media.
To make an instant donation, click on the "Donate Now" button above. For information regarding donation via Bank Transfer, click here.
Alternately, you can also donate to us via our UPI ID: voiceformenindia@hdfcbank