Most of you would have come across Alok Maurya and Jyoti Maurya viral story on social media. Who is this couple and why has this story gone so viral?
Background:
Alok Kumar Maurya, a resident of Prayagraj, currently works in the Panchayat Raj Department. Alok got married to Jyoti in 2010 and the couple has twin daughters who were born in the year 2015.
Post marriage, Jyoti enrolled herself in a training program and eventually achieved the 16th rank in the Public Service Commission exams, where she achieved third rank among women. Infact, Alok had taken a loan to help his wife pursue her career after marriage. 
Husband Can Be Jailed For Extra-Marital Affair Under Sec 498A | Was Adultery Decriminalised Only For Wife's Paramour?
Separation
All was well in the Maurya paradise until 2020.
However, soon Jyoti allegedly got into an extra-marital relationship with one Manish Dubey, District Commandant of Home Guards in Ghaziabad.
As alleged by Alok, Jyoti changed her behaviour after having tasted professional success. Initially, the husband did not suspect any case of wife's affair and considered her engagement with the "other man" as strictly professional.
While the affair continued from 2020 to 2022, Alok only happened to come across his wife's phone after two years, where he learnt of what she was upto. When he objected to this, Jyoti allegedly resorted to physical violence and threatened to send him to jail. On December 22, 2022, Alok was apprehended at a hotel in Lucknow, where he claims that he escaped with his life.
According to Alok, he tried his best to convince his wife to end the extra-marital affair, however, she refused to make any amends.
Feminist Portal The News Minute Dismisses Baiju Raju's Suicide As His Mental Problem; Gives Clean Chit To Wife Justifying Adultery
Wife threatens husband if he doesn't consent to divorce
Jyoti rebounded with dowry harassment allegations against Alok, and also allegedly intimidated him with death threats to consent to divorce.
Alok accused Jyoti stating,
A week ago, I received a call threatening me to willingly take a divorce; otherwise, I would be killed. Jyoti has registered a false dowry case at the Dhoomanganj Police Station and has also threatened to press charges under Section 376.
VIRAL VIDEO & AUDIO
Alok Maurya's story went viral, when one of the social media users posted the below video, where Jyoti is seen using utterly filthy language for her husband and his husband.
ये हैं sdm ज्योति मौर्या। इनके मुँह से टपकती मीठी बांतें pic.twitter.com/OF0VrCHS1m

— I.khan S.P.(प्रदेश सचिव अल्पसंख्यक सभा) (@islamkhan919) July 1, 2023
There was another audio that went viral, where the husband is confronting his wife over her extra-marital affair, while the wife accuses him of dowry harassment.
सफाईकर्मी पति के दम पर बनीं अफसर, फिर उसी को दे दिया धोखा,पति के साथ बातचीत का ऑडियो वायरल…#breakingnews #LatestVideo #Trending #PCSofficer #JyotiMaurya #AlokMaurya pic.twitter.com/4LftUytHGM

— Nedrick News (@nedricknews) June 27, 2023
Corruption Charges Against Jyoti Maurya
Jyoti Maurya, who is a Provincial Civil Service officer in Bareilly, is now facing serious charges of corruption. A diary consisting of 100 pages has come to light, which was handed over to the media by Alok.
The diary mentions details of all the monthly collections Jyoti made, allegedly through unofficial means, amounting to a staggering sum of Rs 6 lakh each month. The diary also mentions monthly payments of Rs 15,000 to the supply inspector and Rs 16,000 to the marketing inspector. The veracity of Jyoti's claims will be revealed only after a thorough investigation.
In response to the allegations, Alok Maurya has filed a complaint at the Home Guard headquarters. Following his complaint, Home Guard DIG V.K. Maurya has assigned the case to Deputy Commandant General Santosh Kumar for further investigation.
Alok through all his media interviews, continues to maintain that he feels a sense of betrayal by his wife.
When I Filed For Divorce, My Wife Filed 498A, DV, 125 CrPC As Rebound | Now Demanding Rs 20 Lakh For Final Settlement
Voice For Men India Take:
Sufferings of millions of married men in India go unheard
Women rights lobby is too strong and dominant to even allow the other side perspective to exist
Fortunately, we now have social media, where men too are able to express trauma of domestic abuse, harassment, violence and threats faced by them from their wives (often along with their in-laws)
India, in 2023, is discussing salaries for homemakers, while husbands don't even have gender neutral domestic violence laws
LEAVE YOUR COMMENTS BELOW ON THIS CASE:
Who Is #AlokMaurya & #JyotiMaurya? Why Has This Story Gone Viral?#VoiceForMen #HisStory https://t.co/jQ6r0V8wD6

— Voice For Men India (@voiceformenind) July 5, 2023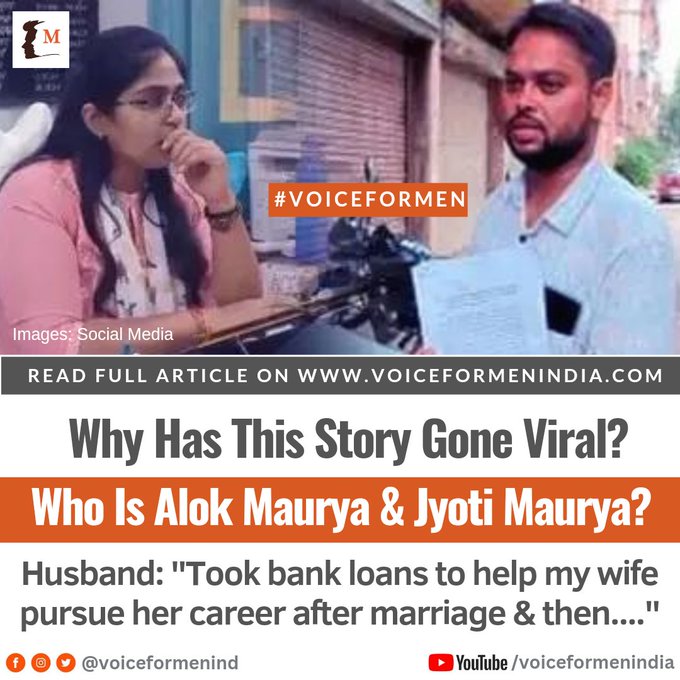 MUST WATCH:
Why Background Check Of Would-Be Wife Is Important | Voice For Men India
Men's Rights Vs Women's Rights | Do We Need A Gender War? | Sanjukta Basu | Arnaz Hathiram
Join our Facebook Group or follow us on social media by clicking on the icons below
Donate to Voice For Men India
Blogging about Equal Rights for Men or writing about Gender Biased Laws is often looked upon as controversial, as many 'perceive' it Anti-Women. Due to this grey area - where we demand Equality in the true sense for all genders - most brands distance themselves from advertising on a portal like ours.
We, therefore, look forward to your support as donors who understand our work and are willing to partner in this endeavour to spread this cause. Do support our work to counter one sided gender biased narratives in the media.
To make an instant donation, click on the "Donate Now" button above. For information regarding donation via Bank Transfer, click here.
Alternately, you can also donate to us via our UPI ID: voiceformenindia@hdfcbank