Last week, a tragic suicide case was reported from Tamil Nadu, where Coimbatore Range Deputy Inspector General (DIG) C Vijayakumar IPS ended his life on Friday morning in the premises of his quarters attached to the camp office at Red Fields near Racecourse in Coimbatore city.
Case:
Vijayakumar was a 2009 batch IPS officer and currently in his mid-40s. In his earlier stints, he had served as Superintendent of Police in Kancheepuram, Cuddalore, Nagapattinam, and Tiruvarur districts. Later, he served as the Deputy Commissioner of Police in Chennai's Anna Nagar. He was promoted as DIG and posted to the Coimbatore range in January 2023.
Speaking with the media, ADGP Arun said that Vijayakumar had been suffering from obsessive compulsive disorder (OCD) and depression and that he was receiving treatment for the last few years. Arun claimed that this was the main reason of his suicide and has ruled out any family problem, contrary to initial media reports.
Arun also claimed that the late cop had undergone a medical checkup four days ago and that doctors had prescribed alternate medication.
Vijayakumar allegedly did not inform his seniors about his medical condition, but few top police officials in Coimbatore who knew him personally were aware of this situation. ADGP Arun said:
Inquiry revealed there was no external pressure from his family and work.
Chhattisgarh Home Minister Expresses Concern Over Increasing Suicides Amongst Policemen
Suicide
The DIG shot himself using his service pistol after returning from his jogging round at Racecourse. The cop's body was shifted to the Coimbatore Medical College Hospital for post-mortem and was later handed over to his family at noon.
C Vijayakumar's body was then taken to his native Theni district by ambulance.
A case has been registered and the investigation is underway.
Tamil Nadu Chief Minister MK Stalin took to Twitter and expressed shock on the news of DIG's suicide. Stalin recalled how the police officer's service to the force in various capacities, including as the Superintendent of Police, was a huge loss to the Tamil Nadu Police.
கோவை சரக காவல்துறை துணைத் தலைவர் திரு. விஜயகுமார் இ.கா.ப., அவர்கள் இன்று அகால மரணம் அடைந்தார் என்ற துயரமான செய்தியைக் கேட்டு மிகுந்த அதிர்ச்சியும் வருத்தமும் அடைந்தேன். திரு. விஜயகுமார் அவர்கள் தனது பணிக்காலத்தில் மாவட்டக் காவல் கண்காணிப்பாளர் உள்ளிட்ட பல்வேறு பணிப் பொறுப்புகளில்… pic.twitter.com/TryrsY3FSK

— M.K.Stalin (@mkstalin) July 7, 2023
Voice For Men India Tak

e

:
Indian society and lawmakers refuse to even acknowledge mental health challenges faced by married/unmarried men. We do not have even basic government run platforms or government aided NGOs that could specifically address the problems faced by men.
Current central and state governments have turned women appeasement into vote banks and do not care, whatsoever, to address difficulties encountered by the male gender. Every single scheme, privilege, freebie is announced for women, however, on the other hand, we completely overlook the plight of men, assuming they are super heroes who are born to shoulder personal and professional hazards all by themselves.
Sadly, every other male suicide in India is reduced merely to an NCRB record.
Faridabad DCP Vikram Kapoor Suicide Case: Woman's Role Blackmailing Him To Be Probed By Haryana Police
Suicide Prevention Helpline
Men in distress due to family problems, facing threats of false cases from in-laws OR facing false cases by women after failed consensual relationships can contact either of the Men's Rights NGOs:
You can also contact Government of India 24×7 toll-free mental health rehabilitation helpline '
KIRAN

' on 1800-599-0019
DO WATCH:
NCRB SUICIDE REPORT 2021 | GENDER WISE ANALYSIS | MEN'S RIGHTS INDIA | VOICE FOR MEN INDIA
LEAVE YOUR COMMENTS BELOW:
Coimbatore #DIGVijayaKumar's Suicide Questions India's Refusal To Acknowledge Mental Health Challenges Faced By Men

▪️2009 batch IPS officer in mid 40s

▪️Served as SP Kancheepuram, Cuddalore, Nagapattinam & Tiruvarur districts, DCP Chennai Anna Nagarhttps://t.co/NFGhTYLkzR

— Voice For Men India (@voiceformenind) July 10, 2023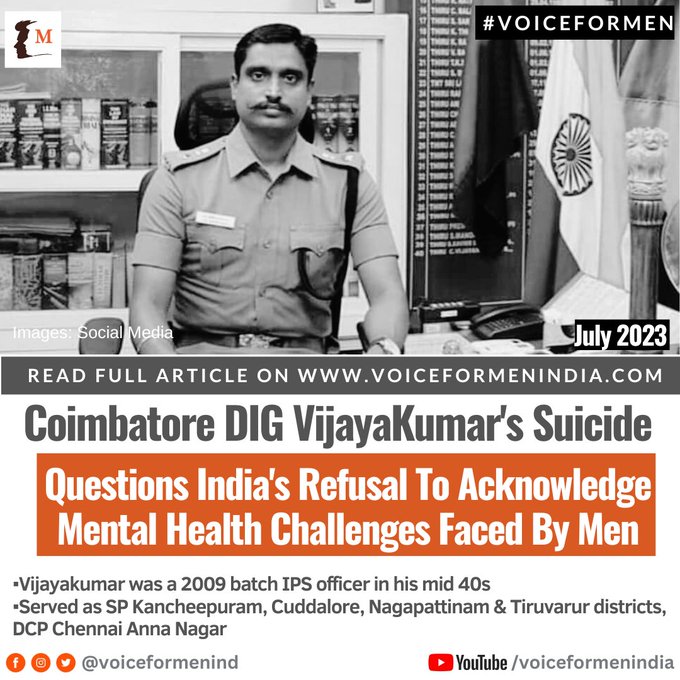 ALSO READ:
WATCH VIDEO | My Wife Harasses, Threatens & Tortures Me, Keeps Asking For Money; That's Why I Left Home: CRPF Jawan Traced After 52-Days
Stressed CRPF Soldier Dies By Suicide Within Days Of Returning From Holiday With Family
Join our Facebook Group or follow us on social media by clicking on the icons below
Donate to Voice For Men India
Blogging about Equal Rights for Men or writing about Gender Biased Laws is often looked upon as controversial, as many 'perceive' it Anti-Women. Due to this grey area - where we demand Equality in the true sense for all genders - most brands distance themselves from advertising on a portal like ours.
We, therefore, look forward to your support as donors who understand our work and are willing to partner in this endeavour to spread this cause. Do support our work to counter one sided gender biased narratives in the media.
To make an instant donation, click on the "Donate Now" button above. For information regarding donation via Bank Transfer, click here.
Alternately, you can also donate to us via our UPI ID: voiceformenindia@hdfcbank