Matrimonial laws are completely one-sided in India and the women are armed to fix their husbands if they do not agree to their demands. In a recent case reported from Gujarat, a woman got her husband arrested seven times in less than 10-years.
The matter pertains to Mehsana district in the state.
Bombay High Court Sends Parsi Husband To Civil Jail For Not Paying Maintenance To Wife In Divorce Case
Case:
Premchand Mali (43) got married to Sonu in the year 2001. The couple who lives in Kadi town in Mehsana district started experiencing problems in their relationship since the year 2014. Premchand is a daily wage worker by profession. The couple has a 20-year-old son named Ravi.
Man Sent To Jail For Not Paying Rs 2.60 Crore Arrears & Rs 1.75 Lakh Maintenance Per Month To Estranged Wife
Wife started filing cases
According to a TOI report, Sonu filed first case of physical assault against Premchand in the year 2015. The court then ordered him to pay his wife a monthly maintenance of Rs 2,000.
Since Premchand could not pay this sum, it resulted in his arrest. After spending five months in jail, the wife herself secured his release and arranged for his bail. Subsequently, both husband and wife started living separately, however, remained embroiled in their fights, separation and reconciliation.
Supreme Court Orders Husband To Pay Rs 2.60 Cr & Monthly Maintenance To Wife Or Go To Jail
Once again, when the fights got uglier, Sonu got Premchand arrested multiple times between 2016-2018 on pretext of domestic violence, although, each time she would herself get him released.
Premchand was again jailed between 2019 and 2020 for missing out on maintenance payments, post which his wife got him bailed out yet again.
The most recent arrest happened this year, when Premchand failed to pay maintenance as per court order, post which his wife got him bailed out on July 4, after which they returned to their home in Kadi.
Gujarat Court Sends Husband For 1500 Days In Jail For Non-Payment Of Maintenance
Husband files complaint against wife
On his return, Premchand learnt that his wallet and cellphone were missing and confronted Sonu. She denied any knowledge about their whereabouts, which led to an argument between them. The same escalated and resulted in a physical fight where both assaulted each other.
Premchand finally left the home and went to live with his mother in Patan.
Sentenced To 11-Mnths Over Failure Of Rs 3k Maintenance To Fully-Abled Wife, Ailing Husband Dies In Jail
He has now filed a police complaint, accusing Sonu and their son of harming him. He also accused his wife of throwing chilly powder in his eyes.
India does not recognise domestic violence against men as a law yet.
DO WATCH:
At Least Have Some Laws For Men In Matrimonial Cases | Voice For Men India
LEAVE YOUR COMMENTS BELOW:
#Gujarat: Mehsana Woman Gets Husband Arrested Seven Times In Less Than 10YRS As He Failed To Pay Maintenance

▪️Premchand is daily wage worker
▪️Everytime he failed to pay, his wife Sonu would get him arrested, later get him bailed out#VoiceForMenhttps://t.co/JAsMmXD03n

— Voice For Men India (@voiceformenind) July 12, 2023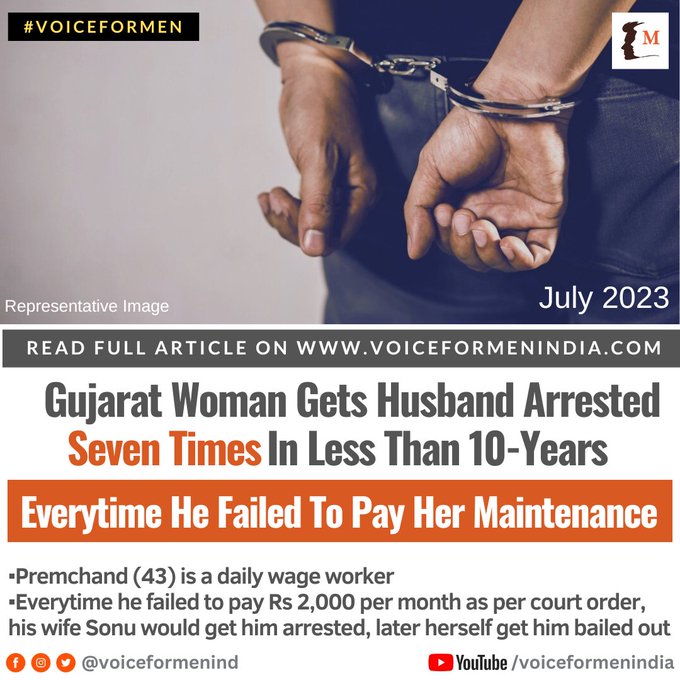 Join our Facebook Group or follow us on social media by clicking on the icons below
Donate to Voice For Men India
Blogging about Equal Rights for Men or writing about Gender Biased Laws is often looked upon as controversial, as many 'perceive' it Anti-Women. Due to this grey area - where we demand Equality in the true sense for all genders - most brands distance themselves from advertising on a portal like ours.
We, therefore, look forward to your support as donors who understand our work and are willing to partner in this endeavour to spread this cause. Do support our work to counter one sided gender biased narratives in the media.
To make an instant donation, click on the "Donate Now" button above. For information regarding donation via Bank Transfer, click here.
Alternately, you can also donate to us via our UPI ID: voiceformenindia@hdfcbank