If you are a man then forget Equal Rights, you may be even deprived of basic human rights in India while fighting a divorce litigation. The death of a 25-year-old man in Nashik Central Jail speaks volumes of how our laws favour fully-abled women and pressurise estranged husbands to cough up maintenance even if they are undergoing a medical problem.
Case :
Gorakh Ramdas Kakde, a driver from Chalisgaon in Jalgaon, was estranged from his wife Deepali Kakde
It was Deepali who had left him and subsequently filed a case under Section 498A of the IPC, accusing Gorakh of cruelty and seeking maintenance
A court in Malegaon in October 2016 had subsequently passed an order asking him to pay Rs 3,000 per month
Gorakh was suffering from a kidney ailment and was thus unemployed
Since he failed to pay the requisite maintenance amount as per court order, his wife moved court again over his failure to pay her money
Gorakh was once again summoned to a court in Malegaon, where he was sentenced to jail for 11 months for failing to pay maintenance since October 2016, which had compounded to Rs 75,000
The ailing husband was eventually sent to Nashik Central Jail on August 27 and on August 30 at night, his family got a call from the police saying he had died
His family has accused jail officials of apathy and claimed that the deceased, who needed dialysis twice a month, was not given proper medical care
Bholenath Kakde, the deceased's brother, said,
Gorakh was unable to work due to an ailment which affected his renal functions, and had no means to pay the stipulated amount. My brother's kidneys had started failing and he was forced to visit Nashik twice a week for dialysis. I was paying for his treatment.
In the verdict, Magistrate J J Inamdar of Malegaon Court had said,
I have asked the opponent to deposit the remaining amount of maintenance. He answered that he is not having money. On the other hand, his advocate filed pursis that he is suffering from kidney failure. Accordingly, jail authority is directed to provide him with necessary medical aid. Moreover, considering overall circumstances of the present case, it would be just and proper to send the opponent to jail for 11 months in default of maintenance of 11 months.

IPC 498A (Image Credit : TOI)
Gorakh's dejected family expressed their plight saying that they sent him to jail despite us saying his kidneys were not functioning. They further claimed that Gorakh was not even given basic treatment. His brother concluded,
It is perplexing for us as to how he could have died within two days of being sent to prison.
The Nashik Central Jail authorities, however, claimed adequate treatment was provided to the prisoner.
The maintenance laws in India need a serious review since many estranged wives have made this into a lifelong money making opportunity. The minute any divorce/domestic violence case is filed, the maintenance amount is immediately awarded to the woman, in most cases overlooking her capacity to earn. The burden of financial support is shifted completely on the man with or without his fault and there are many judgements which have actually quoted "Beg, borrow, steal but pay up".
Supreme Court to frame guidelines to govern payment of maintenance in matrimonial matters. Will they check:

▪️Earning capacity of wife
▪️Timelines to complete arguments once maintainence meter begins
▪️Reject maintenance to wives who lie and hide their income sources #MenToo pic.twitter.com/hcFHilCiCt

— Men's Day Out (@MensDayOutIndia) September 17, 2019
If a woman is able to approach court several times and send her husband behind bars for failure to pay up, she is well capable to earn 'some amount' herself. However, ironically no law or court ever emphasises on this aspect, thereby increasing sloths in society.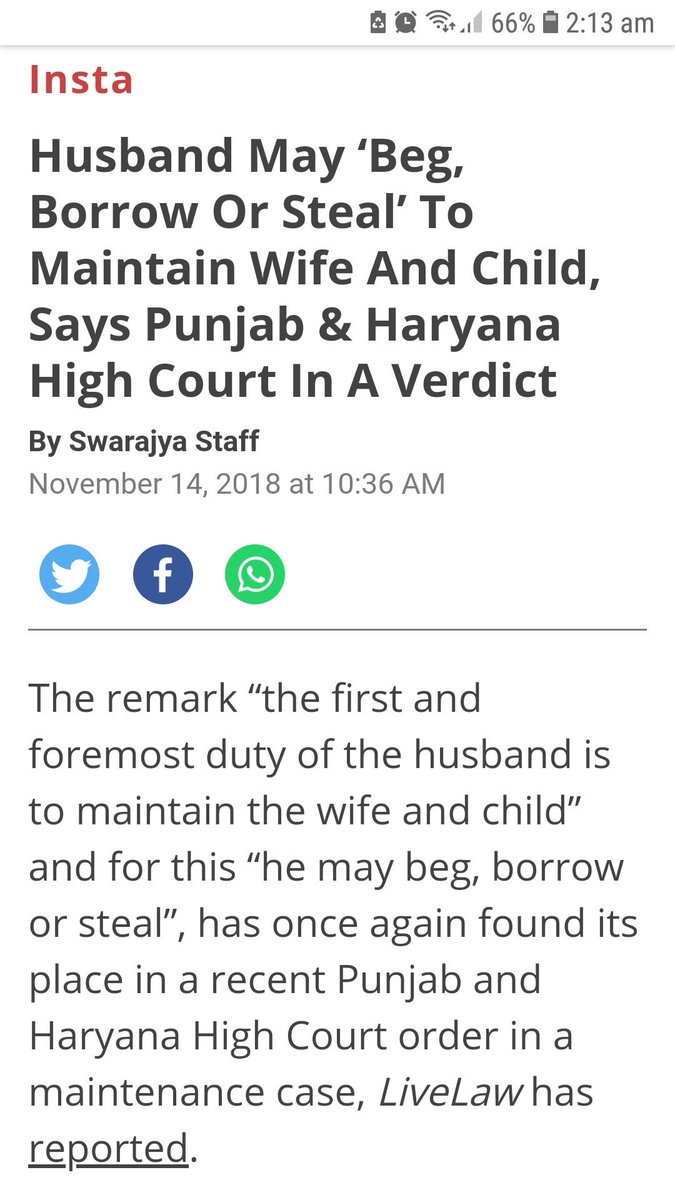 READ ONE SUCH OTHER STORY WHERE A DISABLED MAN CROWDFUNDED TO PAY ALIMONY TO HIS FULLY ABLED WIFE
http://voiceformenindia.com/his-story/shiv-kumar-alimony-crowdfund-milaap/
Join our Facebook Group or follow us on social media by clicking on the icons below
Donate to Voice For Men India
Blogging about Equal Rights for Men or writing about Gender Biased Laws is often looked upon as controversial, as many 'perceive' it Anti-Women. Due to this grey area - where we demand Equality in the true sense for all genders - most brands distance themselves from advertising on a portal like ours.
We, therefore, look forward to your support as donors who understand our work and are willing to partner in this endeavour to spread this cause. Do support our work to counter one sided gender biased narratives in the media.
To make an instant donation, click on the "Donate Now" button above. For information regarding donation via Bank Transfer, click here.
Alternately, you can also donate to us via our UPI ID: voiceformenindia@hdfcbank