There are several women's rights defenders that question men's rights activists on data regarding false cases by women. While they live in complete denial, dismissing false rape cases, or calling the number minuscule, here is what the Delhi Commission of Women (DCW) revealed in the year 2014.
This was a period, when the very unfortunate Nirbhaya gang rape (Dec 2012) had left the entire country numb and in order to curb crimes against women, the Parliament was compelled to amend rape laws overnight. However, this report from the DCW comes when Barkha Singh was heading the Commission under Lt Governor Najeeb Jung heading the President's rule in Delhi.
Delhi YouTuber Couple Booked For Extorting More Than Rs 80 Lakh From Businessman By Threatening False Rape Case
A report by DNA dated October 2014 claimed that with the amended rape laws, an increase in false rape cases had been witnessed. As per the report, the DCW then revealed:
53.2% of the rape cases filed between April 2013 and July 2014 in Delhi were found 'false'.
The report in 2014 stated:
Period: April 2013 & July 2014
Total complaints of rape: 2,753
Case found to be true: 1,287
Cases found to be false: 1,464 
Delhi Shakur Basti Station GANG RAPE FALSE | Woman Wanted To Get Rid Of Old Husband & Marry Paramour
The report further revealed that between June 2013 and December 2013, the number of cases found to be untrue were 525. And in between, January 2014 and July 2014, the number of false rape cases were 900.
The Delhi Commission of Women further said it was investigating individual complaints of rape to ensure the victims get justice. However, it added that in many cases, the complainant turned hostile, and that revenge emerged to be the most common reason for filing a false complaint.
READ ORDER | Citing Matrimonial Dispute, Delhi HC Quashes False Rape FIR & Orders Accused To Provide Burgers At Orphanages
The report further added:
Total rape cases filed in 2013: 1,559
Acquittal rate: 78%
This was a 22% jump from the earlier 46% of acquittal in 2012, when there were a total of 680 cases filed.
Shamina Shafiq, representing the National Commission of Women in 2014 stated that she was not aware of the investigative report, but said that the revelation was quite unfortunate. Speaking with DNA, Shafiq added,
It is sad that people are misusing the rape laws to settle scores, while there are so many women who have nowhere to turn to in genuine cases. How will they gather the guts if this turns out to be the trend? A victim's family will also dissuade her from complaining.
READ ORDER | Delhi High Court Quashes False Rape FIR Directing Complainant Woman To Do Social Service In Blind School For Two Months
Speaking with India Today in 2014, the then DCW Chairperson Barkha Singh said:
Such "frivolous" complaints were worrisome. We examine these cases very carefully. Some women are using this as a tool to extort vulnerable men. Some women were taking it as business.
Sudha Tokas, DCW member and member in-charge Rape Crisis Cell (2014) told Mail Today,
In many cases, the complainant turns hostile, and revenge or extortion of money emerges to be the most common reason for filing a false complaint.
Tokas added:
A few months ago, a woman tenant had come to file a case of sexual assault against her landlord. While we recorded her statement and asked her about the expectation out of the case, she demanded Rs 32 lakh. She also refused to get her medical examination done and was reluctant to go to court when offered legal help. Over a period of cross questioning, it turned out to be a false case.
READ ORDER | Delhi High Court Quashes False Rape FIR Against Father-in-Law After Husband Settles Matrimonial Dispute With Alimony
In another case of false rape charges against a top hospital official by one of the women staffers, Tokas revealed:
During the course of investigation, it has been revealed that she wanted to get her duty shift changed to to day time. She, according to women's panel sources, admitted that she implicated the hospital official in the case.
Sudha Tokas also said that the rape crisis cell along the counsellors carried out a thorough investigation into the allegations and quoted:
These cases are extremely sensitive, so we work hard to ensure that acquittal does not happen easily. Speedy justice is given to the victim. We also help the victim collect evidence and give financial assistance for medical checkup.

Complainant's cross-examination often reveals the probity of such cases. The commission has the powers to penalise anyone or reprimand the person who registers false cases. The complainants are warned against pressing false charges.
LEAVE YOUR COMMENTS BELOW:
53.2% Rape Cases Filed In Delhi Between Apr 2013 to Jul 2014 Were Found False: DCW Report

▪️Barkha Singh (DCW Chief 2014): "Worrisome. Some women are using this as tool to extort vulnerable men. Some women taking it as business"#VoiceForMen#FalseRapehttps://t.co/dQ5jS0OvBc

— Voice For Men India (@voiceformenind) April 26, 2023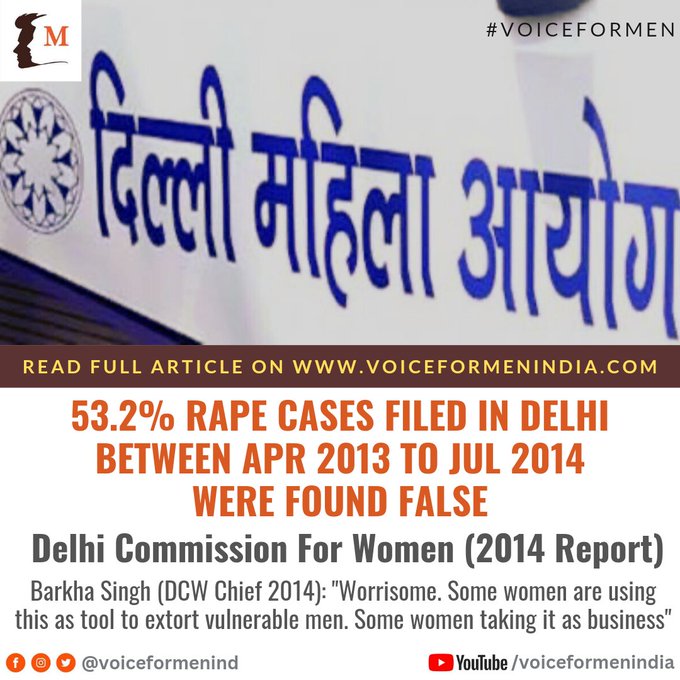 MUST WATCH:
Interview | Abhijit Iyer-Mitra Discusses Menace Of False Rape Cases In India
https://www.youtube.com/watch?v=7KdSt5bNN0w&t=1s
Join our Facebook Group or follow us on social media by clicking on the icons below
Donate to Voice For Men India
Blogging about Equal Rights for Men or writing about Gender Biased Laws is often looked upon as controversial, as many 'perceive' it Anti-Women. Due to this grey area - where we demand Equality in the true sense for all genders - most brands distance themselves from advertising on a portal like ours.
We, therefore, look forward to your support as donors who understand our work and are willing to partner in this endeavour to spread this cause. Do support our work to counter one sided gender biased narratives in the media.
To make an instant donation, click on the "Donate Now" button above. For information regarding donation via Bank Transfer, click here.
Alternately, you can also donate to us via our UPI ID: voiceformenindia@hdfcbank