Delhi police had been investigating an alleged gang rape case of Shakur Basti railway station that happened two weeks ago, however, as per latest media report, the police claims that no such incident ever happened.
According to railway police, a married woman cooked up a false rape story so that she could marry and settle down with her lover who lived in the neighbourhood. The cops have arrested the accused paramour Manish (25) in the case, while further investigation is going on.
Case:
The woman, who had been allegedly married without her consent, narrated a false gang rape story taking advantage of a situation that happened at the railway station. On the night when she alleged gang rape, some utensils and other belongings went missing from the kiosk at the station. The woman took advantage of the same and informed cops that she had been gang raped by three men.
Initially, the police suspected that the rape was committed by the same men who stole the belongings from the kiosk. However, as the investigation progressed, the officials learnt that the theft did happen, although those thieves had nothing to do with the woman's alleged gang rape.
Statement of the superintendent at the kiosk turned out to be very crucial for the police and the real story behind alleged rape was revealed. The operator of the kiosk informed the cops that he had often seen the woman and her paramour getting physically close to each other at the railway station.
Thereafter, the focus of suspicion shifted on Manish and soon he was taken into custody, followed by a thorough interrogation. The man then confessed the truth.
DCP (Railways) Harendra Kumar Singh said their investigation revealed that some relatives of the 21-year-old woman living near Shakurbasti railway station, forcibly got her married to a man twice her age in Haryana last year.
ALSO READ –
However, the woman eloped from her husband's home within two days and returned to her maternal house. Her parents tried to send her back but were not successful in doing so. The woman refused to continue with her marriage and wanted divorce.
Manish was living next door where the woman and her maternal family lived. The two wanted to get married to each other. On the night of the incident, the woman had a dispute with her family and in a fit of anger, went to the railway station, where Manish followed her as well.
This is when the duo planned to cook up a false gang rape story so that the despised husband would leave her and eventually her parents would get her married to Manish.
To make the rape case look genuine, the couple also indulged into sexual activity that night and tore the woman's clothes so that the police would be completely convinced.
Our Take:
If the woman had been forcefully married off to someone she did not choose or like, she had all the right to return and officially file for divorce
Whatever her personal situation may be after returning to her parent's home, under no circumstances her plan of cooking up a false gang rape story can be justified
The false rape idea was propagated and executed by both the woman and her paramour, however, the police ended up arresting only the man and not the woman
ALSO READ –
This gender bias when it comes to crimes is extremely worrying, since it is only an encouragement for this woman or several other women to go ahead and file endless false cases on either fictitious or real men in the future
Also, what does this say about our system, where people are strategising false rape stories to merely set their personal lives in order?
Such instances clearly show how we are failing completely as a system, and we hope we do not see a day where a genuine victim has to run from pillar to post to prove that she was actually raped
Gender Biased Media
Hindustan Times, Times of India and almost entire english media published the gang rape story dated December 13, 2020. The report stated that according to the police, the woman was sitting alone on one of the platforms of the station, when the three men allegedly forcibly dragged her to an isolated place and forced themselves on her.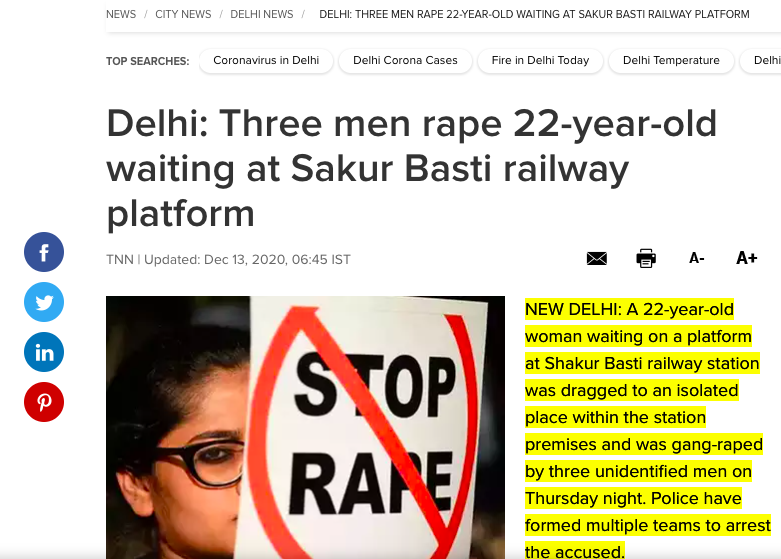 However, there is no follow up story published clarifying that the reported gang rape was false and never happened (no story as on December 28, IST 1430hrs).
This is not the first time something like this has happened. Earlier in November this year, several media portals aggressively reported gang rape of a 14-year-old tribal girl from Chhattisgarh. While Times Now did a follow up story on the allegations being false, NDTV & Zee News gave it a miss.
Here was the False Gang Rape story from Chhattisgarh
http://voiceformenindia.com/in-the-news/minor-girl-fakes-gang-rape-to-save-self-from-being-scolded-by-parents/
Time and again we have maintained, that mainstream media is largely responsible for setting the tone or mood of the nation. If the English media will not be responsible enough in calling out false rape allegations or reporting follow up stories, we as a country will end up with the label of "Rape Capital of the World".
The repercussions on Men will be worse, since Gender Biased Laws will be further tightened by either government of the day, who will rush to bring in even stricter one sided laws – here is no follow up story published clarifying that the reported gang rape was false and never happened virtually leaving the male gender with zero defense.
ALSO READ –
http://voiceformenindia.com/in-the-news/delhi-woman-false-gang-rape-bus/
http://voiceformenindia.com/in-the-news/ghaziabad-women-fake-gang-rape/
http://voiceformenindia.com/in-the-news/false-rape-cases-india-12/
http://voiceformenindia.com/in-the-news/false-gang-rape/
http://voiceformenindia.com/in-the-news/misuse-of-rape-compensation-delhi-high-court/
We are now on Telegram. You can also join us on our Facebook Group
Join our Facebook Group or follow us on social media by clicking on the icons below
Donate to Voice For Men India
Blogging about Equal Rights for Men or writing about Gender Biased Laws is often looked upon as controversial, as many 'perceive' it Anti-Women. Due to this grey area - where we demand Equality in the true sense for all genders - most brands distance themselves from advertising on a portal like ours.
We, therefore, look forward to your support as donors who understand our work and are willing to partner in this endeavour to spread this cause. Do support our work to counter one sided gender biased narratives in the media.
To make an instant donation, click on the "Donate Now" button above. For information regarding donation via Bank Transfer, click here.
Alternately, you can also donate to us via our UPI ID: voiceformenindia@hdfcbank