As much as social media brainwashes us with the myth that women don't have laws in India, the ground realities are far from the same. In fact, most of the matrimonial laws only and only favour the wife/daughter-in-law, even overlooking the interest and welfare of the elderly mother and sister of a married man. 
In the article below, let us demonstrate how law can differ in similar situations, favouring only the daughter-in-law. In both cases that we shall list below, the woman is a widow. 
Case 1: Widowed daughter-in-law

not liable to maintain parents-in-law

under Section 125 CrPC
The Aurangabad bench of the Bombay High Court in its order dated April 12, 2023 held that a widowed woman is not legally bound to maintain her in-laws under Section 125 CrPC. 
Petitioner Shobha Tidke lost her husband who was working as a conductor with the Maharashtra State Road Transport Corporation (MSRTC). She later secured a job in the State's health department. 
Subsequently, her parents-in-law sought maintenance from her citing their old age and also no means to sustain themselves. Their application for maintenance was allowed by the Nyayadhikari Gram Nyayalaya, Jalkot in Latur district. 
Woman Challenged Maintenance Order
Opposing to pay maintenance, the woman stated that her parents-in-law have four married daughters, all of whom are well settled. She also stated that her in-laws have at least 2.30 acres of land and that after her husband's death, the mother-in-law had received an amount of Rs 1.88 lakh. Apart from this amount, some money was paid to the petitioner's minor son. 
Make Daughters Pay
The daughter-in-law then contended that all the four daughters have equal share in the property of her in-laws' and therefore they need to be made liable to pay the maintenance to their parents. 
Submission by In-Laws
The counsel representing Shobha's in-laws argued that they were solely dependent on their son. All assets, including properties, were in the name of their son and thus would be transferred to the petitioner's name. Therefore, it was contended that when she is to succeed the property, it becomes her liability to maintain the old in-laws.
Defense by Daughter-in-Law
The petitioner argued that she did not secure job on compassionate grounds and that she has not replaced her husband and therefore, she is not legally bound to pay the maintenance under Section 125 of CrPC.
Aurangabad High Court
Single-judge Justice Kishore Sant quashed the orders of a Nyayadhikari Gram Nyayalaya, which had instructed the daughter-in-law to maintain her parents-in-law after her husband's death. 
Citing the provisions under Section 125 CrPC, the High Court noted that only legitimate, illegitimate children, major or physically disabled children and old parents (father and mother) can claim maintenance. The High Court then went on to state that this provision does not cover parents-in-law as "relatives" eligible for maintenance by a widowed woman. The order read:
Reading of the Section 125, it is clear that the father-in-law and mother-in-law are not mentioned in the said Section. Even for the Clause (a) to (d), those are qualified by further wording as unable to maintain himself or herself.
Adding further, the High Court said,
It is held that it is not the scheme of legislature and the legislature has not included parents-in-law in Section 125. The list given of the relations is exhaustive and there is no scope for any other interpretation.
Accordingly, the order instructing the daughter-in-law to pay maintenance to her in-laws was withdrawn. 
Case 2:

Widow Daughter-In-Law Can

Claim Maintenance From Father-In-Law

If She Is Unable To Obtain Maintenance From Her Husband's Estates
Let's observe a reverse case, where the widow daughter-in-law was permitted to claim maintenance from her father-in-law.
The Chhattisgarh High Court in its order dated July 4, 2022 held that a widowed daughter-in-law has the right to claim maintenance from her father-in-law, if the latter has the possession of estates/ coparcenary properties in which the former's husband had rights and interest.
The respondent woman got married to the son of the appellant in July 2008. The husband of the respondent died in June 2012. According to the respondent, her in-laws almost deserted her after her husband's death, and thus she had to return to her parents' home. 
Submission by Daughter-in-Law
The respondent pleaded that her father-in-law was in possession of an ancestral property to a tune of 11.78 acres and also agricultural land measuring 3.97 acres. In addition, she stated that her late husband also had a share in three shops and house situated at different places. Since she had no source of income to  maintain herself, she claimed an amount of Rs 7,000 per month as maintenance from her father-in-law.
The family Court, after evaluating the evidence, directed the appellant to pay an amount of Rs. 2,500 per month towards maintenance of the respondent. Being aggrieved by the same, the father-in-law filed the appeal against the said order.
Defense by Father-in-Law
The counsel appearing for the appellant, submitted that in order to claim maintenance from the father-in-law, the daughter-in-law is required to prove that she does not have any source of income and she is unable to get the maintenance from the estate of her husband. He contended that these facts have not been proven by the respondent and no evidence has been submitted in the court to that effect. 
The father-in-law further stated that the land title has already been recorded in the name of the respondent. Therefore, she could earn her livelihood from such properties and consequently, the father-in-law cannot be forced to pay the maintenance.
Rebuttal
To this, the counsel for the respondent, submitted that she is unable to maintain herself and the property, which was held by the appellant as a manager, is a coparcenary property, wherein the right of the deceased husband of the respondent was vested. He further contended that since the amount of maintenance was not paid from the estate of her husband, as such she was entitled to get maintenance from her father-in-law.
Chhattisgarh High Court
A Division Bench of Justices Goutam Bhaduri and Deepak Kumar Tiwari observed that as per the provisions enumerated under Section 19 of the Hindu Adoptions and Maintenance Act, 1956, a widowed daughter-in-law can claim maintenance only if she is unable to maintain herself out of her own earnings or out of estate of her husband or her father or mother, or from her son or daughter, if any, or his or her estate. The right to claim maintenance by widowed daughter-in-law is conditional.
Allowing the widow daughter-in-law to receive maintenance from her father-in-law, the High Court said,
It is the well settled proposition of law that the manager of a joint Mitakshara family is under a legal obligation to maintain all male members of the family, their wives and their children, and on the death of one of the male members he is bound to maintain his widow and his children.
The Court the concluded,
In view of the above stated facts and circumstances, when the estate of the husband is held in the hands of the father-in-law, the daughter-in-law cannot be forced to leave the estate of her husband and to follow the estate of her father or mother.

Thus, we are of the considered view that the estate of husband can be preferred to claim over the father or mother of the daughter-in-law. Consequently, we hold that the daughter-in-law (respondent herein) would be entitled to claim maintenance from the father-in-law.
LEAVE YOUR COMMENTS BELOW: 
Widowed Daughter-in-Law Not Liable To Maintain Old In-Laws…But Can Claim Maintenance From Father Of Deceased Husband

▪️Case 1: Widow (working) inherited all properties of deceased husband

▪️Case 2: HC orders FIL to pay maintenance to widow DIL despite her inheriting share in…

— Voice For Men India (@voiceformenind) April 19, 2023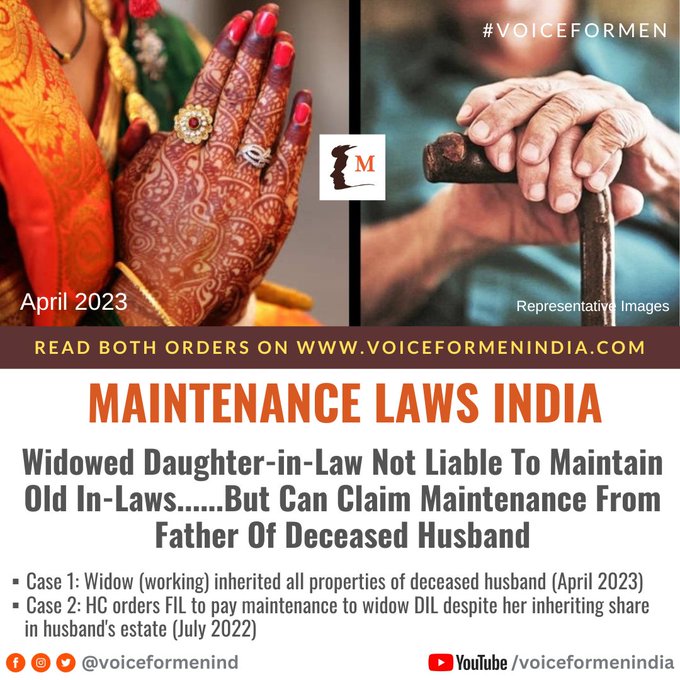 DO WATCH:
KBC 13 Contestant Shraddha Khare Accuses Husband Of Domestic Violence | Watch Other Side
https://www.youtube.com/watch?v=jZpzXAsng0I
ALSO READ:
Wife Of Pulwama Martyr Leaves Aged In-Laws After Receiving Rs 55 Lakhs As Financial Aid From Govt
Late Sushma Swaraj's Husband Shares Note On Financial Planning For Wives | "Your House Must Be In Her Name"
Join our Facebook Group or follow us on social media by clicking on the icons below
Donate to Voice For Men India
Blogging about Equal Rights for Men or writing about Gender Biased Laws is often looked upon as controversial, as many 'perceive' it Anti-Women. Due to this grey area - where we demand Equality in the true sense for all genders - most brands distance themselves from advertising on a portal like ours.
We, therefore, look forward to your support as donors who understand our work and are willing to partner in this endeavour to spread this cause. Do support our work to counter one sided gender biased narratives in the media.
To make an instant donation, click on the "Donate Now" button above. For information regarding donation via Bank Transfer, click here.
Alternately, you can also donate to us via our UPI ID: [email protected]