Petition
The petition filed by Harrell's attorney William M. Norris says the "unborn child" is innocent and should be discharged from jail so it can receive proper care. That would require Harrell to be released until the child is born, the writ argues. Speaking with The Washington Post, Norris quoted:
An unborn child has rights independent of its mother, even though it's still in the womb. The unborn child has been deprived of due process of law in this incarceration. You simply have to have the unborn child as a factor in the equation.
The petition further states:
Detention center employees have failed and refused to provide medical care or transport Harrell to scheduled medical appointments. She hasn't seen an obstetrician-gynecologist since October.
Employees have failed to provide Harrell vitamins, liquids and nutritional food that physicians advised would assist her fetus's development, the writ says.
The petition adds,
Arguments by Attorney General
On Monday, Florida Attorney General Ashley Moody's office filed a motion to dismiss Norris's petition, saying he didn't provide necessary documentation to support the allegations about inadequate medical treatment. The motion argues that habeas corpus is the wrong legal argument under which to seek relief.
Several Women Undergoing Hymenoplasty To Label Themselves As Virgins Before Marriage
Counter Reply From Norris
On Tuesday, Norris filed a response to the state's motion to dismiss the petition, reasserting that the fetus is a person and that it has no other legal relief because it is not charged with any crime and thus has no ongoing court cases under which to file claims.
Norris told The Post he will continue to fight for the fetus's freedom.
Norris also argued that even if the fetus doesn't know it, Harrell's is entitled to constitutional rights. The fetus has developed eyes and arms and could be born in the next month, the writ says. Without proper care, though, Norris said he fears the fetus will be harmed before or during childbirth. He added,
A Miami-Dade County corrections and rehabilitation spokesman said in a statement to The Post that the department is reviewing its prenatal care services. The statement read:
We are committed to ensuring all inmates receive professional, timely medical care and all appropriate treatment.
Leave Your Comments Below:
#USA: Pregnant Woman Jailed On Charges Of Murder Files Plea Demanding 'Immediate Release Of Her Unborn Child'

▪️Woman's attorney: "Unborn child is incarcerated without any consideration of its rights. We'll continue to fight for the fetus's freedom"https://t.co/bRfCrMPtv8

— Voice For Men India (@voiceformenind) March 2, 2023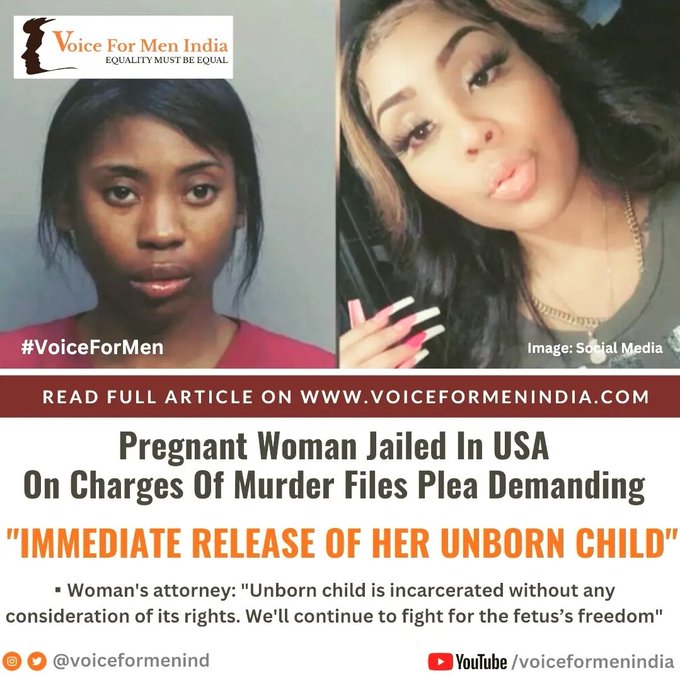 DO WATCH:
Marital Rape PIL Petitioner Karuna Nundy Opposed Criminalization Of Triple Talaq Bill
https://www.youtube.com/watch?v=TCIN3edX0j8&t=3s
Join our Facebook Group or follow us on social media by clicking on the icons below
Donate to Voice For Men India
Blogging about Equal Rights for Men or writing about Gender Biased Laws is often looked upon as controversial, as many 'perceive' it Anti-Women. Due to this grey area - where we demand Equality in the true sense for all genders - most brands distance themselves from advertising on a portal like ours.
We, therefore, look forward to your support as donors who understand our work and are willing to partner in this endeavour to spread this cause. Do support our work to counter one sided gender biased narratives in the media.
To make an instant donation, click on the "Donate Now" button above. For information regarding donation via Bank Transfer, click here.
Alternately, you can also donate to us via our UPI ID: voiceformenindia@hdfcbank