Vincent Fichot, a Frenchman, commenced a hunger strike at Tokyo's Olympic Stadium this weekend in a desperate attempt to reclaim custody of his two small children – who were taken away by their mother three years ago and whom he hasn't seen since.
Concept of Child Custody in Japan
Japan is among those countries that does not recognise the notion of joint custody. In practice, whichever parent is physically looking after the child is usually awarded exclusive custody.
The policy creates a cruel incentive for parents — flee a marriage with your children at your side and you will almost certainly win custody of them, without any enforceable obligation to grant the other parent access.
Lawyers believe this happens to tens of thousands of Japanese families every year, and it happened to Fichot too, whose Japanese wife just took off with their 3-year-old boy, Tsubasa, and 11-month-old daughter, Kaeda, after their marriage fell apart and he filed a divorce. The separated father has not seen his children since August 10, 2018.
Fichot's Statement to Media
While speaking to the media personnels, Fichot quoted,
My children were kidnapped three years ago and since then I haven't heard from them. I don't know where they are. I don't know if they are healthy, or even that they are alive.
Fichot has been longing for their return — or even just to see them — ever since fighting for access through the Japanese and French courts and taking his case to the UN Human Rights Council and the European Parliament.
According to him, Japanese police has warned him that he would be arrested under charges of attempted child abduction, if he approached his children.
Fichot's Unsuccessful Efforts to See His Children 
In July 2010, the European Parliament passed a resolution denouncing the abductions of European children in Japan and criticised "the reluctance of Japanese authorities to comply with international law," which seemed like a ray of hope for the father. However, the same didn't make much difference.
Fichot met with French President Emmanuel Macron in Japan in June 2019, who described the situation as "unacceptable" and promised to raise it with then Prime Minister Shinzo Abe. Since then, Fichot claims that the Japanese government has refused every French attempt to bring up the topic, even if it was to merely inquire about his children's whereabouts.
Fichot exclaimed,
The Japanese government has been ignoring France, and France has been content with that.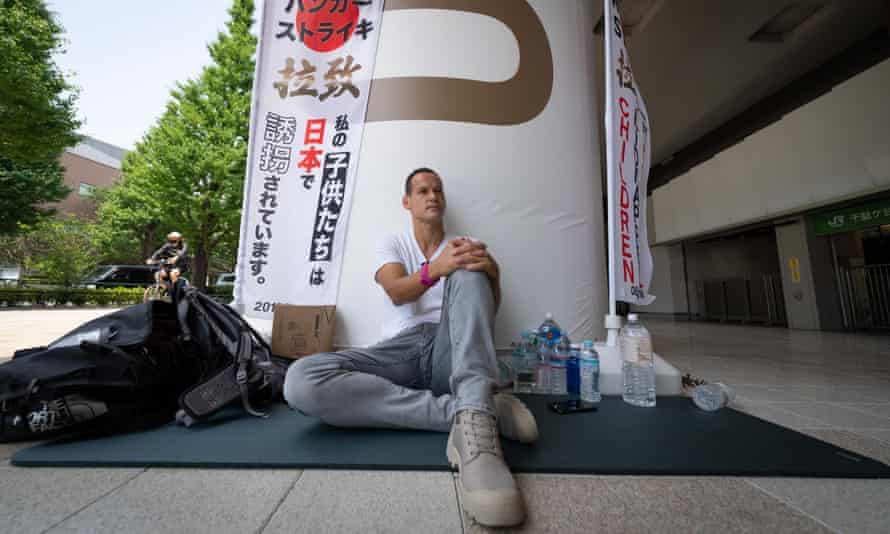 Subsequently, Fichot began his hunger strike three weeks ago, to put pressure on Macron to keep his promise when he attended the Opening Ceremonies of the Olympic Games on July 23. By then, he estimated, his health would have deteriorated, leaving Macron with only a few days or weeks to "make a choice."
He further stated,
I believe I have an obligation to my children, and with the current system, I know I am not going to see them again, so I have nothing to lose anymore.
About Fichot's Hunger Strike
Fichot camped right outside Sendagaya train station, around 300 yards from the freshly renovated National Stadium, as close as he could get given the barriers surrounding the facility. He lived near a small police station, and cops had already paid him three visits.
Officers indicated that they were concerned that Fichot's campaign might enrage Japanese nationalists, and that they had already received complaints. They raised fears that the protest would be too "loud," despite the fact that Fichot has no megaphone and is merely sitting by a pillar, doing media interviews. They couldn't find anything wrong with his peaceful sit-in protest though.
Japanese Government Stand
When marriages fail, Japan's government claims that it's policies are designed in the best interests of children, allowing them to settle down with one parent.
Many child psychologists disagree, claiming that children who grow up without one of their parents' affection and support often feel abandoned, have low self-esteem, and experience melancholy and behavioural issues.
Japanese Court Order
Japanese Court had ordered Fichot to pay his wife half of his salary, which applied retrospectively from that date she departed. This compelled the man to even sell off their Tokyo home to repay mortgage payments. The order did not, however, place any legally binding obligations on the woman to provide access of their children to the father.
Fichot concluded,
This is my last resort. I have lost everything. I lost my home, I lost my savings paying legal fees and private detectives. I lost my job recently. I am the only thing I have left to give.
Status As On Date
On Friday, Fichot ended his protest to undergo surgery on his finger after he had fall. He had continued his hunger strike for three weeks, however, he had to end the same in order to regain strength ahead of an operation under general anaesthesia.
The 39-year-old separated father said
he had fractured his finger in a fall on Wednesday, having lost around 14 kilograms, since he started his protest on July 10 (when he weighted 80 kilograms). He tweeted,
Thank you everyone for your support. The fight continues.
MDO Take –
Hundreds of thousands of fathers not just in Japan, but globally, lose custody of their children, since women/mothers are considered to be 'victims by default' on separation in marriage. There are a few women too who are not given custody of their children, however, those circumstances are extreme and minuscule in number.
India too does not have the concept of shared parenting. Often, the separated fathers are painted as monsters by custodial parent (mothers), due to which such children grow up to lead a victimised, vindictive and a perpetual depressed lonely life.
ALSO READ – 
Join our Facebook Group or follow us on social media by clicking on the icons below 
Join our Facebook Group or follow us on social media by clicking on the icons below
Donate to Voice For Men India
Blogging about Equal Rights for Men or writing about Gender Biased Laws is often looked upon as controversial, as many 'perceive' it Anti-Women. Due to this grey area - where we demand Equality in the true sense for all genders - most brands distance themselves from advertising on a portal like ours.
We, therefore, look forward to your support as donors who understand our work and are willing to partner in this endeavour to spread this cause. Do support our work to counter one sided gender biased narratives in the media.
To make an instant donation, click on the "Donate Now" button above. For information regarding donation via Bank Transfer, click here.
Alternately, you can also donate to us via our UPI ID: voiceformenindia@hdfcbank