In India, we believe, women can't rape or sexually exploit the men. That is why our rape laws are not gender neutral and no woman can be charged for any sexual advances on the man.
However, proving this perceived biological theory completely wrong, an ex-Google employee has made some shocking claims, where he has accused the tech giant of sacking him after he rejected a high-ranking female colleague's grabby advances at a posh company dinner.
IFS Officer Booked On Alleged False Sexual Harassment Charges For "Doing His Duty Honestly"
Here's What Happened
Ryan Olohan, 48, has accused Google, his ex-employer of firing him after one its top executives, Tiffany Miller, groped him at a Chelsea restaurant in December 2019 and told him she knew he liked Asian women — which Miller is, according to a November federal lawsuit filed in Manhattan.
According to a report by The New York Post, Miller is the director of Google's programmatic media who has been accused of rubbing Olohan's abs, complimenting his physique, and telling him her marriage lacked "spice".
Google Manager Taken Hostage, Married Off Forcibly In Bhopal; Woman Alleges Cheating After 7-Years Of Live-in Relationship
The alleged hands-on encounter took place during a drunken company gathering at Fig & Olive on West 13th Street shortly after Olohan was promoted to managing director of food, beverages, and restaurants and joined a new management team that included Miller in Google's Manhattan offices, according to the lawsuit.
While Olohan, a married father of seven, said he was initially uncomfortable bringing up the incident because many of his colleagues were drunk, his coworkers later chalked up the behavior to "Tiffany being Tiffany," court papers say.
Olohan said he reported the issue to Google's human resources department the following week, but nothing ever came of the complaint.
Sexual Exploitation Allegations Against Alt News Co-Founder Pratik Sinha; India #MeToo Handle, Mainstream Media Give It A Miss
According to his lawsuit:
The HR openly admitted that if the complaint was 'in reverse' — a female accusing a white male of harassment — the complaint would certainly be escalated.
Olohan claims Miller began retaliating against him after he made the complaint by criticizing him and reporting him to human resources for "microaggressions," although the complaint does not specify what Miller accused him of.
The retaliation allegedly continued at a Google-hosted event in December 2021 in which Miller drunkenly admonished Olohan in front of his colleagues. The rancor was so bad that colleagues encouraged Miller to move to the other end of the table, according to the lawsuit.
WATCH | Amit Kumar Gurugram Suicide | Ended Life After Humiliation In 'False' Sexual Harassment Case | Interview With Family By Deepika Narayan Bhardwaj
The suit further claims:
Miller later apologized and although Google was aware that Miller's continued harassment of Olohan stemmed from his rejection of her sexual advances, it again took no action.
Adding further the court papers also suggested:
Miller drunkenly berated Olohan yet again during a company get-together at a karaoke bar in April 2022, where she mocked him upon arrival and reiterated that she knew he preferred Asian women over white women — knowing that Olohan's wife is Asian.
Olohan said he began feeling increasing pressure from his supervisor, who told him that there were "obviously too many white guys" on his management team. In July last year, he was encouraged to fire a male employee to make room on his team for a woman, the suit claims.
The following month, Google fired Olohan, ending his employment after 16-years at the company.
Female Employee Files Sexual Harassment After Being Caught Committing Fraud
During a videoconference call, Olohan said he was told by the Google Employee Investigations team that he was being fired because he was not "inclusive."
When he asked why he was non-inclusive, Olohan was told that he had shown favouritism towards high-performing employees and that he was "ableist" for commenting on other employees' "walking pace."
Olohan's lawsuit, which seeks unspecified damages, names both Google and Miller as defendants and accuses them of discrimination, retaliation, and fostering a hostile work environment.
In a statement to The Post, a spokesman for Miller denied the accusations against his client. He said,
This lawsuit is a fictional account of events filled with numerous falsehoods, fabricated by a disgruntled ex-employee, who was senior to Ms. Miller at Google.

Ms. Miller never made any 'advance' toward Mr. Olohan, which witnesses can readily corroborate.
Pakistan False #MeToo | "I Leave The Matter In The Court Of Allah": MAO College Lecturer Suicide Case
VFMI Take:
Globally, feminists have driven #BelieveAllWomen campaign, to ensure Men are sacked or punished basis their oral statements and testimonies
Here is a case where genders have been reversed, and the final outcome would not just bring out the truth, but will also define the mechanism used where cases have been filed after a lapse in time of the alleged events
If charges are true, Google who claims to be a woman friendly organisation, should also be answerable whether there are indulging in gender bias against the men. If indeed, there had been an official complaint with the HR, why wasn't a thorough internal committee enquiry conducted against the accused female? If the said charges are fabricated, then was there any written communication to that effect from HR?
Why did Google not ask the accused female employee to step down from her work, pending enquiry?
Anti-Men Google Doodle Skips Celebrating International Men's Day 2019 | Equality Was Never Equal
In a different story, according to a 2019 survey undertaken by Google to determine whether the company was underpaying women and members of minority groups, it found, to the surprise of just about everyone, that men were paid less money than women for doing similar work
In the urge to prove oneself as Pro-Women, is injustice being done to Men at workplaces?
LEAVE YOUR COMMENTS ON THE TWEET BELOW:
"Google Sacked Me After I Rejected Sexual Advances From My Female Boss": Lawsuit Filed By Male Employee

▪️She rubbed my abs, complimented my physique, told me her marriage lacked spice
▪️HR admitted if complaint by woman, it wud certainly be escalatedhttps://t.co/Kp89S3Aux0

— Voice For Men India (@voiceformenind) January 30, 2023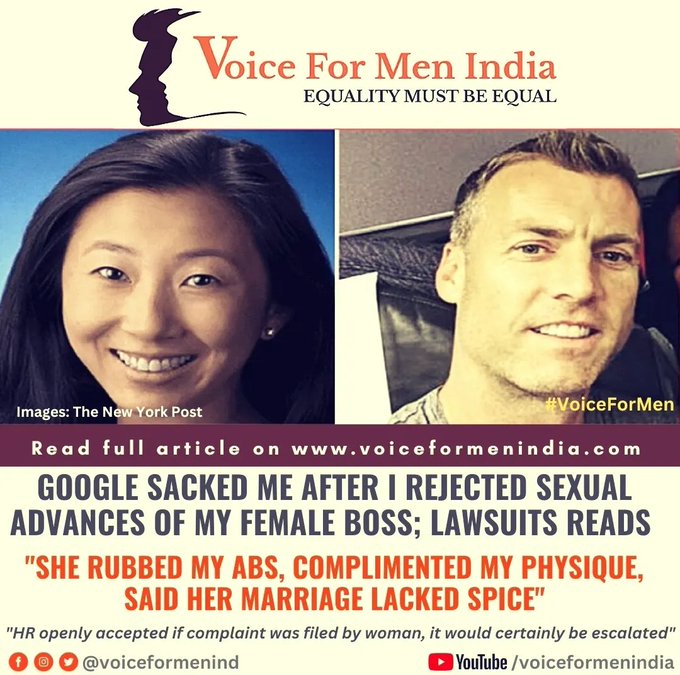 MUST WATCH:
How Should Men Face False Sexual Harassment Charges At Workplace? | Interview With Jyoti T Pandey
Join our Facebook Group or follow us on social media by clicking on the icons below
Donate to Voice For Men India
Blogging about Equal Rights for Men or writing about Gender Biased Laws is often looked upon as controversial, as many 'perceive' it Anti-Women. Due to this grey area - where we demand Equality in the true sense for all genders - most brands distance themselves from advertising on a portal like ours.
We, therefore, look forward to your support as donors who understand our work and are willing to partner in this endeavour to spread this cause. Do support our work to counter one sided gender biased narratives in the media.
To make an instant donation, click on the "Donate Now" button above. For information regarding donation via Bank Transfer, click here.
Alternately, you can also donate to us via our UPI ID: [email protected]