A Google Doodle is a special, temporary alteration of the logo on the homepage of Google that is intended to commemorate events, achievements, public holidays and notable historical figures. Now let us demonstrate how this Doodle promotes blatant Gender Discrimination.
On March 08, Google Doodle was overjoyed celebrating the International Women's Day 2019 sugar coated with words of determination, courage and motivation from 13 international female leaders. And of course this has been an annual ritual for the internet giant to appease the women folk!
This year they took efforts of putting out an interactive slideshow that featured artwork, designed by female artists around the globe, of quotes appearing in the native language of each respective speaker or writer. The 13 featured women are known for their accomplishments across a range of fields including science, sports and the arts.
Google even asked the designers to explain how they personally interpreted the quotes. Well, we do not have any problem with this Pink painted celebration.
Now come to November 19, 2019! We tried our best to Google "International Men's Day" from different servers and laptops, just to be sure we didn't miss out a small quote or tweet by the Doodles today…………But much to our expected disappointment, we found NONE! Yes, Men do not exist as a Gender for Google.
And even if we did exist, this is how they projected Men on #IMD2018!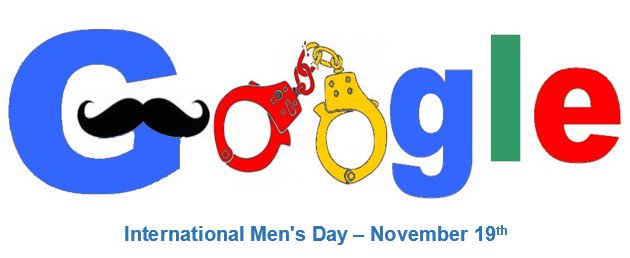 What is the significance of Men in today's world? Why are Men being treated worst than animals who are merely meant to follow orders? #MenToo
It is a shame for one of the biggest brands which can influence Real Gender Equality, to ignore, mock and also treat Men like they never existed. And all this while they pretend to wave the flag of Gender Justice!
Despite a gentle reminder from Men's Rights Activists across India, the Anti-Men Google decided to give this day a royal miss…….
@Google @GoogleDoodles @sundarpichai IF GOOGLE IS NOT ANTI-MEN THEN WE WILL SEE THIS DOODLE TOMORROW. @WIONews @vineetjaintimes @BBCIndia @BBCNews @BBCWorld @CNNnews18 @dna @TimesNow @republic @BBC @cnn @FoxNews @QandA @guardiannews @latimes @NBCNews @nytimes @nytimesworld pic.twitter.com/i0LxHaJCKj

— MyNation Foundation (@MyNation_net) November 18, 2019
@Google @GoogleIndia @GoogleDoodles
Do you accept the Dare for #InternationalMensDay ?

— Mynation_Mr_Zaveri (@Mynation13) November 18, 2019
If Google puts up the Men's Day doodle.
Then we know it's sane.
Else Google doesn't respect the Males.

— MyNation-SOS (@MynationSos) November 18, 2019
Its disappointing that even google didn't made a doodle for #InternationalMensDay2019 #MensDay19Nov
Such discrimination against us

— Aditya (@AlsoKnownAsGolu) November 19, 2019
ALSO READ –
http://voiceformenindia.com/in-the-news/dtdc-metro-free-rides-for-women/
Join our Facebook Group or follow us on social media by clicking on the icons below
Donate to Voice For Men India
Blogging about Equal Rights for Men or writing about Gender Biased Laws is often looked upon as controversial, as many 'perceive' it Anti-Women. Due to this grey area - where we demand Equality in the true sense for all genders - most brands distance themselves from advertising on a portal like ours.
We, therefore, look forward to your support as donors who understand our work and are willing to partner in this endeavour to spread this cause. Do support our work to counter one sided gender biased narratives in the media.
To make an instant donation, click on the "Donate Now" button above. For information regarding donation via Bank Transfer, click here.
Alternately, you can also donate to us via our UPI ID: voiceformenindia@hdfcbank