A man can be instantly jailed if his wife dies under mysterious within 7-years of marriage. Luckily one such husband belonging to Hyderabad got saved from facing such a biased law, since his 'missing and dead' wife was traced living with her ex-boyfriend, who she was involved with prior to the marriage.
Here's How the Saga Unfolded!
21-year-old Sai Priya, a resident of Sanjeevaiah Nagar in Visakhapatnam got married to Ch Srinivasa Rao, an employee working with a private firm in Hyderabad on July 25, 2020. The couple visited Visakhapatnam on Monday to celebrate the occasion of their second marriage anniversary.
After visiting the Simhachalam temple in the morning, the duo proceeded to Ramakrishnapuram beach in the evening to spend some time.
This is when the wife went missing from the beach, and later it was suspected that she could have drowned in Bay of Bengal.
Husband, Parents Spend Six Months In Jail For Murdering Wife; Woman Returns Alive After 6-Mnths
Search Operations
The police had deployed resources of the Navy and the Coast Guard, which included two Coast Guard Speed Boats and a Navy helicopter to search for her as they feared she might have drowned in the sea.  The Navy, beach administration, and district machinery had participated in the search operations which are said to have cost them around Rupees One Crore. Despite all the efforts, they could not trace her body.
Unnao Woman Found Alive In Maharashtra After Man Spends 14-Months In Jail For Her Murder
'Missing Dead' Woman Found Living With Lover
On Wednesday, the police was able to trace Sai Priya from Bengaluru in Karnataka, to where she had eloped with her former lover Ravi. Speaking to Hindustan Times, Visakhapatnam Town-3 police inspector Korada Rama Rao said,
We have got the information that the woman – N Sai Priya, informed her parents that she was safe in Bengaluru and there was no need to search for her. She told them she would come back after a few days.
Visakhapatnam additional commissioner of police (east) Harshitha Chandra told HT that the missing woman was traced and she had sent a voice message to her parents over phone saying she was safe.
Preliminary inquiries by police revealed that Sai Priya had run away with another man with whom she had an affair before her marriage. The inspector said,
We are investigating the case. Once she returns to Visakhapatnam, we would be able to reveal more details.
UP Man Spends 13-Months In Jail On False Kidnapping, Dowry Harassment Charges | Wife Found Living With Lover
Adding further, the police informed media,
At around 7.30 pm, minutes before they were planning to return home, Sai Priya told her husband that she would play for some more time with the tides and take a selfie. As he was attending a call on his mobile phone, she went towards the sea.

After attending the call on his mobile, Srinivasa Rao looked up to the sea and could not find his wife. He suspected that she was washed away in the sea with a tide and immediately alerted police.
The woman apparently was said to be in love with the young man but was forced to marry Srinivasa Rao.
READ ORDER | Alleged Suicide, Dowry Death Of Woman Was Faked To Wreak Vengeance Against Husband, In-Laws: Delhi High Court Denies Anticipatory Bail To Wife's Family
VFMI Take:
Did you know several false dowry and domestic violence cases are filed against husbands and their families annually, because women are 'forcefully' married off by their parents, despite them already being involved with other men
Matrimonial laws in India are so biased in favour of women, that a verbal complaint is enough to file criminal cases against husbands and their families
Such frivolous allegations become the easiest way out for women who never wanted to marry in the first place, and without any fault of the husband, he is duty bound to pay alimony
Will society question any accountability for the money, time and effort deployed in searching this woman?
Leave your comments on this case below:
Rs 1 Crore Reportedly Spent For Tracing 'Drowned Woman' On Vizag Beach | Found Living With Ex-Boyfriend In Bengaluru

▪️Couple had gone to celebrate 2nd Anniversary
▪️After wife vanished, Navy & Coast Guard were deployed
▪️ Wife traced living with loverhttps://t.co/rfACNxTKfo

— Voice For Men India (@voiceformenind) July 29, 2022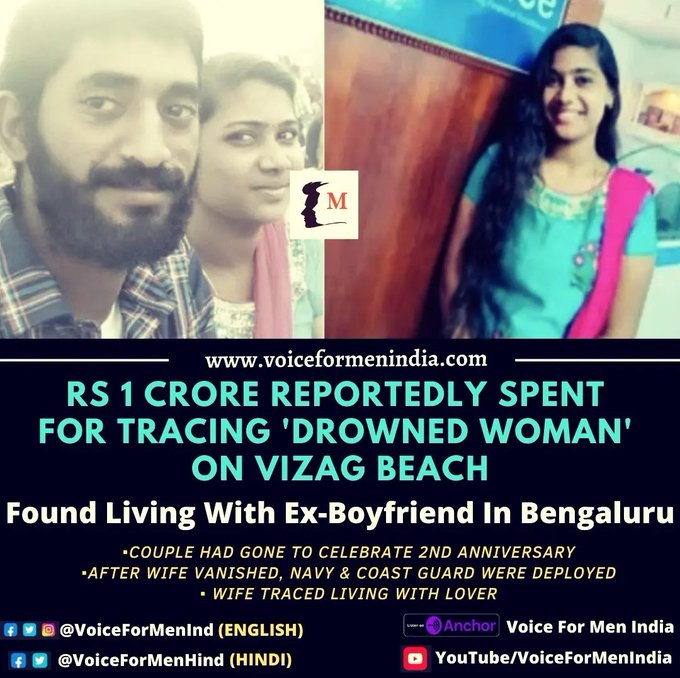 WATCH:
Husband, Parents Arrested For Murder; Woman Found Alive
Join our Facebook Group or follow us on social media by clicking on the icons below
Donate to Voice For Men India
Blogging about Equal Rights for Men or writing about Gender Biased Laws is often looked upon as controversial, as many 'perceive' it Anti-Women. Due to this grey area - where we demand Equality in the true sense for all genders - most brands distance themselves from advertising on a portal like ours.
We, therefore, look forward to your support as donors who understand our work and are willing to partner in this endeavour to spread this cause. Do support our work to counter one sided gender biased narratives in the media.
To make an instant donation, click on the "Donate Now" button above. For information regarding donation via Bank Transfer, click here.
Alternately, you can also donate to us via our UPI ID: voiceformenindia@hdfcbank