The Madras High Court in its order dated January 06, 2023 set aside the life imprisonment imposed on a mother for setting her minor daughter on fire which led to her death.
The bench of Justice PN Prakash (since retired) andJustice G Jayachandran noted that the mother did not intend to murder her daughter and thus the charge from under Section 302 was altered to Section 304 of IPC.
32-Year-Old Woman Murders Husband With Help Of 23-Year-Old Lover; Children Turn Witness
Case:
Mariselvi was only 13-years-old when she was killed by her mother Rajeshwari. On June 6, 2012, the minor girl was studying at a Government Aided Residential School in Kovilpatti. However, since she was not interested in studies, she returned home on June 11, 2012 (after a week) during midnight by escaping from the hostel without informing the wardens.
The mother was furious over this incident post which a quarrel took place between the two. Angrily, the mother poured kerosene on her daughter and burnt her.
Mariselvi was immediately rushed to the Government Hospital where she was admitted with 50% burns. The victim was given treatment for over four months and later discharged from the hospital. However, since the burns failed to heal, she ultimately succumbed to her injuries in October 2012. 
Gujarat Woman Plans Murder Of Third Child As Paramour Could Afford Only Two In Their Live-in Relationship
Trial Court
The trial Court framed charges under Section 302 IPC against the appellant mother and when questioned, the appellant pleaded "not guilty".
The convicted woman was sentenced to undergo life imprisonment along with a fine of Rs 5,000 and in default to undergo 6 months rigorous imprisonment. This conviction was challenged in High Court.
Woman Murders 3-Month-Old Daughter After Tiff With Husband Over Jewelry
Madras High Court
The woman then approached Madras High Court appealing against the trial court order.
The biggest question in front of the Madras High Court was:
Whether the appellant was responsible for the burn injuries suffered by Mariselvi?
The court analysed the evidence and witness statement on record and remarked,
The evidence shows that the deceased was not interested in studying and had left the residential school on the night of 11.06.2012 without informing anyone and had come home in the midnight. On the next day, the appellant being the mother of the deceased was very upset that her daughter was not going to school.

Therefore, a quarrel appears to have endured between the appellant and the deceased in which, the appellant is said to have thrown kerosene on her and set fire.
Lucknow PUBG Murder | Real Motive Not Online Game, But Mother's Alleged Extra Marital Affair
Adding further, the court noted:
It may be relevant to state that initially, the case was registered for the offence under Section 307 IPC and only after four months, when Mariselvi succumbed to injuries, the case was altered to one under Section 302 IPC.

Records show that Mariselvi who received the burn injuries got admitted in the hospital on 12.06.2012 and was discharged from the hospital. On 10.07.2012 again, she was admitted on 25.07.2012 and discharged on 27.08.2012 for over three times as stated by us above was in and out of the hospital and finally got admitted on 04.09.2012.

She finally succumbed to injuries in the hospital only on 01.10.2012.
READ ORDER | Woman Accused Of Husband's Murder Eligible For Bail Under Section 437 CrPC: Karnataka High Court
Thus, citing these evidences and facts on record, the High Court noted that the conviction under Section 302 for murder cannot sustain and instead conviction should be under Section 304(1) of IPC. The bench said,
Taking all these facts into consideration, we afraid that we cannot sustain the conviction of the appellant for the offence under Section 302 IPC and instead, the conviction can be one under Section 304(1) IPC.
3-Year-Old Girl Child Beaten To Death By Mother's Boyfriend As He Resented Her
The conviction under Section 302 was subsequently converted to Section 304(1) IPC. The court sentenced the appellant to undergo rigorous imprisonment for a period of 10 years and pay a fine of Rs 5,000. Concluding the order, the Madras High Court said,
The appellant is convicted for the offence under Section 304(1) IPC and sentenced to undergo 10 years rigorous imprisonment and pay a fine of Rs.5,000/- in default to under go 6 months rigorous imprisonment.

The fine amount already paid for the conviction and sentence under Section 302 IPC would hold good for this too. The appellant is directed to immediately secure the appellant and produce her before the trial Court and on such production, she shall be remanded to custody for undergoing the remaining part of sentence after set off under Section 428 Cr.P.C.
LEAVE YOUR COMMENTS BELOW:
READ ORDER: Madras HC Reduces Life Sentence Of Woman Who Set Minor Daughter On Fire As She Did Not Intend To Kill Her

▪️13-yr-old victim was not interested in studies
▪️Furious mother poured kerosene on her daughter & burnt her#CrimeHasNoGenderhttps://t.co/dZSSHLe52b

— Voice For Men India (@voiceformenind) January 23, 2023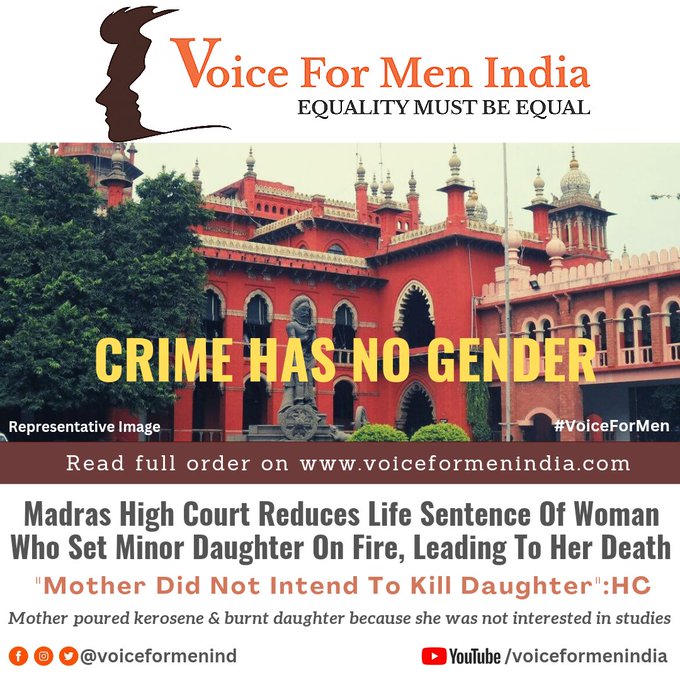 DO WATCH:
Manav Singh Suicide | 2-Years | Father Shares Life At Courts After Loss Of Only Son
Join our Facebook Group or follow us on social media by clicking on the icons below
Donate to Voice For Men India
Blogging about Equal Rights for Men or writing about Gender Biased Laws is often looked upon as controversial, as many 'perceive' it Anti-Women. Due to this grey area - where we demand Equality in the true sense for all genders - most brands distance themselves from advertising on a portal like ours.
We, therefore, look forward to your support as donors who understand our work and are willing to partner in this endeavour to spread this cause. Do support our work to counter one sided gender biased narratives in the media.
To make an instant donation, click on the "Donate Now" button above. For information regarding donation via Bank Transfer, click here.
Alternately, you can also donate to us via our UPI ID: [email protected]