In a significant order dated December 09, 2022 (RAJNISH SHARMA VS. KAMAL KUMAR), learned counsel for Union of India has submitted that except State of Bihar, consent of all the States have been received and procedure for putting up this matter before the Union Cabinet is in process.
A direction is given to the Union of India to expedite this process as this amendment is necessary keeping in view the large number of pending matrimonial disputes, where the children are the worst sufferers.
Introduce Concept Of Shared Parenting At Initial Stages In Marriage Disputes: Punjab HC To Govt
The bench of Justice Ritu Bahri and Justice Manisha Batra re-emphasised:
This Court has been examining the children, who faced agony while appearing before the Family Courts as well as before this Court. The children go through a trauma of many years at tender age of growing up.

They are helpless and this Court has been appointing Ms. Garima Sharma, a Psychologist/Counsellor, as Amicus Curiae, who has given her opinion that some of the children even cannot see eye to eye and scared of meeting their separated parents, whether it is mother of father.

The bitterness between the parents causes a personality disorder. In the larger interest of the families facing matrimonial litigations, High Court has amended Family Court Rules, whereby counsellors shall be appointed to assist every Family Court in districts.

Keeping in view the above fact, amendment in the Guardianship And Custody Laws In India, as recommended by the Law Commission Report, 2015, requires immediate implementation.
Read full order at the end of this article.
READ ORDER | Karnataka High Court Upholds Shared Parenting Order By Family Court; Lays Down Guidelines For Non-Custodial Parents
Another Order From Punjab & Haryana High Court on Shared Parenting
In a different order dated that also came in December 2022, the Punjab and Haryana High Court once again pressed on the urgent need to adopt Shared Parenting as a standard practice, to ensure normal upbringing of children whose parents are separated and fighting divorce battles.
Justice Ritu Bahri and Justice Ashok Kumar Verma made it clear that the concept of shared parenting could be suggested to the "parties" when they approach the police for lodging complaints alleging cruelty and other offences.
Greece Adopts Shared Parenting Law Amidst Opposition From Human Rights & Women Rights Organisations
What Punjab & Haryana High Court Said
The direction came after the Bench observed that the court was seized of a number of cases in which a child's emotional and psychological requirements were not being properly taken into account while deciding the divorce petitions filed by the parents under the Hindu Marriage Act, reported The Tribune. 
The bench asserted,
The concept of shared parenting can be extended at the initial stage, when parties approach the police station.
The bench of the high court cited an example where it said,
A child came to the HC on December 10, 2021, along with her mother. Crying, the child stated she did not want to lose the company of both the parents. As the parties were from Sonepat, a direction was given that both the parents will take the child to a counsellor at Sonepat.

The appellant (father) had approached the court against order dated October 3, 2018, passed by the Gurdaspur Civil Judge (Senior Division), whereby he was given visitation rights to meet the minor child every third working Friday.
Joint Parenting A Rule, Single Parenting Exception|Family Court Mumbai Releases Child Custody Draft Plan In Divorce Cases
Mediation
In its order, the Bench also asked the amicus curiae, Divya Sharma, to assist the court on the "kind of infrastructure required for solving the problems of children where parents are seeking separation".
The Bench said the parents would not have to travel for years to the courts, if the concept of shared parenting was advised at the initial stages. Referring to the Law Commission's report of May 2015, the Bench asserted it had been observed that a child had the birthright to meet his parents and grandparents.
It was further observed in the report that several disputes could be resolved through mediation. But professional assistance might be required in the case of mediation as neither the court, nor the mediators, were qualified to understand child psychology. The bench concluded,
A time-bound resolution is a key factor to achieve the objective of ensuring that the welfare of the child is met.
"Both Of You Require Psychiatric Evaluation & Counselling": Supreme Court To Warring Couple In Bitter Child Custody Battle
VFMI Take:
India still follows Guardian & Ward Act 1890 when it comes to awarding custody of children amidst matrimonial battles
In almost 90-95% cases, custody of the child is given to mother by default
Fathers are permitted or allowed visitation of children once a week/fortnight/month for 2-3 hours
Many a times, such meetings take place in the family court premises
READ ORDER | If Petitioner Is Mother Of Child, She Should Not Forget Respondent Is Doting Father; Bombay High Court Grants Overnight Child Access To Husband
Custodial parent (mothers) often turn children into pawns while demanding more maintenance/alimony from estranged husbands
In the bargain, if the amount awarded doesn't suit the women, they do not allow access between child and father, thereby resulting in parental alienation
Such kids do not grow up in a normal and healthy parenting environment
Most of the times, they are brainwashed with one sided narrative of the mother, turning them completely against the non-custodial parent (father)
Automatically, after a passage of time, such kids do not wish to meet with their dads and live a life of bitterness towards fathers
Currently, fathers have been reduced to Santa Claus, who are expected to meet children once a month with expensive gifts
Fathers have also been reduced to ATMs, where they are only made accountable financially to meet every need of the child, irrespective whether he is permitted/not permitted to meet with kids
Get Child To Speak To Father Before He Says 'Hello Uncle' | Gujarat HC To Separated Mother In Child Custody Case
Going by the pace of our courts, most minors turn into adults amidst custody battles, leaving zero scope of emotional attachment between the father and child
Shared Parenting concept has been adopted in various progressive jurisdictions of the world, that allows kids of separated parents to have a normal upbringing
The exact timeline divided may not be 50-50, and could vary from situation to situation – whether parties live in same city, different countries, etc. 
The objective of Shared Parenting will allow equal contribution, say and personal bonding from a non-custodial parent and he need not approach court everytime to meet his own child
READ ORDER | Mere 30-Minutes In A Month Granted For Child Visitation To Non-Custodial Parent Is Insufficient: Delhi High Court
While largely the parental alienation is directed towards fathers, it is also true that some mothers too, equally face such atrocities 
While estranged couples can keep fighting an ego battle in court throughout their lives, interest of children should not be compromised at any cost
Unless there is clear case of either parent being violent or indulging in illegal acts, neither of them should be denied access to being with their own children
Society must stop seeing separated/divorced men as monstrous fathers 
LEAVE YOUR THOUGHTS BELOW:
Use hashtag #ParentalAlienation 
READ ORDER | Except Bihar, Consent From All States Have Been Received For #SharedParenting: Union Of India Counsel To Punjab Haryana HC

▪️"Procedure for putting up matter before Union Cabinet is in process"#ParentalAlienation@smritiirani @KirenRijijuhttps://t.co/ExZmT3JWlY

— Voice For Men India (@voiceformenind) January 22, 2023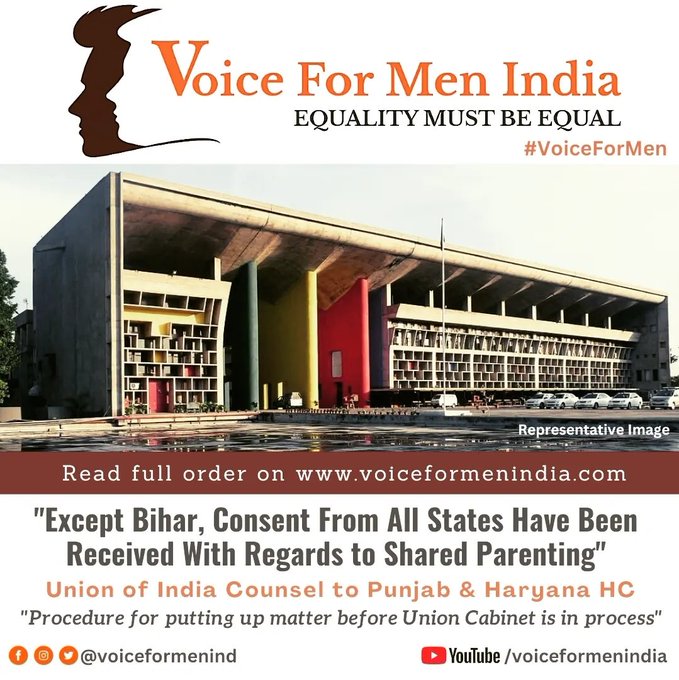 DO WATCH:
"I Am Not A Kidnapper, I Am Just A Father Pleading To See My Son" | Manoj Dhankhar (Punjab)
ALSO READ –
Karan Mehra Divorce | Haven't Seen My Son Since More Than 100 Days While Nisha & Her Brother Are Living In My Home Aaram Se
READ LETTER | Family Court Bar Association Writes To Principal Judge To Safeguard Children Being Used As Tool In Matrimonial Proceedings
Young Fathers Even Wept Before Me Since They Couldn't See Their Children For Years | Former Supreme Court Judge Markandey Katju
Join our Facebook Group or follow us on social media by clicking on the icons below
Donate to Voice For Men India
Blogging about Equal Rights for Men or writing about Gender Biased Laws is often looked upon as controversial, as many 'perceive' it Anti-Women. Due to this grey area - where we demand Equality in the true sense for all genders - most brands distance themselves from advertising on a portal like ours.
We, therefore, look forward to your support as donors who understand our work and are willing to partner in this endeavour to spread this cause. Do support our work to counter one sided gender biased narratives in the media.
To make an instant donation, click on the "Donate Now" button above. For information regarding donation via Bank Transfer, click here.