In a horrific incident reported from Madhya Pradesh, a man who had an interfaith marriage, was hacked to death by his in-laws, when he visited them to bring his wife home.
The police have detained all accused in the matter.
Rajasthan Woman Murders Husband To Claim Rs 50 Lakh Insurance Money; Tortured Him For Property Too
Case:
Rajendra Saini (36), a resident of Sikar in Rajasthan, got married to Amreen in 2021. The couple were already living in together in Jaipur before marriage.
On May 13, Rajendra was beaten up by his in-laws in Singot area of Piploda police station when he had gone to get his wife home. Later, when Rajendra turned up at the police station on May 15 with a complaint against his in-laws accusing them of beating him multiple times, the police sent him for medical examination as they could not find any external injury marks on him. The man then got admitted, however, died on May 16.
Gorakhpur Jail: Women Prisoners Implicated For Husbands' Murder Observe Fast On Karwa Chauth
Statement by Police
As per media statement given by the local police, the post-mortem of the body was done, and Rajendra's body was handed over to the family members.
Speaking with TOI, Piploda police station in-charge Hari Kishan Soni said:
Rajendra married Amreen in 2021 after a love affair and was living with her in Jaipur. Amreen had come to meet her family members in Khandwa some five to six months ago and was staying there.
Adding further, SI Soni said,
Rajendra had come to Khandwa to take his wife along with him. There was an argument between the man and his wife's family members who beat him up.
Chhattisgarh Woman Kills Husband, Chops Off His Genitals Due To Alleged Taunts On Her Dark Complexion | Is Society Normalising Murder Of Husbands?
Soni also said,
Rajendra had come to the police station on May 15 with a complaint against his in-laws. After medical examination, a case was registered under section 323, 504 of IPC against accused family members of his wife. The man died during treatment in hospital. The police are now adding section 302 of IPC for murder against the accused.
The police have detained the accused identified as brother-in-law of the deceased, Salman (18), mother-in-law Munnibai and father-in-law Mumtaz on charges of murdering their son-in-law Rajendra.
LEAVE YOUR COMMENTS BELOW:
Rajasthan Man Beaten To Death By In-Laws When He Visited To Get His Wife Home

▪️All accused have been detained#VoiceForMen #HusbandMurder https://t.co/VzNtwBFaqo

— Voice For Men India (@voiceformenind) May 18, 2023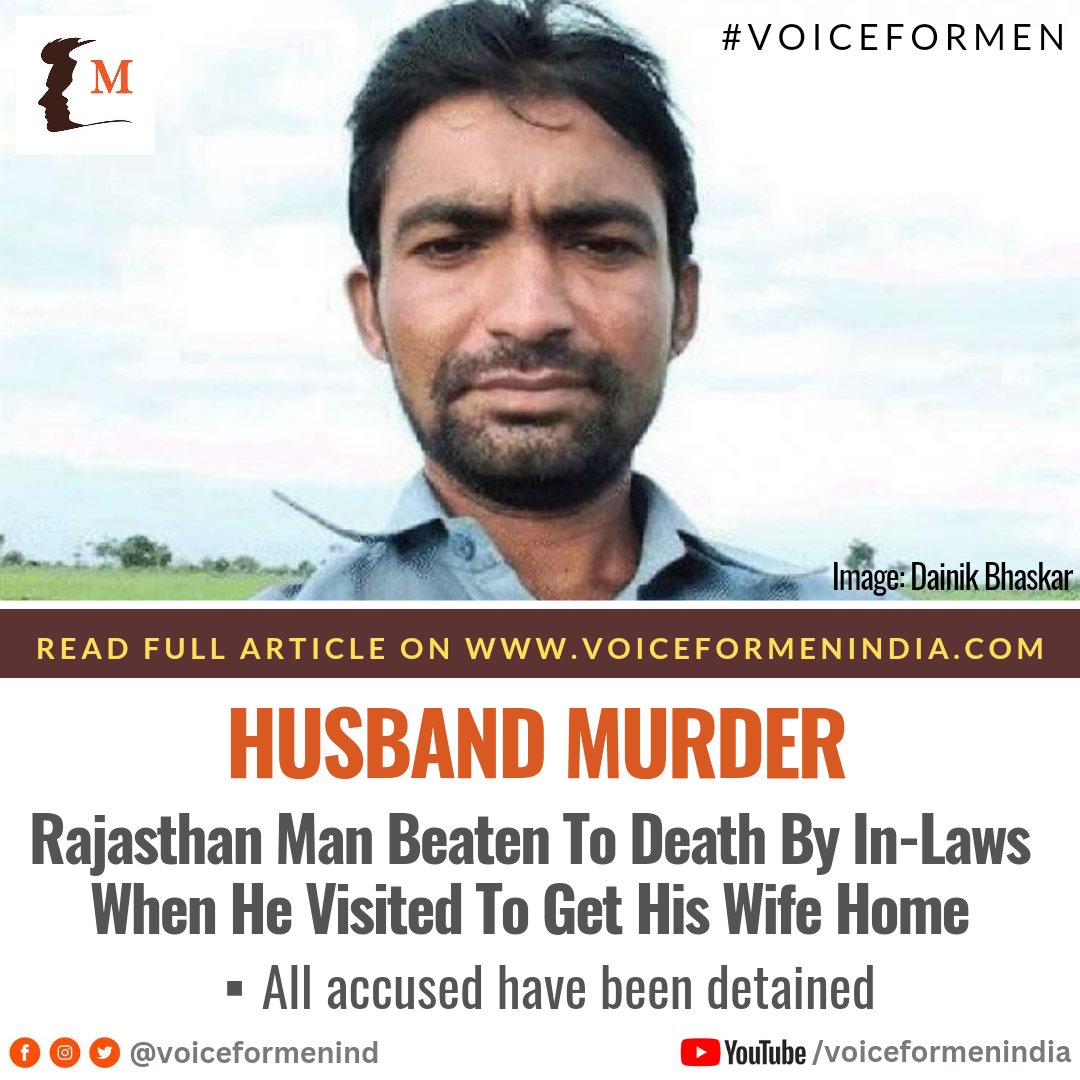 DO WATCH:
I Had To Settle 45-Day Marriage With All My Savings Due To False Cases By Wife, In-Laws
Join our Facebook Group or follow us on social media by clicking on the icons below
Donate to Voice For Men India
Blogging about Equal Rights for Men or writing about Gender Biased Laws is often looked upon as controversial, as many 'perceive' it Anti-Women. Due to this grey area - where we demand Equality in the true sense for all genders - most brands distance themselves from advertising on a portal like ours.
We, therefore, look forward to your support as donors who understand our work and are willing to partner in this endeavour to spread this cause. Do support our work to counter one sided gender biased narratives in the media.
To make an instant donation, click on the "Donate Now" button above. For information regarding donation via Bank Transfer, click here.
Alternately, you can also donate to us via our UPI ID: [email protected]