Remember the infamous Vishnu Tiwari False Rape Case? In what seems to be an affirmative approach towards Justice for Women, the same could end up becoming a reason for many innocent lives destroyed.
The Uttar Pradesh government of Friday passed the Code of Criminal Procedure (Uttar Pradesh Amendment) Bill, 2022, that denies granting of anticipatory bail to rape accused and those booked under the Protection of Children from Sexual Offences (POCSO) Act.
READ ORDER | Gang Rape Case Nothing But Abuse Of Process Of Court To Falsely Implicate 4 Real Brothers, 81-Year-Old Father: Allahabad High Court
Contents of the Bill
The Bill that was tabled in the House on Thursday proposed an amendment in Section 438 of the CrPC, 1973, with regards to the state. The section defined the powers of the high court or a sessions court to give anticipatory bail.
Parliamentary Affairs Minister Suresh Kumar Khanna told the House that denying anticipatory bail in sexual offences against young people and women will reduce the chances of the accused destroying the evidence.
No anticipatory bail in Uttar Pradesh for crime against women, kids pic.twitter.com/q3ONHX1jh7

— Government of UP (@UPGovt) September 23, 2022
In a press statement the State Government said,
In pursuance of zero-tolerance policy towards crimes against women and children, it has been decided to make the necessary amendment to ensure prompt collection of biological evidence in sexual offences, prevention of biological evidence from being obliterated, minimising the possibility of destruction of relevant evidence and to restrain the accused from causing fear or coercing the victim(s) or witness(es).
The amendment could help in preventing the accused from intimidating the witnesses and the victim and influencing the evidence.
READ ORDER | Nowadays False Rape Cases Have Increased; Allahabad High Court Orders Refund Of Compensation Paid To Victim
VFMI Take:
VFMI completely stands by Justice for Rape Victims and we demand strictest punishment for anyone who is convicted for such heinous crime
However, in what seems to be a zero tolerance policy by the UP government, may have serious effects on the lives of several men – who are innocent and have been falsely trapped in motivated rape accusations
Uttar Pradesh NCRB Rape Report 2019|57% Cases Account For Rape On Promise Of Marriage
Currently, in most rape cases, the accused is nabbed even before a medical test of the alleged victim
Currently, innocent men who can afford good lawyers are able to secure bail, while several less fortunate innocent men languish behind bars as under trials
The definition of rape is completely misplaced in India, and even a man backing out from marriage after consensual relationship, can be charged for rape by his former 'disgruntled' girlfriend – Will all such boyfriends spend days, months and years in jail till the time the trial is not completed?
READ ORDER|Allahabad High Court Quashes False Rape FIR After Parties Marry Following Compromise
We have multiple cases where Courts have called out rampant misuse of both Rape (Section 375/376 IPC) as well as POCSO, where women or family members wanted to take revenge over personal and property disputes
We also have many married women today, who are including the charge of False POCSO against their estranged husbands (for sexually exploiting their own children) in their divorce petitions, just to deny the fathers child custody or basic access after separation
Even for the sake of argument if one questions the number of real victims Vs false cases, a fractional percentage of false cases in a country like India, can run into thousands
READ ORDER | Allahabad High Court Grants Bail To Accused Man In POCSO Case After Parents Of 8-Year-Old Girl Refuse To Get Her Medically Examined
While the government has taken this decision, there are no checks to ensure that a false complainant woman does not go scot free
Anticipatory Bail is given by the Sessions or High Courts, after verifying prima facie facts and being sure that the accused will not destroy any kind of evidence
But to bring in a blanket rule denying anticipatory bail to anyone who is merely 'accused' may have serious ramifications in the times to come
UP Government must deliberate on this other side
Leave your thoughts below:
No Anticipatory Bail To Rape Accused Or Those Booked Under POCSO | UP Govt Passes Bill@myogiadityanath ji

Man backing out from marriage after consensual relationship, can be charged for rape by his disgruntled girlfriend

Govt needs to review this billhttps://t.co/IWTFbycfDs

— Voice For Men India (@voiceformenind) September 26, 2022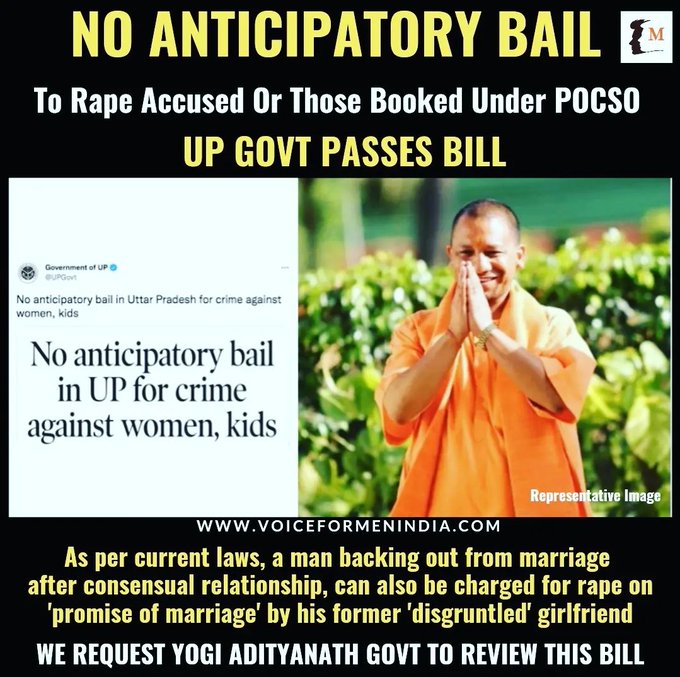 MUST WATCH:
Exclusive | Interview with Senior Advocate Ashwani Dubey On Kapil Mishra's PIL In Vishnu Tiwari False Rape Case
Join our Facebook Group or follow us on social media by clicking on the icons below
Donate to Voice For Men India
Blogging about Equal Rights for Men or writing about Gender Biased Laws is often looked upon as controversial, as many 'perceive' it Anti-Women. Due to this grey area - where we demand Equality in the true sense for all genders - most brands distance themselves from advertising on a portal like ours.
We, therefore, look forward to your support as donors who understand our work and are willing to partner in this endeavour to spread this cause. Do support our work to counter one sided gender biased narratives in the media.
To make an instant donation, click on the "Donate Now" button above. For information regarding donation via Bank Transfer, click here.
Alternately, you can also donate to us via our UPI ID: voiceformenindia@hdfcbank