In April 2022, Bollywood actor Nawazuddin Siddiqui completed his dream mansion in Andheri, Mumbai. Named after his father, Nawab, the house took three years to build, and is inspired by the actor's family house in Uttar Pradesh's Budhana.
Unfortunately, within a year, the same house has been filled with negativity following cruelty and domestic violence charges levelled by actor's wife against him and his family. As per media reports, Nawazuddin has also left his mansion and moved into a hotel in the city until these ugly legal battles are sorted out.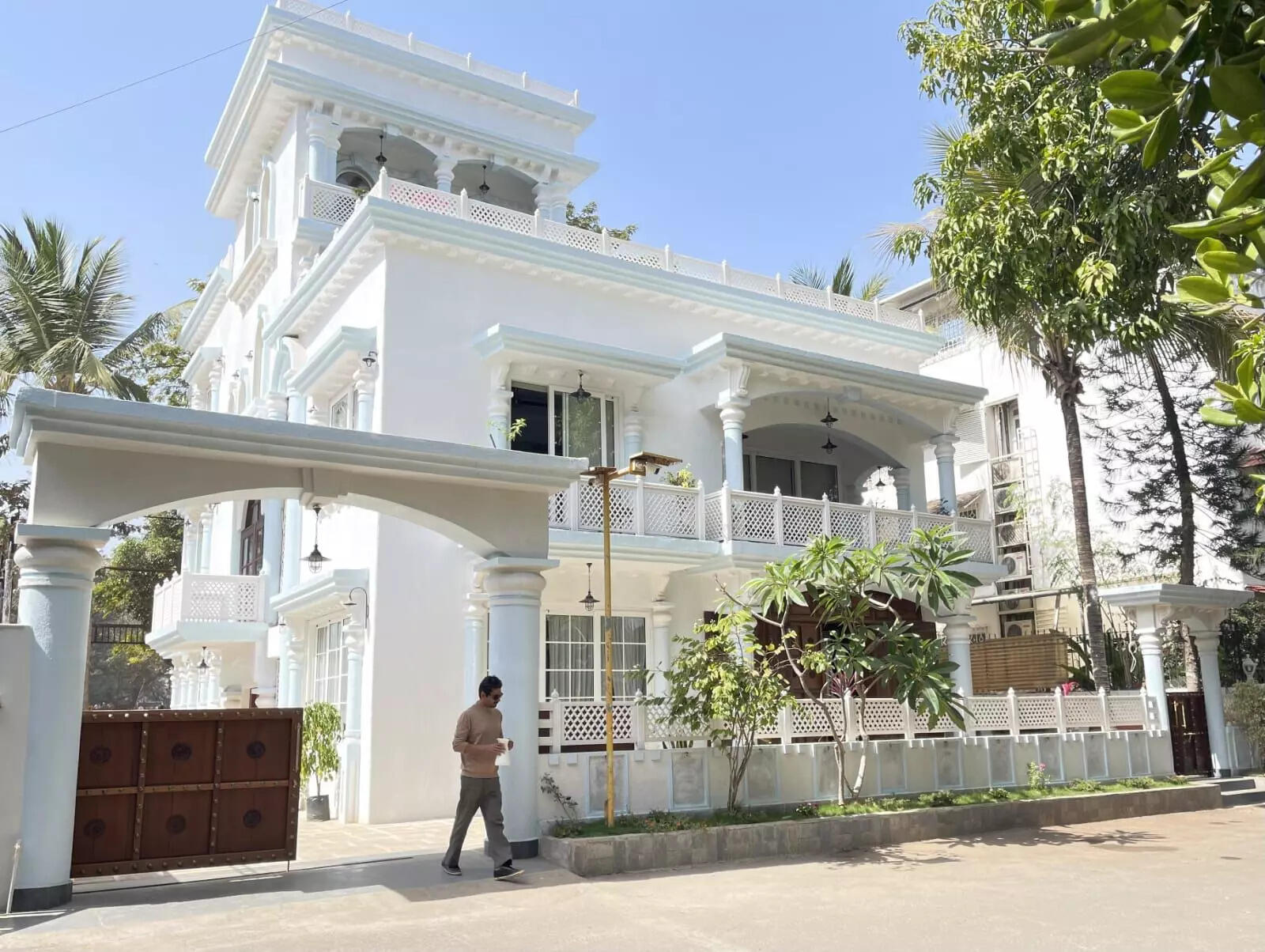 Here's What Happened
Aaliya Siddiqui has been levelling numerous charges against her husband Nawaz since some years now. Couple of years ago, Aaliya had gone all out in the media, charging her husband and his family with some very serious accusations. However, later, it was reported in the media that the couple decided to keep aside their differences and moved in together.
Nawazuddin Siddiqui, Brother Shamas React To Aaliya Wanting To Return After Several Criminal Allegations
Counter Cases Filed
Aaliya has filed a case for cruelty under Section 498-A IPC against Nawazuddin and his family. A domestic violence case is also underway in the Andheri court and notices have already been issued to everyone including Nawazuddin.
So far, total four complaints have been filed by the estranged wife, including under Section 509 of IPC for insulting modesty, Section 498A of IPC for cruelty towards women by her husband and relatives.
Aaliya claimed that she was being harassed at her home after Nawazuddin's mother Mehrunisa Siddiqui filed a complaint against her over property dispute. Aaliya is currently staying at Nawazuddin's Andheri house after she had reportedly returned from Dubai with her kids due to passport issues.
Aaliya has filed a petition in the Bombay High court seeking the quashing of the FIR filed by Nawazuddin's mother.
POCSO Court Summons Nawazuddin Siddiqui's Wife Aaliya After UP Police Files Closure Report
Allegations by Wife
Aaliya had earlier shared that the couple have been living separately for more than four years and the actor makes excuses when she asks him to meet their children. In one of her interviews to Times of India, Aaliya had quoted:
I have not told anything to the kids, though they are upset and keep asking me 'papa kahan hai?', 'kahan shoot kar rahe hai?' I keep telling them that he is shooting in New York, US but then for how many years should I do that?
She had also mentioned that even being in Mumbai working at his office, Nawaz never visited their kids. She added,
When I tell him to visit the kids, he is like I am busy, have people to meet. So I am forced to tell the kids that papa is busy with a shoot.
Aaliya Siddiqui Files Complaint Of Rape & Cheating Against Estranged Husband Nawazuddin Siddiqui
Wife's Lawyer to Media
In his statement to Hindustan Times, Aaliya's lawyer Rizwan Siddiquee said:
The actor and his family members haven't provided 'food, bed, bathroom to take bath' to his client in the last week. Mr Nawazuddin Siddiqui and his family members did everything possible to remove my client Mrs Aaliya Siddiqui from the house. They filed an untenable criminal complaint of trespass against her. Thereafter, through the police they threatened to arrest her and were calling her each day to the police station, after sunset.
Adding further, he said,
Whilst, I do not want to directly attribute the actions and the failures of the police department to them, yet the fact remains that no police officer ever came to protect my clients rights, even when her modesty was insulted before the police officers. Not only her relationship with Mr Nawazuddin Siddiqui was questioned before the police officer, but even the legitimacy of the minor son was questioned. Yet the police officer did not act on the written complaint given by my client under Section 509 of IPC.

They have even posted innumerable male bodyguards all around my client and further installed CCTV cameras in the hall, where my client is currently staying with her minor children.
Concluding his statement, he said,
To add to all of this, they even ensured that I do not obtain any signatures of my client to file appropriate court cases against Mr. Nawazuddin Siddiqui and his family members. Despite being stopped and threatened at multiple levels and no police officer coming to the aid of my client, me and my team managed to obtain signatures of my client for the court cases. Accordingly, multiple cases are being filed in the courts now.
Nawazuddin Siddiqui's Wife Denies Rumours Of Extra Marital Affair With Peeyush Pandey
Statement by Nawaz's Brother to VFMI (July 2020)
In 2020, Aaliya had been speaking with media constantly, levelling one sided allegations. Speaking with Voice For Men India back then, Nawazuddin's brother Shamas Siddiqui had accused Aaliya of running a media trial against his brother and their family. Shamas also alleged that Aaliya had demanded Rs 30 crore and a four bedroom apartment in Mumbai as alimony to support herself and two children. On her part, Aaliya had denied demanding any alimony.
Read our exclusive interview below. 
EXCLUSIVE | "Aaliya Is Doing Media Trial For Alimony": Nawazuddin Siddiqui"s Brother Shamas Speaks Up
Nawaz Leaves Home
Since the actor's house is now swamped with cops and lawyers, Nawaz has moved into a hotel in Mumbai for now, reported entertainment portal Bollywood Hungama. According to them, anything Nawaz says at the moment will be held against him. Whichever side he chooses, he will be seen as a traitor and a man who won't own up to his responsibilities.
Thus, the actor has chosen to remain out of his own home until his lawyers sort out the mess.
Leave Your Comments Below:
#NawazuddinSiddiqui Moves Out Of His Newly Built Mansion Amidst #498A & Domestic Violence Cases By Wife

▪️Since some years, there are multiple cases, counter cases, filed by both parties against each other #VoiceForMen@Nawazuddin_S@ShamasSiddiquihttps://t.co/1QyLVKBkVv

— Voice For Men India (@voiceformenind) February 5, 2023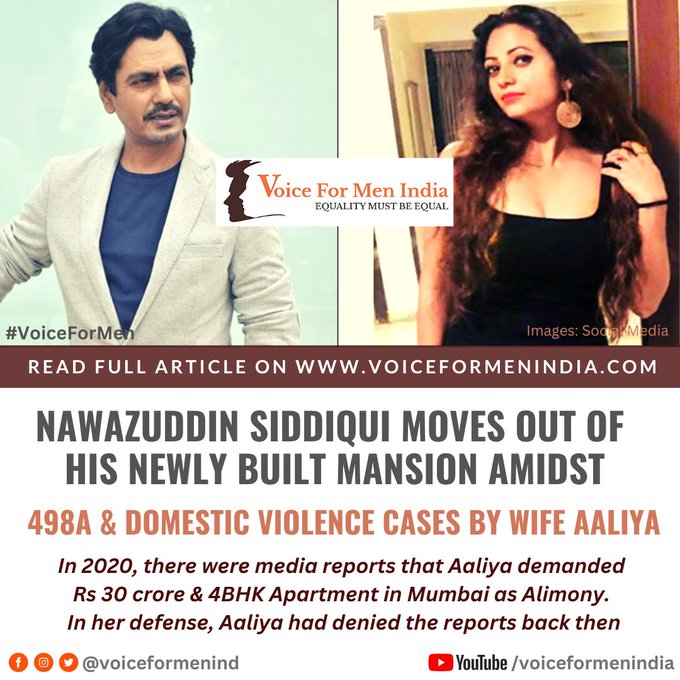 READ RELATED ARTICLES:
Nawazuddin Siddiqui's Wife Denies Rumours Of Extra Marital Affair With Peeyush Pandey
Nawazuddin Finally Sends Notice Of 'Fraud, Wilful & Planned Defamation' To His Ex-Wife Aaliya
Amidst Divorce Battle, Nawazuddin's Niece Files Sexual Harassment Case Against Actor's Brother After Years
Nawazuddin's Brother Shamas Files Fraud & Criminal Defamation Case Against Aaliya Siddiqui
Join our Facebook Group or follow us on social media by clicking on the icons below
Donate to Voice For Men India
Blogging about Equal Rights for Men or writing about Gender Biased Laws is often looked upon as controversial, as many 'perceive' it Anti-Women. Due to this grey area - where we demand Equality in the true sense for all genders - most brands distance themselves from advertising on a portal like ours.
We, therefore, look forward to your support as donors who understand our work and are willing to partner in this endeavour to spread this cause. Do support our work to counter one sided gender biased narratives in the media.
To make an instant donation, click on the "Donate Now" button above. For information regarding donation via Bank Transfer, click here.
Alternately, you can also donate to us via our UPI ID: voiceformenindia@hdfcbank