On May 7 this year, yet another Bollywood couple entered the Divorce Club of Fame. One of India's most critically acclaimed actor Nawazuddin Siddiqui, was served a legal notice by his former wife Aaliya Siddiqui (name now changed to Anjana Pandey) demanding divorce, alimony and child custody from the actor.
If a couple are unable to live together for various differences, separating legally and peacefully is the best option, however, things have not been so pleasant in the incidents that have unfolded after the notice. Aaliya has been going all over in the media, narrating one-sided story, thereby defaming the husband and his family without court order or any conviction.
The public allegations levelled by her against Nawaz, his brother Shamas and entire family range from Domestic Violence, Infidelity by husband, No Monetary Support to her and kids, and many more accusations which she has been putting out daily either through some media platform or her own social media handles.
Men's Day Out is a portal which gives voice to the 'Other Side' of matrimonial allegations on husbands. It is only fair if the wife chooses to be vocal publicly, the husband's side must also be put out for people to understand the matter in totality. Without being prejudiced towards Nawaz or against his former wife, we decided to speak with Nawaz's younger brother Shamas Siddiqui to bring to you their side of the details.
Detailed Interview With Shamas Nawab Siddiqui
MDO: Tell us about Nawaz's marriage to Aaliya and your role in them getting together
Aaliya was my friend way before she met Nawaz. I came to Mumbai in 2006 and had started working in the TV industry. I was doing a serial with Bandit Queen fame Seema Parihar where Aaliya played her childhood role. It was through me, that Aaliya got introduced to Nawaz in 2006 and the duo started seeing each other.
MDO: Aaliya has been accusing you of living out of Nawaz's money. Your reply?
Since my journey in the entertainment industry started way back in 2006, I had done 14 shows on TV juggling through multiple shifts. I was earning nearly Rs 80k a day which summed upto a handsome income of Rs 8-10 Lakh a month. Until 2012, Nawaz was not a big star and it was infact me who was supporting my brother and his wife Aaliya while in Mumbai.

Nawaz tasted stardom after Gangs of Wasseypur (2012) and this is when he asked me to join him as his creative consultant since his work had increased tremendously. It was only apt for me to work for my own brother and grow the family business together. This is when I demanded my share of sum as a professional while working for Nawaz. However, now Aaliya has been accusing me of living off my brother's money which is in extremely poor taste.
This is called pure lies – whatever she claims in her interviews is absolutely baseless and untrue and hence it's proved that if someone wishes to malign any person's image than one needs to just frame stories against him or her and the rest is done by the media trials

— Shamas Nawab Siddiqui (@ShamasSiddiqui) July 15, 2020
I have been living separately after they married in 2010. I lived on rent from 2010-2015 and post that I have purchased my own apartment where I live alone. Even today, when Aaliya wanted to co-produce the movie 'Holy Cow' I supported her financially from my personal funds.

All her problems with me have only started when I asked her to return my money in January this year. She has taken a total sum of Rs 2.16 crore, of which Rs 1 crore+ has gone from personal funds and Rs 91 Lakh is from the company where Nawaz, Aaliya and myself are all partners. I had sent her an email asking her to keep her 1/3 share from Rs 91 Lakh and return the balance to me. She had also borrowed my Range Rover sports car earlier this year for three months, however, when she refused to return the same, I had to send her a notice for this too.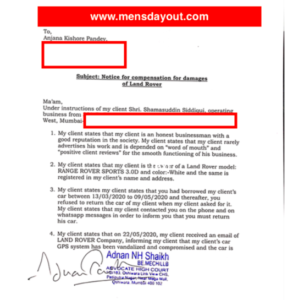 Post lockdown our business has been impacted a lot and this is when she decided to strike with a series of personal allegations on me and my family. Aaliya has also been accused by many others for not paying them their dues.

MDO

: Aaliya has accused you of molesting her as well. Your comments…
Until when I was funding her project she had no problems. However, now in 2020 she is accusing me of molesting her in 2016. One day a media guy caught me on the road and started talking of settlement with Aaliya. I clearly said, I have done no wrong and talk to me only about me and not their marriage settlement.
MDO: What went wrong in your brother's marriage? Why has Aaliya decided to suddenly come up with a barrage of allegations in the media?
They have been married since 10-years, off which both have been living separately since last 5-years.

Firstly, they have always lived as a nuclear family, despite all her allegations of domestic violence accusing all members of our family. Whenever our mother visits from Bihar, where will she live? She used to stay in my home for a few days. Our sister who passed away due to cancer in December last year, used to visit KEM Hospital in Mumbai for her chemotherapy and whenever she was here, she stayed with me and not with Aaliya.

Infact, after Nawaz bought his apartment jointly on his and wife's name in 2015, it is Aaliya who invited her niece and nephew from Jabalpur to Mumbai, who have been living in Nawaz's home on his money since past 5-years. Since the time her relatives got into their home, Nawaz had been sleeping in his office.

All the major problems actually started in 2017, when one day Nawaz's daughter called him and complained about her mother beating her. My brother returned immediately from his shoot and took the kids back with him. However, once again while Nawaz was shooting the next day, his daughter told him how Aaliya had locked the kids up in the room and ill-treated them. This is when Nawaz had sent her an official notice instructing her not to get physical with children.
MDO: Could you share more details about Divorce Notice & Alimony Demanded by Aaliya
Aaliya's individual monthly expenses amounted to almost Rs 8-9 Lakh. All over the years, Nawaz had been paying this to her, besides paying solely towards the expenses of school fees for children (Rs 20 Lakh annually) and monthly household expenses. Post lockdown, Nawaz could not keep up paying such humongous amounts to his wife, and this is when in May this year, Aaliya sent a 23-page divorce notice with a series of allegations — the ones she has been mentioning in the media. She has been travelling till recently with Nawaz all over globally where she has been shopping expensive gifts — however, she did not have any claims of domestic violence or ill-treatment by Nawaz then.

Besides her one-sided accusations, Aaliya has demanded custody of children and Rs 10 crore each for herself and kids (total Rs 30 crore) along with a 4-BHK apartment in Mumbai. The best part in the whole controversy is she has not even filed a legal case in court, but only giving media bytes to build up sympathy.

Nawaz has been quite all along because he does not want his children to see both parents speaking rubbish in the media. Also, he does not want any gag order on Aaliya since he has done no wrong and does not believe in holding back her freedom of expression either.
MDO

: What is Nawaz's equation with the children post media trial?
As per law, one can only leave kids with either side grandparents, however, Aaliya has sent the kids to her sister's home in Jabalpur amidst COVID, when they need to be with either parent the most at this point in time. The main reason for Nawaz not to encourage legal divorce is the welfare of children.
Concluding statement by Shamas…
All these issues have been raised by her when her finances have been curtailed. Aaliya also holds 2 pancards — one in the name of Anjana and other in her present name.

I am single and infact I have looked after their kids more when they used to be away. I have also willed everything to Nawaz's kids since they are everything for me. Truth shall prevail…
Disclaimer: All documents attached have been duly received from Shamas.
ALSO READ –
http://voiceformenindia.com/in-the-social/aaliya-siddiqui-denies-rumours-of-extra-marital-affair-with-peeyush-pandey/
http://voiceformenindia.com/in-the-news/nawazuddin-siddiqui-divorce-notice/
http://voiceformenindia.com/in-the-social/nawazuddins-shamas-files-fraud-defamation-case-aaliya-siddiqui/
http://voiceformenindia.com/in-the-social/nawazuddin-siddiqui-divorce/
We are now on Telegram. You can also join us on our Facebook Group
Join our Facebook Group or follow us on social media by clicking on the icons below
Donate to Voice For Men India
Blogging about Equal Rights for Men or writing about Gender Biased Laws is often looked upon as controversial, as many 'perceive' it Anti-Women. Due to this grey area - where we demand Equality in the true sense for all genders - most brands distance themselves from advertising on a portal like ours.
We, therefore, look forward to your support as donors who understand our work and are willing to partner in this endeavour to spread this cause. Do support our work to counter one sided gender biased narratives in the media.
To make an instant donation, click on the "Donate Now" button above. For information regarding donation via Bank Transfer, click here.
Alternately, you can also donate to us via our UPI ID: voiceformenindia@hdfcbank