Cricketer Mohammed Shami is back in the news for his personal life. Shami's estranged wife Hasin Jahan has moved Supreme Court by way of a Special Leave Petition, alleging that a criminal case against the fast bowler has been "erroneously stayed for the past 4 years, without any just circumstances".
The couple has been embroiled in a bitter matrimonial battle since nearly 5-years, while the custody of their minor daughter remains with the mother.
Mohammed Shami's Estranged Wife Hasin Jahan Posts Old Nude Picture On Instagram
Case:
Mohammed Shami got married to Hasin Jahan, a model by profession, in the year 2014. The couple was blessed with a daughter in July 2015. This was Jahan's second marriage while she was previously married to one Sheikh Saifuddin from 2002-2010 and has two daughters from her previous husband.
In the year 2018, Jahan alleged domestic abuse and adultery by Shami and also lodged a police complaint in Jadavpur. Hasin Jahan even alleged that Shami was involved in match-fixing. The cricketer had denied all allegations.
Shami and his elder brother Hasib Ahmed were questioned by Women's cell in the same year and subsequently, the Alipore Court had issued an arrest warrant against the bowler, which was then stayed by the sessions court.
Mohammed Shami's US Visa Gets Rejected Due to Domestic Violence Case; BCCI Steps In
Demand for Maintenance
After filing criminal cases against her husband in 2018, Hasin Jahan had demanded a sum of Rs 10 lakh per month from Shami, which included Rs 7 lakh per month for her personal expenses and Rs 3 lakh per month for the maintenance of their daughter.
While the family court had earlier ordered Rs 80,000 per month for the maintenance of the child, the Kolkata court in January 2023, granted Rs 50,000 per month additionally to Jahan as against her demand of Rs 7 lakh per month. 
Cricketer Mohd Shami Wanted To Commit Suicide Thrice Due To Harassment & False Cases By Wife
Hasin Jahan Moves Supreme Court
Now in a recent turn of events, after almost 4-months from the maintenance order, Jahan has moved the top court alleging that sessions court in Kolkata passed the order to stay action against Shami even though the cricketer "did not even pay for the stay of criminal trial and his sole grievance was only against the issuance of arrest warrants".
"I Failed Because I Was Not Aware Of That Field": Cricketer Shikhar Dhawan On Bad Marriage & Ongoing Divorce Case
Jahan's Plea
In her plea, Hasin Jahan has once again alleged that Shami (whose annual income in allegedly Rs 7 crore) used to harass her for dowry. Jahan also alleged her estranged husband has been continuing to have extra-marital affairs even on his tours with the senior national cricket team. According to PTI, her petition read as follows:
Mr. Shami used to demand dowry from her and that he has been continuously involved in illicit extra-marital sexual affairs with prostitutes, especially during his BCCI tours, in the hotel rooms provided by the BCCI, even till the present day.

Mrs. Hasin Jahan has alleged in the Petition that Mr. Shami used to use his 2nd mobile phone- HTC company, mobile no. +44xxx4905xxx, for managing all his affairs in relation to prostitutes and the said phone was seized by the Lal Bazaar Police, Kolkata, in connection with the present crime. However, Mr. Shami, as per the allegations in the Petition, still continues to be involved in sexual activities with prostitutes.
Timeline of Events:
2018 | Jahan files criminal cases against Shami, arrest stayed
2018 | Jahan demands Rs 7 lakh + Rs 3 lakh pm for herself, daughter
2018 | Court grants Rs 80 k pm for daughter
Jan 2023 | Court grants Rs 50 k pm to Jahan
May 2023 | Jahan moves Supreme Court
LEAVE YOUR COMMENTS BELOW:
#MohammedShami Divorce: Estranged Wife #HasinJahan Moves Supreme Court Demanding Arrest Warrant Against Cricketer

▪️Jahan's plea: "He has been continuously involved in sexual affairs with prostitutes"@MdShami11 #VoiceForMen CONT…https://t.co/YWtIFZLO4V

— Voice For Men India (@voiceformenind) May 3, 2023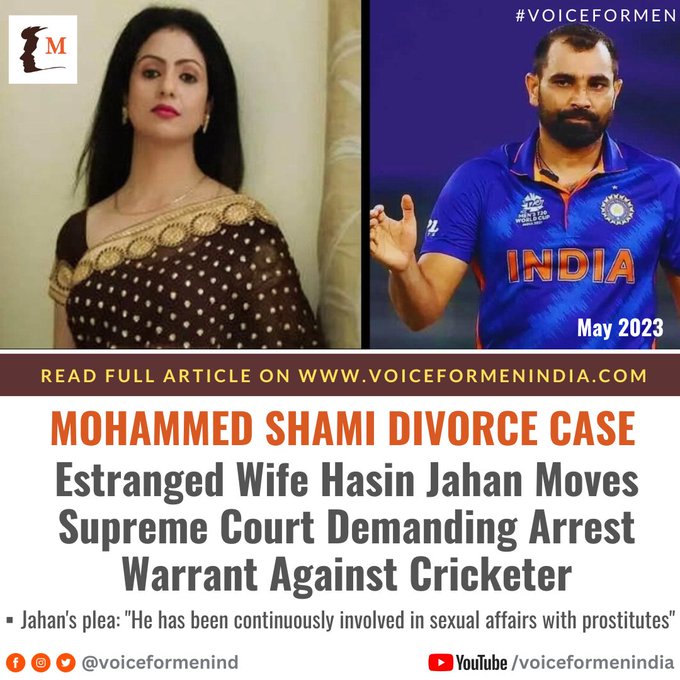 RELATED STORY:
Setback For Mohammed Shami's Wife Hasin Jahan In Maintenance Case: Kolkata Court Orders Rs 50K Vs Her Demand Of Rs 10 Lakh Per Month
ALSO WATCH:
Mohammed Shami's Estranged Wife Hasin Jahan Moves Supreme Court For Arrest Warrant Against Him
No Maintenance To Educated Wife | Interview | Kanupriya Kejriwal, Matrimonial Lawyer
https://www.youtube.com/watch?v=f5qZOMN2lTQ&t=1s
Join our Facebook Group or follow us on social media by clicking on the icons below
Donate to Voice For Men India
Blogging about Equal Rights for Men or writing about Gender Biased Laws is often looked upon as controversial, as many 'perceive' it Anti-Women. Due to this grey area - where we demand Equality in the true sense for all genders - most brands distance themselves from advertising on a portal like ours.
We, therefore, look forward to your support as donors who understand our work and are willing to partner in this endeavour to spread this cause. Do support our work to counter one sided gender biased narratives in the media.
To make an instant donation, click on the "Donate Now" button above. For information regarding donation via Bank Transfer, click here.
Alternately, you can also donate to us via our UPI ID: [email protected]