The Indian cricket team takes off from Mumbai for US on July 29 where they will be playing two T20's against West Indies in Lauderhill, Florida before proceeding with the rest of the West Indies tour.
Although Indian bowler Mohammed Shami has not been picked for the T20's, he still needed to apply for US visas as the team was to return home via US after completing the second test in Jamaica.
Now, in a shocking turn of events, Shami's visa application was rejected by the US embassy in Mumbai after his police verification records were found incomplete. Based on an FIR filed by estranged wife Hasin Jahan last year, Shami has been charge-sheeted by Kolkata police under:
Section 498A (dowry harassment)
354A (sexual harassment)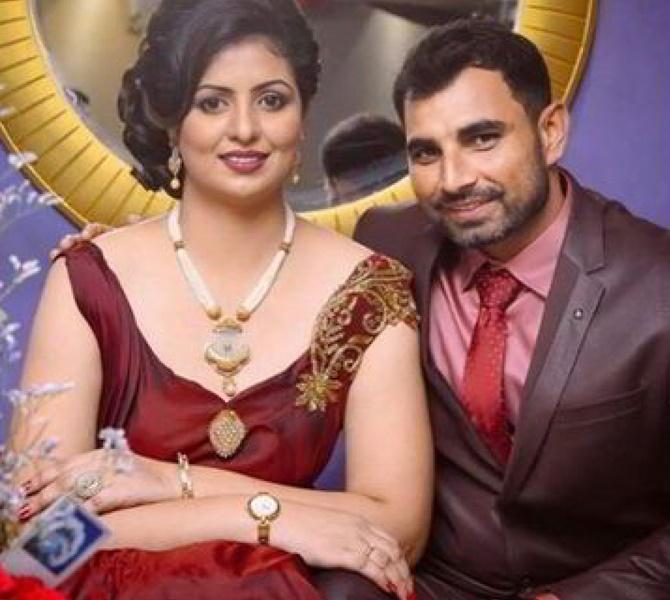 However, later with the intervention of BCCI's good offices, submission of his list of achievements for India and complete police report of his case of marital discord with wife helped in the approval of Shami's visa.
Shami had earlier, during the World Cup, credited himself for making a comeback after a 'nightmare' experience. He then quoted:
Because I had to endure all that I was made to go through. What I went through in the past 18 months, it's me and only me who had to suffer. So credit goes to me.
Shami has been to hell and back in the last one and a half years, fighting accusations of domestic violence. As a result, he was dropped from the BCCI's central contract list pending inquiry and also sat out a Test match on fitness issues.
Yes, I thank the Almighty for giving me the strength to fight everything from family issues to fitness. I am now only focussed on doing well for my country, said the pacer.

Mohammed Shami's Personal Case Impacting His Professional Life
Kolkata Police had booked Shami and his family members under non bailable sections of the Indian penal code in March last year
Shami's mother Anjuman-Ara-Begum, brother Hasib Ahamed, Hasib's wife Shama and Shabina Ahjum, Shami's sister are among those who were named in the FIR
The FIR had been lodged under section 498 A (Husband or relative of Husband of a woman subjecting her to cruelty), 323 (voluntarily causing hurt), 307 (attempt to murder), 376(rape), 506 (criminal intimidation), 328 (causing hurt by means of poison), 34 (Acts done by several persons in furtherance of common intention) of IPC
As per police sources, Shami's brother had been booked under section 376 of IPC on the basis of the complaint of Jahan who alleged that he had touched her inappropriately
Following the controversy that broke out on March 7, 2018, BCCI excluded Shami's name from the central player annual contracts
Mohammed Shami was facing serious allegations from his estranged wife Hasin Jahan, that the pacer had received a payment from a Pakistani national in Dubai which could be linked to corruption
Later on March 22, 2018, BCCI confirmed that they did not find any evidence of match-fixing against Shami
The Board gave him the all-clear on receiving the report from it's Anti-Corruption Unit chief Neeraj Kumar, who had investigated claims by Mohammed Shami's wife
His Indian Premier League side, Delhi Daredevils, were also reported to be closely monitoring the situation citing the clause about any player 'bringing disrepute to the game'
His estranged wife later lost the maintenance litigation after the Alipore Court refused her demands
Jahan, who accused the cricketer of domestic violence and extra-marital affair demanded Rs 10 lakh per month but her claims were turned down by the court
Judge Neha Sharma approved the maintenance claim for their daughter Aairah Shami which was pegged at Rs 80,000 per month 
In April this year, Hasin Jahan, was taken into custody by police in Amroha in Uttar Pradesh after she reached her husband's house and created a ruckus
When her in-laws asked her to leave, she locked herself and her child in a room
The police were called and when the police failed to bring a truce between the warring parties, they took Hasin Jahan into custody
She was later released on bail
From the above, we can only conclude that a wife can go on filing several cases against the husband. The husband is termed as a criminal until he gets a clean chit from court. The effect on his mental and physical health is totally overlooked by society. In Shami's case, he was lucky to return to his career, in most other cases, men tend to lose their jobs due to frivolous police cases which they have to fight for years.
ALSO READ –
http://voiceformenindia.com/in-the-news/mohsin-abbas-haider-demands-ngo-for-men/
http://voiceformenindia.com/in-the-news/reham-khan-imran-khan/
Join our Facebook Group or follow us on social media by clicking on the icons below
Donate to Voice For Men India
Blogging about Equal Rights for Men or writing about Gender Biased Laws is often looked upon as controversial, as many 'perceive' it Anti-Women. Due to this grey area - where we demand Equality in the true sense for all genders - most brands distance themselves from advertising on a portal like ours.
We, therefore, look forward to your support as donors who understand our work and are willing to partner in this endeavour to spread this cause. Do support our work to counter one sided gender biased narratives in the media.
To make an instant donation, click on the "Donate Now" button above. For information regarding donation via Bank Transfer, click here.
Alternately, you can also donate to us via our UPI ID: voiceformenindia@hdfcbank