India cricketer Mohammed Shami has been amidst a bitter matrimonial battle since some years. In 2018, his wife Hasin Jahan, who is a model by profession had levelled several charges against Shami, accusing him of infidelity and domestic abuse.
Shami was slapped with non-bailable charges of domestic violence and attempt to murder. He also faced issues with his visa for overseas travel during cricket tournaments, which was sorted out with the intervention of BCCI.
Mohammed Shami's US Visa Gets Rejected Due to Domestic Violence Case; BCCI Steps In
Allegations by Hasin Jahan
In 2018, as per a PTI report, Hasin Jahan claimed that the cricketer and his family tortured her whenever they went to his hometown in Uttar Pradesh. Speaking to India Today then, she said,
Yes, whenever I have gone to UP, Shami's family also tortures me. You can ask the neighbours how they (Shami's family) behaved with me. I was silent because he has been asking for a divorce for two years. He has been torturing me, he tried everything to make me leave him.
Jahan also claimed that Shami was threatening her over phone using different phone numbers.
Mohammed Shami's Estranged Wife Hasin Jahan Posts Old Nude Picture On Instagram
Shami's Statement 
Shami always denied Jahan's claims and even took to social media stating that the allegations were false and a conspiracy to defame him.
Shami had told India Today he was ready to apologise to Jahan if her allegations of infidelity and domestic abuse were proven to be true.
Hi
I'm Mohammad Shami.
Ye jitna bhi news hamara personal life ke bare may chal raha hai, ye sab sarasar jhut hai, ye koi bahut bada humare khilap sajish hai or ye mujhe Badnam karne or mera game kharab karne ka kosis ki ja rahi hai.

— Mohammad Shami (@MdShami11) March 7, 2018
Maintenance Case By Estranged Wife
Back then, Jahan had filed a case of maintenance seeking Rs 10 lakh per month:
Rs 7 lakh per month for personal expense
Rs 3 lakh per month for maintenance of their minor daughter
2018
Justice Neha Sharma from the Alipore Court in Kolkata had granted Rs 80,000 per month maintenance for minor daughter Aairah Shami who remains in the custody of the mother.
Shami's advocate had made it clear that he was willing to take care of his daughter's well-being and expenses from day 1, however, refused to pay any maintenance towards his estranged wife, since she could always pursue her modelling and acting career once again.
January 2023
Alipore court judge Anindita Ganguly has now granted a monthly maintenance of Rs 50,000 to Hasin Jahan:
Rs 50,000 to estranged wife
Rs 80,000 to minor child (granted in 2018)
…V/s Jahan's claims of Rs 10 lakh per month
Raghubir Yadav's Wife Claims Husband Not Paying Alimony | Separated in 1995, Woman Filed For Rs 10 Crore In 2020
Jahan is obviously not happy with the maintenance amount that Shami has been ordered to pay and is likely to appeal in the High Court.
We must remind our readers, that none of the charges levelled by the wife against Shami have been proven yet, however, the law of the land is clear when it comes to maintenance. There is no escape for a man, even before any allegation is proven against him.
During first wave of COVID lockdown, Shami in an informal chat with Cricketer Rohit Sharma, had expressed how he wanted to end his life thrice due to the false matrimonial cases he was facing.
READ BELOW:
Cricketer Mohd Shami Wanted To Commit Suicide Thrice Due To Harassment & False Cases By Wife
LEAVE YOUR THOUGHTS BELOW:
Setback For #MohammedShami's Wife Hasin Jahan In Maintenance Case: Kolkata Court Orders Rs 50K Vs Her Demand Of Rs 10 Lakh Per Month

Jahan demanded:

▪️Rs 7L pm for personal expense
▪️Rs 3L pm for minor child (80k pm granted)@MdShami11#VoiceForMenhttps://t.co/8Cg5ofNXLw

— Voice For Men India (@voiceformenind) January 24, 2023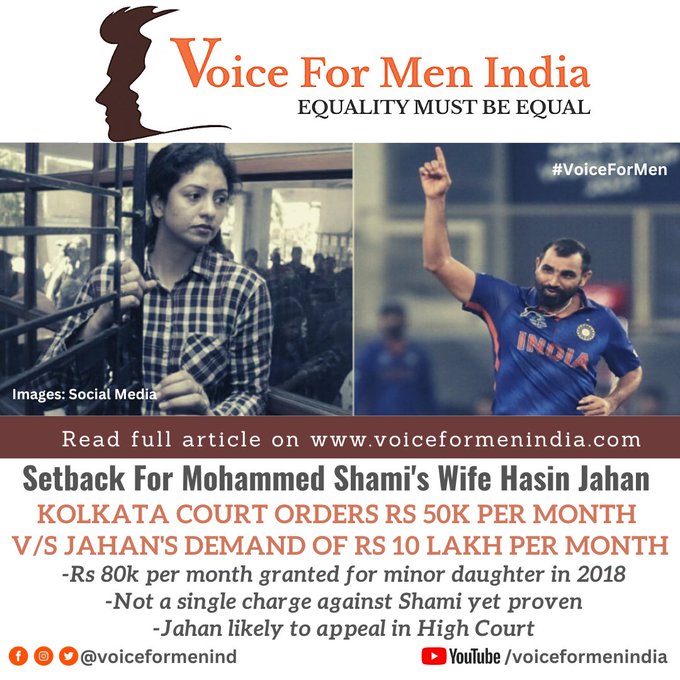 ALSO READ –
Yuvraj Singh's Sister-In-Law Receives Rs 48 Lakhs As Alimony | Apologises & Drops All Domestic Violence Charges
Golfer Sujjan Singh Charged With 498A, Produces 'Dowry' Items Such As Pichkaris, Show Pieces & More
EXCLUSIVE | "Aaliya Is Doing Media Trial For Alimony": Nawazuddin Siddiqui"s Brother Shamas Speaks Up
Join our Facebook Group or follow us on social media by clicking on the icons below
Donate to Voice For Men India
Blogging about Equal Rights for Men or writing about Gender Biased Laws is often looked upon as controversial, as many 'perceive' it Anti-Women. Due to this grey area - where we demand Equality in the true sense for all genders - most brands distance themselves from advertising on a portal like ours.
We, therefore, look forward to your support as donors who understand our work and are willing to partner in this endeavour to spread this cause. Do support our work to counter one sided gender biased narratives in the media.
To make an instant donation, click on the "Donate Now" button above. For information regarding donation via Bank Transfer, click here.