Indian Cricketer Shikhar Dhawan has been going through a rough phase in his personal life. After being married to Ayesha Mukherjee in 2012, the couple recently announced separation.
However, the divorce case is turning messy, wherein, Dhawan has also obtained an order from a Delhi Court to restrain his estranged wife from tarnishing his image in media, while the matter is subjudice.
Setback For Mohammed Shami's Wife Hasin Jahan In Maintenance Case: Kolkata Court Orders Rs 50K Vs Her Demand Of Rs 10 Lakh Per Month
Shikhar Dhawan Opens Up
Speaking with Sports Tak in his recent interview, Dhawan shared:
I failed because the final decision is the person's own. I don't point fingers at others. I failed because I was not aware of that field.
Adding further, Dhawan said,
The things I talk about cricket today, I wouldn't have been aware of the same 20 years back. It comes with experience.
The cricketer revealed that his divorce case hasn't been settled yet and said he might get married again in the future. He said,
Right now my divorce case is going on. Tomorrow, if I want to marry again, I will be much more wiser in that field. I'll know what kind of girl I need; someone whom I can spend my life with.

When I was 26-27 and I was continuously playing, I was not in any relationship. I used to have fun, but was never in a relationship.

"So, when I fell in love, I couldn't see the red flags. But today, if I fall in love, I will be able to see those red flags. So, if I see those red flags, I will walk out. If not, I will carry on.
Shikhar and Ayesha have a 9-year-old son Zoravar. According to Dhawan's plea in Delhi court earlier, he has not been allowed to even speak with his son amidst separation. This was Ayesha's second marriage. Read detailed background story at the end of this article.
Cricketer Mohd Shami Wanted To Commit Suicide Thrice Due To Harassment & False Cases By Wife
Dhawan's Advice to Youngsters
Dhawan further advised all the youngsters to not take any emotional decision to get married in haste. He said,
Youngsters, when they get into relationships, they need to experience it. That's important. They should not take an emotional decision in haste and get married.
He urged all to spend a couple of years with the person and see whether your cultures match and whether you enjoy each others' company. He concluded,
It's also like a match; some might need 4-5 relationships, others might take 8-9 to figure things out. There is nothing bad in that. You will learn from it, and when you take a decision on marriage, you will have some experience.
LEAVE YOUR COMMENTS BELOW:
"I Failed Because I Was Not Aware Of That Field": Cricketer #ShikharDhawan On Bad Marriage & Ongoing Divorce Case

▪️"When I fell in love, I couldn't see the red flags…" @SDhawan25
▪️ Also has a message for youngsters planning to marry#VoiceForMenhttps://t.co/z1a8UrOB95

— Voice For Men India (@voiceformenind) March 26, 2023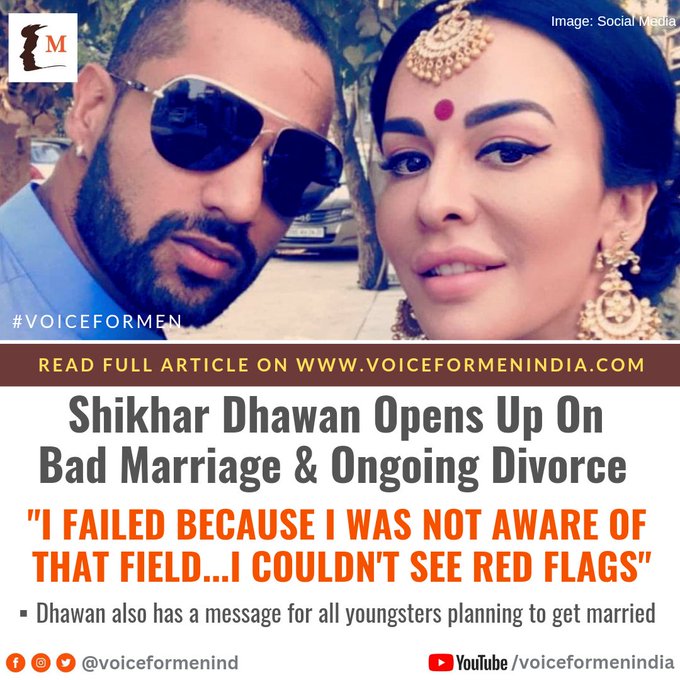 DO WATCH:
Prithvi Shaw Video | After Being Arrested, Sapna Gill Wants Counter FIR For Outraging Her Modesty
READ RELATED STORY
Shikhar Dhawan Divorce Case: Delhi Court Restrains Estranged Wife From Circulating 'Defamatory Material' Against Cricketer
ALSO READ:
NO, Men's Rights NGO Is Not Fighting To Keep Marital Rape Legal In India | Read Other Side Of Media Propaganda
Yuvraj Singh's Sister-In-Law Receives Rs 48 Lakhs As Alimony | Apologises & Drops All Domestic Violence Charges
Join our Facebook Group or follow us on social media by clicking on the icons below
Donate to Voice For Men India
Blogging about Equal Rights for Men or writing about Gender Biased Laws is often looked upon as controversial, as many 'perceive' it Anti-Women. Due to this grey area - where we demand Equality in the true sense for all genders - most brands distance themselves from advertising on a portal like ours.
We, therefore, look forward to your support as donors who understand our work and are willing to partner in this endeavour to spread this cause. Do support our work to counter one sided gender biased narratives in the media.
To make an instant donation, click on the "Donate Now" button above. For information regarding donation via Bank Transfer, click here.
Alternately, you can also donate to us via our UPI ID: [email protected]